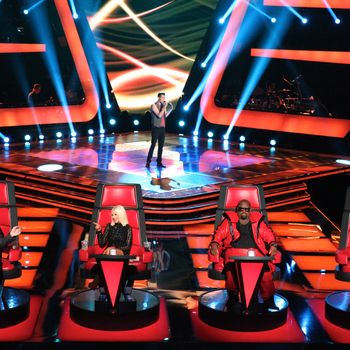 Hello, friends! Welcome back to "This is the Voice" — the defiantly sad yet caffeine-fueled reality-singing coup that somehow has the highest ratings on NBC. I missed you all so dearly in our brief hiatus. So much has changed since last we walked among the pines. Usher and (Mensa!) Shakira have been ruthlessly deposed. In their places, Christina Aguilera and Cee Lo have returned, like sylphs in the night. Cee Lo has a new head tattoo. Christina Milian is dead. Carson Daly bought a leather baseball jacket?
Everyone, "I Love Rock N' Roll"
I really enjoyed this because a group performance with Christina Aguilera is always a hoot. For example, have you ever watched a VH1 Diva show? You would absolutely know what I mean. For some reason, Christina always gets the harmony in a group performance and then proceeds to sing it far louder than the melody, giving the whole thing a sort of weird alternative non-tune, a faerie aire, if you will. Then whenever she is allowed to sing by herself, she launches into very complicated melismas that are, I would say, pretty unwarranted. It was as if the people of The Voice knew this and decided to give Christina Joan Jett on purpose! Those rapscallions. As if we could forget that someone who used to do important things on Twitter is now dead.
Kat Robichaud, "I Got the Music In Me"
Kat Robichaud has got a sort of Janis Joplin thing going on, I think? It was hard to tell. She was wearing these striped pants. As she told the slowly watering eyes of Carson Daly, she was in a band for seven years (they both watched stills of her performance on a beautiful Sprint tablet), but then when she met her husband (gray sweater, orange bow tie) she had to quit. Soon after her story, Jackie Jormp-Jomp sang a little song. It was very raspy. Three chairs turned around for her, and Cee Lo made an impassioned plea that somehow contained the words, "You more than entertained me … you set me on fire." Who could resist that? Not Janey Jimplin. So she is on Cee Lo's team.
Caroline Pennell, "Anything Could Happen"
Caroline Pennell is a young woman who sings like a hipster folk person. Appropriately, the classical music from a Jane Austen miniseries played in the background of her brief biography. After Cee Lo and Blake both turned around for her, she even mouthed "What?" at the audience. Fanny Price? Marianne Dashwood? Anne Elliot? I'm sure we will know soon enough.
Donna Allen, "You Are So Beautiful"
I always feel bad for the older people on The Voice because they are always significantly better than the younger people, but it doesn't even matter. Although The Voice purports to be just about "voices," it is really about 13-year-old girls voting on their new phones. Donna was great. Christina and Adam turned around for her and she went with Christina.
Jake Worthington, "Keep Your Hands to Yourself"
I had a good time watching Jake sing. Am I the only one? Kid is only 17! And it is so hard to yodel. But Blake didn't think he had enough breath control and Blake knows best.
Matthew Schuler, "Cough Syrup"
I predict (get a pad of paper and take note), that this kid could go far. He has a nice pop voice. He's handsome. Everyone else thought so, too, because he got a four-chair turn, and they didn't even know he was handsome! He ended up going with Christina. If she wins this year, I will be very happy. Everyone she picks invariably gets cut extremely early.
Next, there was a brief interlude in which Carson Daly drove a very special Kia to interview an unidentified future singer. It looked like an intense interview. Maybe we will see it tomorrow? I don't even know.
Nic Hawk, "Hit 'Em Up Style"
I have to say, I have tremendous love for this song, because I am from Rhode Island, and Blu Cantrell is literally the only famous person from Rhode Island aside from Buddy Cianci. When I was growing up, "Hit 'Em Up Style" was never not playing on the radio. It was the soundtrack to the most emotional events of life! People would break up with other people (not me, never me) to "Hit 'Em Up Style" all the time. It was totally fine and appropriate. Nic did a great job with such an emotional song. Cee Lo and Adam turned around for him and he went with Adam.
Next, several young people sang and they weren't good enough to merit much of a spotlight, so they were dispensed with quickly.
Mathew Brea, "I Want You Back"
This was so sad. This kid was so adorable and really good. He was only 15! And no one turned around for him. The Voice is sort of a cruel concept. It's so brutal that everyone could keep their backs turned to you and you, as a 15-year-old kid, would see that horrible visual. It's making me depressed.
Shelbie Z., "Here for the Party"
Whenever someone announces that they are going to sing a song called "Here for the Party," you know they are going to end up on Blake's team. Can anyone tell me why so many modern Nashville songs are literally about just showing up at a party? Or, like, how fun some party is? What parties are these? Where are they?
Josh Logan, "Too Close"
Josh Logan did a serviceable job on "Too Close." He had good pitch. Christina, Blake, and Adam all turned around for him and surprisingly he chose Christina. Backstage even Carson Daly was like, "Why, Christina?" all innocently. Good question, Carson, but the real question is, why is your Twitter colleague dead?
Delvin Choice, "Closer"
This whole thing, I didn't even get at all. I thought this guy was like ten times better than a lot of people the judges went crazy for. The other thing is HE IS A STARBUCKS BARISTA. And he called it, "THE COOLEST EXPERIENCE I'VE EVER HAD." Does The Voice realize the branding potential of such a thing? Starbucks is the animating manna of The Voice. It is its lifeblood! THE AUDITIONS TAKE PLACE IN A STARBUCKS. I don't get this show. It is run by a bunch of murderers.
James Wolpert "Love Interruption"
God, this Carnegie Mellon hipster. Apparently, he dropped out of college because he just had to busk on the street and work at the Apple Store. Fair enough but like, why can't you do both? Why can't you busk on the street and work at the Apple Store and go to college? I feel like you could do that. All four chairs turned around for old James, so I guess it doesn't matter anyway.
Guess what? It's over! Tell me, what do you think of the new/returning leadership, the Vladimir Putins of The Voice, Christina and Cee Lo? Do you think they are really secretly married to gymnasts? Where is Christina Milian and why is she dead? Please discuss below.