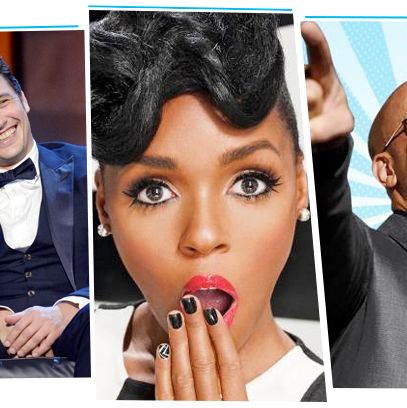 Every week, Vulture faces the big, important questions in entertainment and comes to some creative conclusions. This week we put together the best putdowns from the James Franco roast; reviewed Janelle Monáe's new album, The Electric Lady; and gave Vin Diesel the love and appreciation he truly deserves. You may have read some of these stories below, but you certainly didn't read them all. We forgive you.
Q: What are the best burns from the James Franco roast?
A: You can watch our video of the best lines here, just don't squint so much from laughing that you can't see your computer screen.
Q: There are only four episodes of Breaking Bad left! WHAT WILL HAPPEN?
A: Margaret Lyons looked into her Breaking Bad crystal ball and made some predictions for the last four episodes based on their titles (or at least what the super-secretive BB production team says are the titles). Or you can play the "Choose Your Own Ending" game with our Breaking Bad fortune teller.
Q: Can Captain Phillips earn Tom Hanks his first Oscar in thirteen years?
A: Kyle Buchanan worked it out.
Q: What's streaming on Netflix this month?
A: Men in Black, Carrie, 50 First Dates, The Purple Rose of Cairo, and Zoolander, to name a few. Also, plenty of awesome (and awesomely bad) nineties TV shows.
Q: Maybe I'll catch up on old seasons of Downton Abbey before the new season begins. What can I expect this season?
A: Vulture talked to Emmy-nominated actress Michelle Dockery about losing her leading man and how much longer she'll stay on the show.
Q: What Rotten Tomato Score did Garden State get?
A: 86 percent. Our "Guess the Rotten Tomato Score" quiz is back, and rom-coms are on the test.

Q: Is the new Janelle Monáe album any good?
A: Jody Rosen said that The Electric Lady has its moments but for the most part is a bit disappointing. Rosen called "Dance Apocalyptic" the album's "most tantalizing near miss," and wrote, "It's the kind of postmodern mash-up I love to love, but the result is less than the sum of those promising parts: It sounds small and studied, like the fussy retro-soul that wafts across the ocean from London every month or so. Wanted: more wondervibes."
Q: What are some Toronto Film Festival movies I can look forward to?
A: We're excited for Julia Roberts and Meryl Streep in August: Osage County and the latest McConaissance in Dallas Buyers Club. You can find out what else we're looking forward to here.

Q: Should I see the new movie Salinger?
A: Definitely not, wrote David Edelstein.

Q: What about Riddick? Should I see that?
A: Bilge Ebiri wrote of Riddick, "Imagine Alien, only told from the perspective of the alien, and he's played by a movie star, and at heart he's an okay dude." But hey! We think the life work of the "action hero, Rihanna enthusiast, Facebook legend, and all-around fascinating celebrity" is worth a lot. Need some persuading? Allow us.