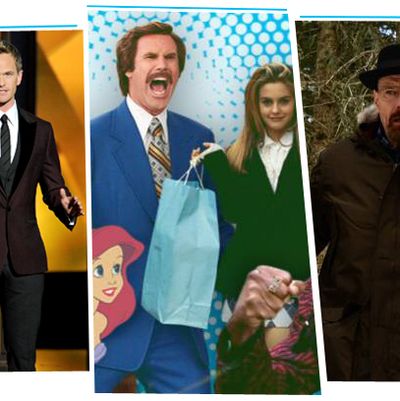 Every week, Vulture faces the big, important questions in entertainment and comes to some creative conclusions. This week, we told you the 100 most essential millennial cultural references, recapped the Emmys, and prepared for a world without Walter White. You may have read some of these stories below, but you certainly didn't read them all. We forgive you.
Q: Can I still watch the series finale of Breaking Bad this Sunday even if I've never watched the show?
A: Um, what have you been doing with your life? Well, if you're feeling left out for missing out on the most momentous occasion of recent TV history, you can still partake by reading this primer for Breaking Bad virgins. Or you can try to catch some of Matt Zoller Seitz's favorite episodes from the series.
Q: I am a hard-core fan! After the show ends, there will be a Breaking Bad–size hole in my heart. How do I fill it?
A: Wait, are you the one who sent Bryan Cranston the letter requesting a threeway? First off, you should take our Breaking Bad superfan quiz to see just how much of a fan you are. And if AMC ever gets around to this awesome Breaking Bad Choose Your Own Adventure series idea, you can relive endless permutations of the show at your pleasure.
Otherwise, you can catch Bryan Cranston's return as Ted's asshole boss on How I Met Your Mother or Todd, a.k.a. Jesse Plemons, strumming the guitar; and look out for Vince Gilligan's show Battle Creek on CBS.
Q: Yeah, so I missed the Emmys because I was watching Breaking Bad because I'm a hard-core fan like that. Did I miss anything interesting?
A: Well, not really. You can find a complete list of the winners here. We covered the highs and lows of the evening, captured the best frozen moments, and let the Fug Girls take on the red carpet. Merritt Wever did, however, deliver one of the best­ — and shortest — speeches ever. And your favorite duo Bryan Cranston and Aaron Paul enjoyed a nice moment together. Also, in the aftermath of the Emmys, Stephen Colbert got to gloat over snapping Jon Stewart's ten-year winning streak.
Maybe next time they should take some of Margaret Lyons's advice on how to make award shows suck less.
Q: I'm sick of everybody bashing millennial culture. We had some good times … didn't we?
A: You did! In fact, here is a list of 100 awesome pop-culture references you, especially, are going to love. (Narcissist.) Also, as the editors explain: "This is not a list of the 100 best, most brilliant, coolest, or highest-quality things that have happened during the millennial lifespan. That's an entirely different endeavor; an easier one in some ways. This list is what we talk about when we talk about pop culture."
Q: Oh, man, now I'm having some major nineties nostalgia now. By the way, what ever happened to Marc Summers, the Double Dare host?
A: He's the host of the Food Network show Unwrapped, figurehead of the early nineties, and still dreams of becoming the next Bob Barker.
Q: How does Drake's new album, Nothing Was the Same, compare to all of the other major releases this year?
A: According to Jody Rosen, "It's tighter than Jay Z's slapdash Magna Carta Holy Grail; it's not as risky and provocative as Kanye's Yeezus, but it's ambitious nonetheless — approachably artsy. There can be little doubt that Drake, hip-hop's glum tortoise, has slowly moved ahead of all the A-list competition and now has only open road before him."
Q: Unlike you, I have a real job, so I couldn't watch any season premieres this week on TV. What should I watch? 
A: Matt Zoller Seitz has you covered. Both Trophy Wife and Mom have promise, Agents of S.H.I.E.L.D. is "anemic," The Blacklist "exciting" but "deeply silly," and Hostages is "a treasure trove of dumb."
Q: What do I have to look forward to with the new season of Homeland?
A: According to showrunner Alex Gansa, "The third season explores the idea of espionage more than it follows in the footsteps of the first two seasons. It's really about what Carrie and Saul do as intelligence officers, and it's divorced from the idea that they're out there trying to stop an attack. They're still trying to keep America safe, and they're trying to provide good intelligence for policy-makers, but the stakes are different, and I think it does lead to a quieter, more nuanced storytelling."
Q: Where does Stephen King's latest novel, Doctor Sleep, rank in his oeuvre?
A: It's No. 27. Read our full ranking of all 64 books.
Q: Is it true that Rob Lowe is leaving Parks and Recreation? 
A: Yes, and we are literally heartbroken.