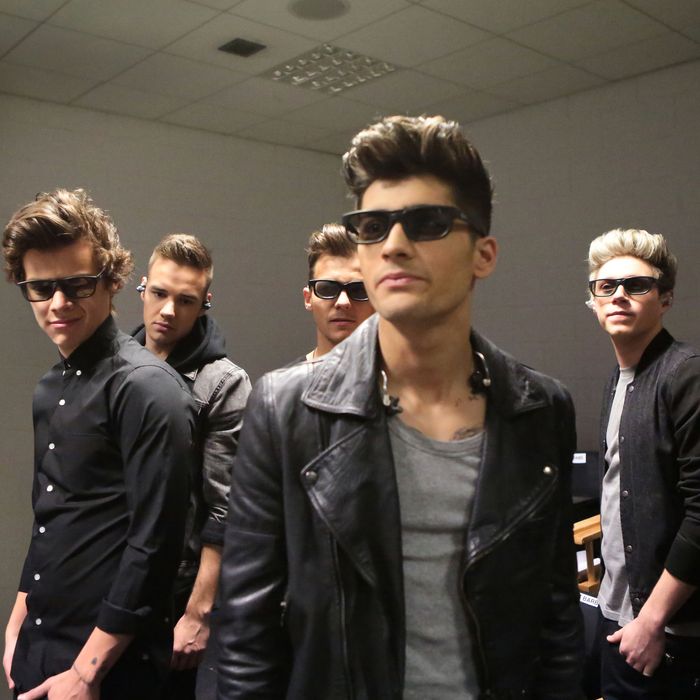 L-r, Harry Styles, Liam Payne, Louis Tomlinson, Zayn Mailik and Naill Horan in TriStar Pictures' "One Direction:This Is Us."
Photo: Christie Goodwin/TriStar Pictures
On this historically slow Labor Day weekend, the One Direction documentary, This Is Us, took in $18 million over four days. While it was enough to lead the weekend, its gross is just average for a teen-sensation concert film: below Miley Cyrus and Justin Bieber's movie openings, but above Katy Perry and the Jonas Brothers'. I suspect that the middling attendance was because fans were incapacitated by indecision over whether or not to pay the four dollars extra for 3-D. Do things "pop out" in a way that makes time spent in uncomfortable glasses worth it? Or is everything that's important (basically, the boys with their shirts off) still just as rewarding without the added dimension? Here is a list of everything that comes off the screen in 3-D: Only you can decide whether it's worth the extra money.
The opening credits. Director Morgan Spurlock's name is in 3-D, along with each One Direction band member's name as they're introduced.
Thousands of glowing iPhones waving in the air.
Harry waves a shirt (his own?) over his head. (Side note: Harry is often shirtless, but you can see it just fine in 2-D.)
Simon Cowell's name is in 3-D and so is his tiny teacup.
Thousands of glow sticks.
Liam's finger, pointing directly at you. 
Stefan Kolsche, a neuroscientist, shows off a 3-D animated brain that explains female "nervousness." (As exhibited by the majority of 1D fans.) 
Arrows point across the globe to tweets from fans.
Onscreen lyrics from One Direction songs, including, "'Cause I'm dying just to know your name."
The song "What Makes You Beautiful" rises up the animated Billboard charts.
The names of special guests at the 1D concert, including: Martin Scorsese, Chris Rock, and Niall and Harry's moms, Maura and Anne.
Niall points again. To you.
Harry's mike stand almost hits you in the face.
A sign in the crowd that reads, "You're Our Heroes."
Fire exploding from the band's drum kit.
Someone's iPad held up in the air from the audience.
Harry lightly caresses the face of one of his bandmates and then picks his nose. (This might be not be in 3-D, but seems really important to note.)
A German dad swaying with his hands over his ears.
A fish that Liam and Harry catch in Sweden.
Subtitles. Mostly belonging to Louis's 90-year-old great-grandmother, as her accent is hard to decipher. 
A sign from a crowd waiting outside the boys' hotel in Milan that reads, "We have pizza for Niall."
Asteroid-inspired animations that come out from the stadium tour's huge screens and zoooooom past your face.
Lyrics from the boys' "Teenage Dirtbag" cover: "This must be fake / My lip starts to shake / How does she know who I am? / And why does she give a damn about me?"
Cristiano Ronaldo's name when the boys play soccer with him.
I think that is someone's bra being waved around.
More hand-hearts are held in the air and actual hearts fly out from behind the boys' backs. Love is, literally, in the air.
So, worth it?