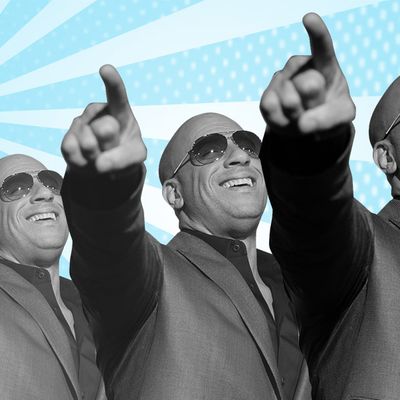 The most startling result in Vulture's 100-Person Summer Movie poll was in response to a question about superheroes. "Who would you choose to save the world?" we asked, and then gave our respondents four movie-related options. Only eight people chose Vin Diesel. Now, maybe most of our respondents were thinking more literally and wanted to rely on actual proven world-saving movie experience. Or maybe they are not familiar with the wonder that is Vin Diesel, action hero, Rihanna enthusiast, Facebook legend, and all-around fascinating celebrity. We are not appreciating Vin Diesel enough as a community, and it is time to fix that. Here are six reasons why you should let Vin Diesel into your heart.
1. He makes movies because he cares.
Riddick may not be Oscar-material, but it is Vin Diesel's passion project: He signed back onto the Fast and Furious series in exchange for the rights to the Riddick character. He acts with intention. He has dreams.
2. He once drove around Rio with a safe attached to the back of his car.
We will not stop until every person in America loves Fast 5. They dragged a safe around Rio!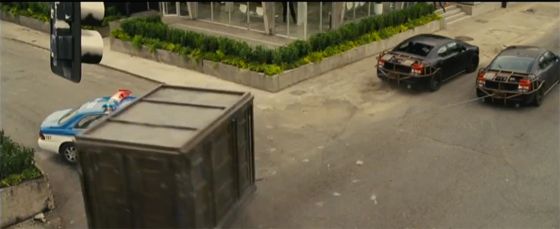 3. He is not afraid to experiment.
Back in the eighties, Vin Diesel was an aspiring rapper who worked as a bouncer at Tunnel. Sometimes he'd break-dance (below). One time, he wound up in a studio for a recording session with composer and cellist Arthur Russell (you can listen to snippets, including a "man of steel" freestyle, here). Vin Diesel has tried it all.
4. He runs the best celebrity page on Facebook.
In Vin's own words:
"What Facebook didn't realize is something very big was about to happen, and that was — for the first time in history, and it's kind of a fluke they didn't see this coming — when I jumped on that page in April 2009, I started talking to people. In the realest ways. Imagine if you could've been a Facebook friend to Marlon Brando, or whoever your role models are. Imagine, if you were able to Facebook Elvis, and talk to him, and hear from him without the Hollywood of it all. That was the Fast & Furious experience."
If you are not familiar with Vin's particular brand of selfie inspiration, then here are some highlights.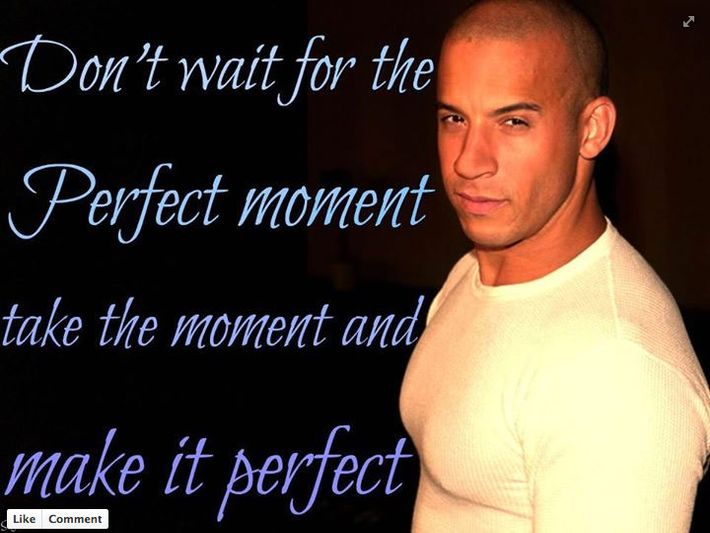 He posts stuff like this all the time.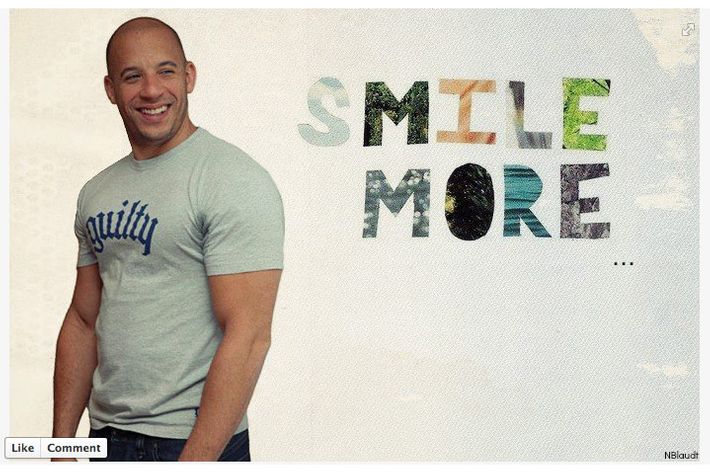 See, still going.
5. He isn't afraid to be vulnerable.
Vin Diesel posted this video on Valentine's Day 2013, and he was surprised by the reaction that it got. "Naturally, I became self-conscious … and thought maybe I shouldn't have exposed myself like that," he wrote in a now-deleted Facebook post. "Then I had dinner with my dad, and surprisingly … he said he loved it … and thought it was deep on a few levels … P.s. Don't be afraid to step out of your comfort zone, you don't have to be perfect … just believe in yourself." Believe in yourself, and watch this karaoke video, which is wonderful. (Check that falsetto.)
6. He always wants you to have a good Valentine's Day.
The year before the "Stay" video, Vin Diesel posted this. How can you not love a celebrity who makes you a Facebook valentine? Vote Vin Diesel! For everything.