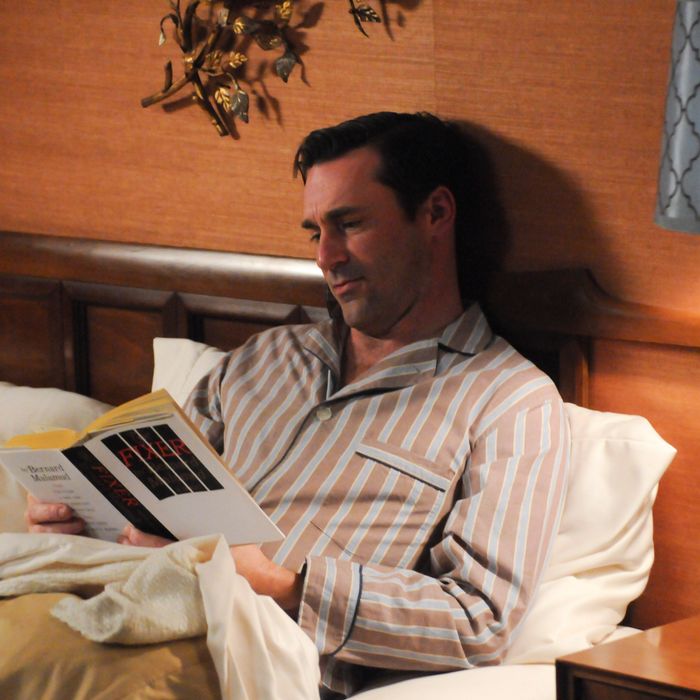 Don Draper (Jon Hamm) - Mad Men - Season 5, Episode 7 - Photo Credit: Michael Yarish/AMC
Photo: Michael Yarish/AMC
Oscar Wilde once said, "When a love comes to an end, weaklings cry, efficient ones instantly find another love, and the wise already have one in reserve." In less rarefied terms: No smart bird leaves the nest without another nest to fly into. TV obsessives know the sting of being separated from their favorite shows, whether due to hiatus or a series finale, but Vulture's got your back. If you're still devastated about the ending of Breaking Bad, or just want to start stockpiling for when Homeland or Sons of Anarchy goes off the air, this list of book equivalents of popular TV shows should help.
FOR FANS OF BREAKING BAD
The Sisters Brothers, by Patrick deWitt
Breaking Bad has been described as a modern Western with an unforgettable anti-hero; The Sisters Brothers is a noir Western with two of them.  Charlie and Eli are brothers and hired killers who must track down a prospector during the Gold Rush; they embark on a journey that is by turns comedic and gruesome. Wells Tower compares the book to Charles Portis and Mark Twain; the Washington Post said it is "weirdly funny, startlingly violent, and steeped in sadness," which sounds like an apt description of Walter White's world.
FOR FANS OF SONS OF ANARCHY
Hell's Angels: A Strange and Terrible Saga, by Hunter S. Thompson
Sons of Anarchy is not a show about a motorcycle gang, it is a show about a motorcycle club, the MC. It is a show about loyalty, honor, and brotherhood, as the MC struggles to develop legal sources of income while maintaining its outsider identity from the rest of society. Hunter S. Thompson's book, about the two years he spent living with the Hell's Angels in California in the 1960s, is a classic story of an interloper infiltrating a cloistered, recklessly violent world. It is also a riveting, uproariously good read.
FOR FANS OF HOMELAND
The Way of the Knife, by Mark Mazzetti
Is Carrie crazy, or is she just the right kind of crazy to effectively operate in a lawless world? How long can Saul remain on her side? Is Fara a traitor? Homeland is a thriller about the dark inner workings of the CIA, and the moral compromises required by the "war on terror." Mark Mazzetti's book could serve as background reading for the show's writers, telling the true story of the CIA's transition in the past decade from an agency focused on spying and intelligence-gathering to one that takes an aggressive approach toward killing and tracking down America's enemies, at home and abroad, only without the many irrelevant side plots involving selfies.
FOR FANS OF BOARDWALK EMPIRE
The Wettest County in the World, by Matt Bondurant
Boardwalk Empire is not so much a show about the mob as it is a show about booze: the politics and profit of making it, the illicit smuggling of it, and the heady consumption of it. Matt Bondurant's 2008 novel is set during the Depression but in a less glamorous locale than 1920s Atlantic City — the action takes place in backwoods Virginia and follows the lives of bootlegging brothers who make moonshine, but it is every bit as bloody, theatrical, and Machiavellian as the TV show.
You may also enjoy: Dashiell Hammett's The Thin Man, a high-low murder mystery set in Fitzgerald's New York of gangsters and speakeasies; and Dennis Lehane's Live by Night, a sweeping Prohibition-era novel about a cop's son turned criminal.
FOR FANS OF MAD MEN
The Best of Everything, by Rona Jaffe
Sex, lying, adultery, feminism, masculine aggression, a cutthroat workplace bursting with creative types: Mad Men is a stylized period piece and also a story of how combat takes place both in one's career and one's private life. Rona Jaffe's 1958 novel about five young women fighting to make their way in a New York publishing company captures the ambition, heartbreak, and sexual politics of the time period, while showing the insularity of a life lived within a particular kind of Manhattan bubble.
You may also enjoy: Revolutionary Road, Richard Yates's classic novel about the destruction of a marriage in a well-to-do 1950s suburb of Connecticut.
FOR FANS OF GIRLS
The Love Affairs of Nathaniel P., by Adelle Waldman
The genius of Girls is that the writers adulate the characters as much as they skewer them. Hannah, Marnie, Jessa, and Shoshanna are bright, talented, and witty. They are also bossy, vain, and self-indulgent. (Hence: fully and recognizably human.) This debut novel about a struggling, self-absorbed, Brooklyn-hipster male writer has been compared to Austen in the way it dissects a character and culture, while still finding things to love about him. Bonus points: Lena Dunham has tweeted about enjoying it.
You may also enjoy: Sheila Heti's How Should a Person Be?, another book endorsed by Dunham; its publisher describes the 2012 novel as "part literary novel, part self-help manual, and part vivid exploration of the artistic and sexual impulse."
FOR FANS OF PORTLANDIA
Wigfield, by Amy Sedaris, Paul Dinello, and Stephen Colbert
Portlandia is a show that has gone from spoofing a particular place to spoofing an entire sensibility: bourgeois, urban, educated, and hysterically precious. Wigfield is a 2003 collaboration between Amy Sedaris, Paul Dinello, and Stephen Colbert (with photos by Todd Oldham, if the preceding is not enough enticement) about a small town on the verge of being destroyed by the building of a massive dam, and the hack journalist who is brought there to save it. Think: Christopher Guest on crack, if the crack was also laced with PCP. Characters include sociopaths, thug taxidermists, a mayor/junkyard owner, and lesbian witches.
FOR FANS OF THE AMERICANS
You Are One of Them, by Elliott Holt
Philip and Elizabeth Jennings are a picture-perfect Washington, D.C. couple trying to raise a family in the early 1980s, an era in which a lot of people spent a lot of time pretending that everything looked great on the surface. The truth is that Philip and Elizabeth are Russian spies, a fact that even their children don't know. Elliott Holt's You Are One of Them is a novel in which the personal and political are similarly intertwined: Set during the height of the Cold War in D.C., it tells the story of two adolescent girls with a seemingly all-American existence, until one of them ends up being used as a tool of Soviet propaganda.
FOR FANS OF COMMUNITY
Straight Man, by Richard Russo
This comedy about a group of community college students in small-town Colorado has one of every type you might expect to encounter in such a setting: the jock who lost his scholarship because he got hurt; the high-school overachiever who never went Ivy League because she developed an Adderall addiction; the manipulative lawyer who got booted from his job when his firm learned that his degree was from Colombia the country not Columbia the school; the Palestinian-Polish immigrant who knows more about American pop culture than Americans do. Straight Man, like Jane Smiley's Moo, brilliantly cauterizes every stereotype of 1990s academia: deconstruction, worldly intellectuals forced to work in dying Rust Belt cities, colleagues who might murder a baby to get tenure, and students who can barely spell.
FOR FANS OF LOUIE
Next, by James Hynes
Louis C.K. is the king of awkward conversations, acerbic depression, and guilt (religious, romantic, and paternal). Kevin Quinn, the narrator of James Hynes's Next, is a middle-aged man so desperate to avoid the confinements of fatherhood and marriage that he would secretly fly to another city to interview for a job he's not convinced he would really want, except that he can't convince himself to be happy where he is. Hynes is exemplary at writing a deeply neurotic character who thinks too much about every decision he's ever been faced with, and yet does so in a way that is fiendishly smart and relatable.
FOR FANS OF REVENGE
Tigers in Red Weather, by Liza Klaussmann
Do rich people ever get rich without some dark secret being at the heart of their fortune, or without exploiting others on their road to social prominence? Revenge is a soap opera story of class warfare, which plays into our desire to see those who have more money than we do get their comeuppance. Tigers in Red Weather is a similarly voyeuristic tale with a frothy setting: Martha's Vineyard in the 1940s, a grand house where nobody in the family is happy, and a murderer who wants others to suffer intimately and epically.
FOR FANS OF PARENTHOOD
Little Children, by Tom Perrotta
Parenthood has been praised by critics for its ability to be both satirical and emotional, in the way of a true comedy-drama that has lately come to lean more heavily on the dramatic end of that spectrum. Few novels of contemporary domestic fiction toe this line better than Tom Perrotta's 2004 novel, Little Children, about a group of adults in suburban Boston who are failing spectacularly at adult life, having affairs, and consuming too much Internet porn, while the children are adrift in an even more dangerous way.