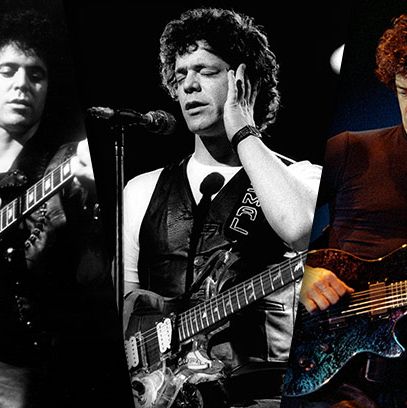 Lou Reed was responsible for some of the most well-known and influential songs in the the history of rock and roll, and there's no mistaking one of his signature tunes: "What Goes On," "Walk on the Wild Side," "Perfect Day," "Satellite of Love," and a dozen or so others. But today is a fitting time to celebrate his entire catalogue by looking beyond the tracks everybody knows from mainstream radio, television advertisements, and film soundtracks. Here are ten lesser-known classics written by Reed that deserve more love, and please give shout-outs to your own personal favorites in the comments section.
1. "The Ostrich," the Primitives (1965)
As an in-house songwriter for the exploitation label Pickwick Records, Reed wrote tongue-in-cheek rip-offs of songs by the Beach Boys, Phil Spector, and many others. It's unclear what exactly this one is ripping off, but its manic energy and noisy "ostrich"-tuned guitar foreshadows the Velvet Underground's skronk masterpiece "White Light/White Heat." In some alternate universe, millions of kids did the Ostrich in the summer of '65.
2. The Velvet Underground, "Over You" (1969)
The Velvet Underground was a band that embraced extremes; they shifted seamlessly between raging guitar workouts (as on "Sister Ray") to lovely, playful tunes. "Over You," which falls into the latter category, was never recorded in a studio, but thankfully appears on the Live 1969 double LP, with a sparkling Sterling Morrison solo and a sweet vocal from Reed. "I'm just like a bell again," he sings happily. "You know, I'm starting to ring again."
3. Lou Reed, "I Love You" (1972)
Lou's maligned self-titled solo debut album deserves critical rehabilitation. While some of the production touches haven't aged well, when the record showcases the softer side of Reed's songwriting, it's a marvelous thing. "I Love You," a folk-pop gem held over from the Velvet Underground's Loaded era, is Reed at his most bittersweet and melodic.
4. Lou Reed, "Metal Machine Music, Part 1" (1975)
Sure, Lou's infamous double album of noise was at least in part an act of provocation, but its songs were also deeply experimental. Reed said at the time that there were classical themes weaved into the record's harsh tapestry — a somewhat suspect claim. Still, there's an absorbing sonic grandeur at work here that those with open minds and patient eardrums will find captivating.
5. Lou Reed, "Kicks" (1976)
Coney Island Baby is prized by Lou aficionados for its creamy sound and Reed's heart-on-his-sleeve lyrics. "Kicks" is the album's outlier, though, as Reed viciously sings of homicidal tendencies over a sinister, jazzy groove and the background chatter of overlapping voices, creating a highly paranoid environment.
6. Lou Reed, "The Bells" (1979)
With its apparently improvised lyrics, this late-seventies masterpiece is one of the most haunting pieces in Reed's oeuvre. The majestically droning soundscape, augmented by floating synths and free jazz legend Don Cherry's trumpet, is the perfect setting for a strange but absolutely hypnotic performance from the songwriter. Reed's old sparring partner Lester Bangs called it a "nine-minute mass in the void."
7. Lou Reed, "The Blue Mask" (1982)
After several years of handing over lead guitar duties to hot shot session players, Lou Reed returned to the instrument at the urging of recording musician Robert Quine. The unhinged, feedback-fueled solo he takes at the end of this pummeling track from the album of the same name is a gloriously brutal piece of six-string abandon.
8. Lou Reed and John Cale, "Nobody But You" (1990)
A Country-and-Western-flavored ballad about Andy Warhol might seem a bit weird at first, but "Nobody But You" is just that — and it's a highlight of Reed and Cale's tribute to their mentor, Songs for Drella. "I really care a lot, though it may look like I do not," Reed sings, capturing Andy's essence better than countless biographies.
9. Lou Reed, "NYC Man" (1996)
Set the Twilight Reeling is a contender for Reed's most contented album, and "NYC Man" offers a breezy portrait of the artist as a middle-aged man in love. The soft horns, skittering beat and delicate guitar inspires a tender vocal performance from Lou, who all too often lapsed into tuneless bellowing in his latter days. "I'm a New York City man, baby," he coos. "Blink your eyes and I'm gone." He may be gone now, but he'll be a NYC Man forever.
10. Lou Reed and Metallica, "Junior Dad" (2012)
Lulu, Reed's collaboration with Metallica, quickly became a punch line among fans of both artists. The jury's still out for some of us, though; it's hard to know for sure if it's great, but it's easy to say that it sure is something. They knocked it out of the park with this astonishing, twenty-minute epic that's a plea for an elusive state of grace. But Lou isn't down on his knees as he floats through the music's ambient ether; singing of "psychic savagery," he remained uncompromising and beautiful to the last.