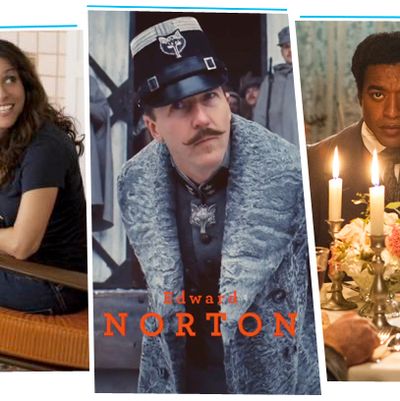 Every week, Vulture faces the big, important questions in entertainment and comes to some creative conclusions. This week, we kvetched about Homeland, explained how Sleepy Hollow became a hit, and pulled the best quotes from Morrissey's autobiography. You may have read some of these stories below, but you certainly didn't read them all. We forgive you.
Q: Does 12 Years a Slave meet the hype?
A: In his review of the film, David Edelstein writes, "It's smashingly effective as melodrama. But McQueen's directorial voice — cold, stark, deterministic — keeps it from attaining the kind of grace that marks the voice of a true film artist." And despite the near unanimity of critical praise, almost every reviewer — including Edelstein — find Brad Pitt's "savior" entrance in the final act as the low point of the film.
Q: When does Wes Anderson's latest film The Grand Budapest Hotel come out?
A: The movie hits theaters March 7, 2014. The trailer has arrived, though, and from the looks of it, the movie seems to be as Wes Anderson–y as his other movies. We've frozen each title card for your jpeg amusement/judgment.
Q: I can't believe Sly Stallone and Ah-nuld are finally in a movie together!
A: Agreed. The film has been decades in the making. We took a look at their relationship that started with two young meatheads in Hollywood vying for attention and evolved into middle-aged bromance. Beautiful, really.
Q: Isn't Julia Louis-Dreyfus just the greatest?
A: From the charming bit she did with Tony Hale during her acceptance speech at the Emmys to her performance in Nicole Holofcener's Enough Said, it's time to for us to say it: Julia, the Internet hasn't loved you enough. We're sorry, and we're trying to fix that.
Q: How did Sleepy Hollow become such a hit?
A: As Josef Adalian explains, it's a success because it's a genre show that, according to co-creator and executive producer Alex Kurtzman, "you didn't have to be a genre fan to watch." Plus, it unabashedly embraces the crazy and sharpens the narrative focus with a thirteen-episode season.
Q: What's going on with this season of Homeland?
A: Margaret Lyons writes, "When I first gushed about Homeland, I used to tell people it was like 24, if 24 had stayed good. Now … it's more like all of 24: A great first season, and then a long way down."
Q: Speaking of bad television, how is Catfish still on?
A: Well, it might be a stupid show, but it also gets at the heart of something deeply troubling in America. Margaret Lyons writes, "People want to feel loved, they want to feel connected, and if the only way to get that is on MySpace with someone who's obviously lying, well, it's better than nothing."
Q: Nick and Jess getting together on New Girl: good thing or bad thing?
A: Although Amanda Dobbins was originally rooting for Nick and Jess to couple up, now that they are, she isn't so sure. Dobbins writes, "Together they are alarmingly sexless, like two cartoon characters without genitals. How can they be humping all the time if they don't even have the proper parts?"
Q: What are some of the weirdest/best moments in talk show history?
A: Julie Klausner watches some of the clips with Scott Aukerman, the host of the semi-scripted talk show Comedy Bang! Bang! including Drew Barrymore lifting her shirt for David Letterman and Hugh Grant fumbling for words to explain his prostitution arrest to Jay Leno.
Q: Did Morrissey's autobiography get published?
A: There were some hiccups, but it has been published in the UK as a Penguin Classic under the title Autobiography. We culled the best quotes, including this one on how he became a singer: "All human activity is fruitless when pitted against the girls and boys singing on pop television, for they have found the answer as the rest of us search for the question. I will sing, too. If not, I will have to die."