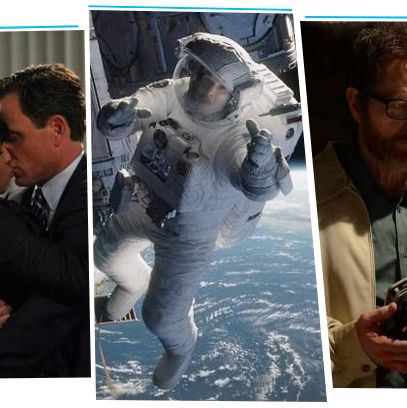 Every week, Vulture faces the big, important questions in entertainment and comes to some creative conclusions. This week, we endlessly dissected the Breaking Bad finale, agonized over Olivia and Fitz's relationship on Scandal, and raved about Alfonso ­Cuarón's Gravity. You may have read some of these stories below, but you certainly didn't read them all. We forgive you.
Q: What did you think of the Breaking Bad finale? 
A: In his recap of the finale, Matt Zoller Seitz said that the episode had the "feeling of Dickensian reckoning, with closure galore but minus any real sense of hope." Four days later, he still thinks it was one of the greatest finales in TV history. It did, appropriately, kill in ratings.
For more Breaking Bad, there is Stephen Colbert's interview with Vince Gilligan, all of these gifs, and a mash-up with Need for Speed.
Q: I'm still reeling. Why did the finale end the way it did? 
A: Well, don't complain about spoilers! We learned 11 facts from Talking Bad, including that the cameraman was in tears shooting Walt and Skylar's final scene. Also, we had a psychiatrist analyze how the Whites move on from this. For now though, Margaret Lyons hopes we can take a break from antiheroes for a while. 
Q: Well, what do I watch now? I feel so empty inside. Are any of the new shows any good? 
A: According to MZS, the cast of Sean Saves the World is its saving grace, Masters of Sex has a "sneaky charm," and that both The Millers and Welcome to the Family are pretty forgettable. As for Rebel Wilson's new show, Super Fun Night, Lyons says that it lacks "empathy." 
Q: I don't know how to feel about Fitz and Olivia on Scandal. Aren't they in a toxic relationship? 
A: You're not the only one. Many of the cast members are actually Team Jake. Margaret Lyons described their relationship as "so tortured it's not even fun to watch." But don't expect this Gordian knot of love, anguish, and despair to untangle itself any time soon. Tony Goldwyn, who plays Prez Fitz, told Vulture, "Fitz has not given up. He won't. He'd rather die than lose Olivia, I really believe that."
Q: How is Gravity? 
A: David Edelstein suggests watching it in 3-D, "Almost from the start, director Alfonso ­Cuarón puts you inside the frame and subject (in your pummeled, suggestible state) to the primal fight-or-flight instincts engendered by disorientation." It's epic. And only 91 minutes long.
For the magazine, Dan P. Lee wrote a profile of Cuarón making the film. Also check out Cuarón's highly referential homage to the horror genre in the intro for The Simpsons' "Treehouse of Horror" episode.
Q: Are there any other movies worth watching? 
A: Edelstein and Bilge Ebiri have a list of the 10 movies you should see at the New York Film Festival, which ends October 13. Otherwise, according to Ebiri, Runner Runner starring Ben Affleck and Justin Timberlake is "too dignified" without the requisite sleaze, grit, and grime. A.C.O.D. with Adam Scott and Amy Poehler is "reasonably pleasant and therapeutic and antiseptic." 
If you're in the mood for a documentary about how America is a terrible place, Edelstein recommends Let the Fire Burn, which he calls, "electrifying" and "a time machine and a triumph of documentary form." 
Q: Did anyone ever figure out what Bill Murray whispered into Scarlett Johansson's ear at the end of Lost in Translation? 
A: Probably not. But some pretty awesome theories have been proposed in the ten years since the movie was released, including one that involves time travel.
Q: What's going on between Miley Cyrus and Sinead O'Connor? 
A: Hmm. Well, the older one told the younger one not to become a "prostitute" for the music industry and then the younger one stuck her tongue out and called the older one the original Amanda Bynes.
Q: Isn't there a new girl on top of the charts now? 
A: Correct. Meet Lorde, your anti-selfie, angsty Kiwi Queen Bee.
Q: But what if we care more about Kings of Leon? How did they become bigger than the Strokes anyway?