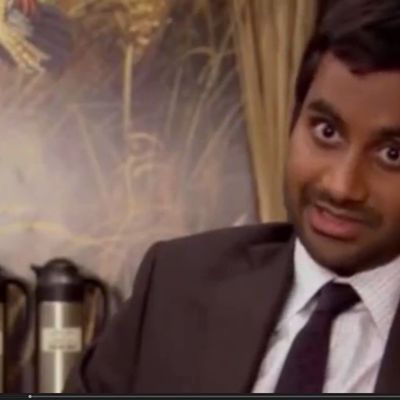 Near the end of the Parks and Recreation pilot episode, there's a goofy little montage of Leslie Knope begging Ron Swanson to let her start a committee. The scene wasn't written that way, but after Amy Poehler's improvised bits proved too good to leave out, editor Dean Holland figured out how to save them. He slapped them together with jump-cuts and birthed a new way to pack even more jokes into 22 minutes.
Over its first five seasons, Parks deployed the jump-cut montage at least a dozen times, providing viewers with many quotable, memorable, and, yes, rankable moments. To tide you over until the show returns from its NBC-induced slumber, we give you a ranking of twelve excellent rapid-fire monologues from the show's first five seasons. Here's hoping that, when the season resumes, we'll see one of these delivered by Jerry.
12. Leslie annoys Ron (Season 1, Episode 1 — "Pilot")
This bit is fantastic because it's Amy Poehler doing those goofy Amy Poehler things that make people fall in love with her. It doesn't have the laughs of the montages that would come later, but it's the Rosetta Stone, and for that it deserves our praise.
11. Leslie reacting to quotes about the pit (S1, E3 — "The Reporter")
Two episodes later, Poehler outdoes herself with the help of a JJ's waffle and the absurd quotes of those who think she can't turn a pit into a park.
10. Leslie's bad dates (S2, E4 — "Practice Date")
Remember that page in Seventeen with mortifying vignettes purportedly written by teenage girls (but probably composed by the magazine's editors) that was supposed to make other teenage girls feel better about their own embarrassing lives? Leslie Knope does.
9. Ways Ron hasn't changed (S4, E22 — "Win, Lose, or Draw")
Ron Swanson's monologue about his resistance to change might sit at No. 9 on this humble list, but the line "I have one bowl" is probably the best the character has ever spoken.
8. Ways Leslie has been dumped (S3, E6 — "Indianapolis")
For a smart, ambitious, attractive woman, Leslie sure has a lot of embarrassing breakup stories. It's as if men are intimidated by someone who could dominate them in a waffle-eating contest.
7. Ron's pyramid of greatness (S3, E1 — "Go Big or Go Home")
The sad thing about this delivery of Swanson-isms is that it's limited to seven. It's fun to read the other building blocks of the pyramid of greatness ("Friends: One to three is sufficient."; "Perspiration: Only sweat during physical activity and love making. No emotional sweating."), but hearing them in that sweet Swanson baritone would make them so much better.
6. Tom's business ideas (S3, E14 — "The Fight")
Before rolling with Rent-a-Swag, Tom had more bad business ideas than an episode of Shark Tank. They included white ear muffs for men, a baby tuxedo line, and a phone that smells good. That last one might not sound so bad, until you realize he'd make it smell like Tommy Fresh.
5. Ron doling out advice (S5, E13 — "Emergency Response")
If Parks goes on for seven more seasons and starts killing off characters, this sequence will provide Ron Swanson's epitaph: "Cats are pointless."
4. Pawnee's slogans (S3, E3 — "Time Capsule")
Why would a town call attention to its history of factory fires or its brief flirtation with a cult or its desperate attempt to claim Julia Roberts or the silo-size waistbands of its residents? Because the town is Pawnee and the only thing it has going for it is being next to Eagleton.
3. Andy's band names (S1, E6 — "Rock Show")
Creator Michael Schur once said this is when he knew "we had cracked the nut." The story of Mouse Rat's evolution was the first time lines were written specifically for a jump-cut montage and the result was a perfect list of band names that inspired these surf-rock tweens, this post-rock band from Dublin, these avant-garde metal heads, and probably a bunch of others.
2. Why Leslie shot Ron (S2, E10 — "Hunting Trip")
It's been suggested that Parks is TV's most feminist show, in part because it handles the issue so subtly. Leslie is highly competent and ambitious. The women have non-catty, loving relationships with each other. Donna is confident and sexy and big. But the show's best feminist thread is how utterly mockable the sexist men are. Jean Ralphio, Jamm, and Councilman Milton are the usual suspects, but it's a lowly park ranger who gets nailed with this assault of sarcastic excuses Leslie gives for shooting Ron. The best part: She didn't even do it.
1. Tom's food nicknames (S3, E10 — "Soulmates")
None of the other bits on this list has lived on like Tom's menu of cute food nicknames. The website TomHaverfoods.com sprang up immediately after the episode aired, and people were desperate to make their own additions to the list (e.g., biscuits = butter boats). The site eventually made its way back to Aziz, who told Vulture most of the credit goes to the writers, though he did ad-lib "sammies" because that's what he calls sandwiches in real life. The hype, of course, was justified. Parks is at its best when a self-satisfied Tom is showing how clever he can be and pointing at the camera. Plus, long-ass rice!