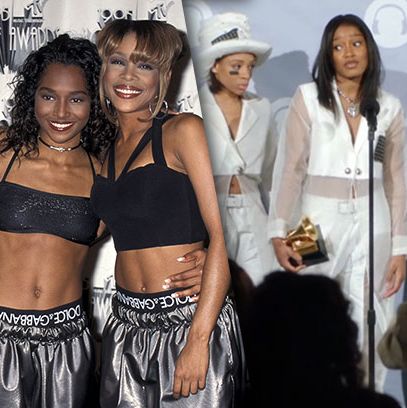 Watch out, scrubs — the TLC biopic CrazySexyCool premieres tonight on VH1. It's bound to provide, at minimum, your annual reminder to revisit VH1's previous triumph involving the hugely successful R&B band — namely, Behind the Music: TLC. But here's hoping CrazySexyCool delivers a worthy tribute to one of the all-time greatest girl groups. It shouldn't be hard, considering how fascinating the band's story is, filled with drama aplenty: bankruptcy, arson, sickness, and, sadly, the 2002 death of Lisa "Left Eye" Lopes. That last tragedy will no doubt be covered at length, but given its two-hour run-time, we worry that many other important TLC things will get left out of CrazySexyCool. If we're being real about the best moments of the TLC story, here are five that should be in there.
"Turn on Channel 5, Lisa burned the house down."
It is a well-known fact in certain circles that the best episode of VH1's Behind the Music is the one about TLC. It's so good, in fact, that not only did VH1 "remaster" it for repeats, but it contains multiple memorable parts that are previously unknown even to diehard TLC fans. The first is a quote by Chilli, from an interview seemingly erased from the Internet*, in response to Lisa "Left Eye" Lopes's accidental burning of her boyfriend's house by setting fire to her shoes in a fiberglass tub. "Turn on Channel 5, Lisa burned the house down," recalls Chilli, her hand mimicking a phone call.
"Everyone, get ready to do your math."
CrazySexyCool will likely mention (and probably fixate on) the girls' bold claims throughout most of their career of utter brokeness. Even after they won two Grammys, the topic came up at a postshow press conference: "We are broke as broke can be," Chilli said. But how? Well, in the second most memorable part of Behind the Music, Left Eye clears it all up.
The music video for "Waterfalls."
"This is gonna be as big as 'Thriller'," said Chilli during a behind-the-scenes look at the trio's video for "Waterfalls," a video that attempted to portray the song's sadness. Whether or not you believe that the video lived up to Chilli's boast, it did sweep the 1995 VMAs, taking home Video of the Year, Best Group Video, Best R&B Video, and the Viewers' Choice Award.
Left Eye's American Sign Language in the music video for "Unpretty" and/or the theme to Nickelodeon's All That.
Why two moments here? Because these are of equal importance to me, and I'll take one or the other (or both) appearing in tonight's biopic.
Usher Raymond.
Yes, Chilli recently came out with the bombshell that Usher's Confessions, an entire album's worth of infidelity repentance, wasn't actually about their relationship. Strangely timed, because TLC fans had been assuming this was the case for years without official denial. No matter, as the two were very publicly together as an R&B power couple for quite sometime, and some actor's abs must be up to the challenge of Usher imitation.
*If anyone has a copy of this clip, please sent it my way. For historical purposes, it must be properly archived.