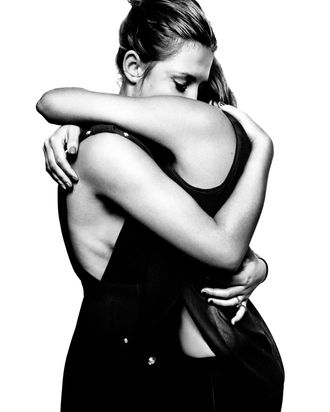 Adèle Exarchopoulos and Léa ­Seydoux, photographed by Platon
Photo: Platon
Did they roll out of bed looking like this, or did they just never go to sleep? One morning in September, the two stars of the film Blue Is the Warmest Color, Adèle Exarchopoulos and Léa ­Seydoux, breeze into a suite at Toronto's Fairmont Royal York hotel, fashionably late, naturally chic in designer clothes, and chattering like sisters in their native French. They're six time zones from home, and in the past week, they've gone from Paris to the ­Telluride Film Festival to a junket in L.A. to last night's Toronto Film Festival premiere, which was followed by a rooftop soirée. They left at midnight, "but after, we party more in some form," says Seydoux.
The pair's world tour actually began in May at the Cannes Film Festival, where a jury led by Steven Spielberg unanimously voted to give Blue the Palme d'Or. In an unprecedented move for Cannes, the prize was given jointly to Seydoux, ­Exarchopoulos, and Blue's Tunisian director, Abdellatif Kechiche (the Palme has only ever gone to the winning film's director); this makes the actresses the only women besides Jane Campion to have won the festival's top award. "The Palme d'Or never happened for actors too, and I'm only 19, so it was, like, not real," says Exarchopoulos. That Blue won at all was something of a surprise. It's a three-hour film, based on a graphic novel by Julie Maroh, that follows high-school junior Adèle (Exarchopoulos) as she falls in love with Seydoux's blue-haired art-college student, Emma—a romance captured through some incredibly intimate camerawork, particularly during the graphic sex scenes, one of which goes on for nearly seven minutes. In the States, the movie has earned an NC-17 rating and been effectively banned in Idaho. In France, where anyone older than 12 can see it, it had the biggest opening of any homegrown feature this year. Spielberg, at least, wasn't prudish: When ­Exarchopoulos met him at Cannes, she says, "He told us that it was the best love story he'd ever seen and that he wanted his child to watch it, and that he really loved the close-ups."
Seydoux and Exarchopoulos grew close over the five-and-a-half-month shoot for Blue and are so affectionate together that they're often mistaken for a real couple—an illusion Exarchopoulos frequently ­dispels by making out in public with her boyfriend, Jérémie Laheurte, another Blue co-star. She and Laheurte fell for each other on set, quickly moved in together, and have been "glimpsed sharing a passionate kiss," as the Toronto Star put it, in hotel lobbies and on red carpets. "Oh, yeah," says a film rep who's traveled with Exarchopoulos and Laheurte. "They ­passionately kiss everywhere."
Seydoux, 28, is the more seasoned of the two actresses, having played small parts in Midnight in Paris and Mission: ­Impossible—Ghost Protocol. The face of Rag & Bone and Prada's Candy fragrance, she's wearing a red-and-white-checkered blouse and Capri pants today that would make anyone else look like a circus ring­master, especially at 10 a.m. She disappears into the bathroom and emerges with two handfuls of miniature toiletries. "I take these because I forget shampoo and I don't have time to shop, and this one looks very good," she says.
"Très bonne idée, Léa!" says Exarchopoulos, briefly looking up from her phone. Her hair is in a messy bun, and she's wearing—again, at 10 a.m.—a skintight black Balmain jumper with diamond-shaped cutouts that expose much of her waist. According to the film rep, that outfit just barely arrived in Toronto, stuffed into a beat-up cardboard box full of borrowed couture that she's been carting around the U.S. for two weeks. Unlike ­Seydoux, whose relatives are CEOs of French film conglomerates, ­Exarchopoulos had no previous ties to the industry. Her mother is a nurse, and her father teaches guitar. She started acting lessons at 8 and has had small roles in a number of French films, but she was still selling popcorn at a stadium ­concession stand when she first met Kechiche over coffee about her part in Blue. Kechiche has said he knew he'd found his star when he saw Exarchopoulos eating, which she often does in the movie, with a big open-mouthed grin; she scarfs down a croissant the same way in my presence. She says she was disappointed to hear that, because it takes away from her acting. "But I think it's funny." Plus, "I think for ­Abdellatif, the way you eat, it's like the way you are. To eat life, to eat your girlfriend, to eat literature. I think [my character] wants to discover everything. Everything is new for her, so she just wants to try."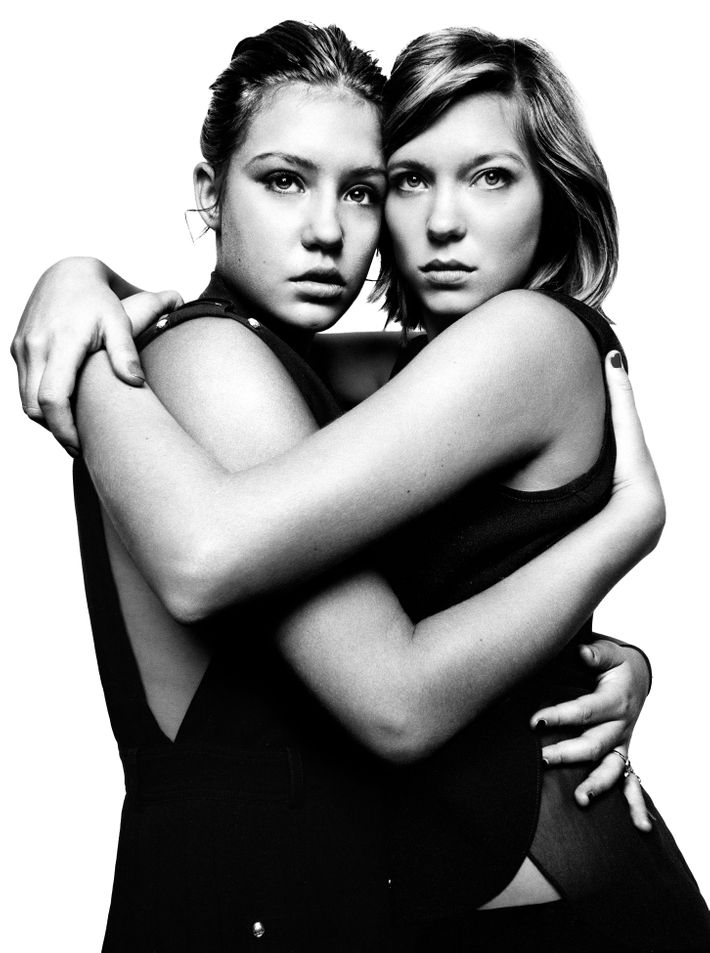 Seydoux prepared for her role by studying Marlon Brando and James Dean. "I was looking at men, how they walk, how they smoke, how they look at a woman," she says. "I was a tomboy as a kid, so I really wanted to play a man." Exarchopoulos says all she did was work out, to get in shape for the marathon sex scenes: "I tried to stay instinctive. My character is living a first experience, so I let myself go." She also drew on the "bad story" of her first love, at age 14. "I tried to remember your first crush, when you think you're gonna die when you break up, even if your friend gives you chocolate, takes you to the cinema, and makes you meet some boys. Even if they're beautiful, you're like, I don't care! It will never be the same in my life!"
Neither actress expected an easy shoot. But, in practice, "it was too difficult," says Exarchopoulos. Filming lasted months longer than planned, because, she says, "Abdell loves to take his time. He doesn't like fabrication. He doesn't want to see you act—he wants to take your soul." Since Cannes, they've complained in interviews about how Kechiche took ten days to shoot the longest sex scene and how, Seydoux says, he asked them to do things that made her feel like "a prostitute." During a fight scene, they claim, he told them to really hit each other and continued shooting even after Exarchopoulos cut herself on a glass door. Both stars have said they'll never work with the director again. "His manners are very tough," says Seydoux. "Tough," Exarchopoulos agrees.
Kechiche has countered that the production took so long because he wasn't getting the performance he wanted from Seydoux, and at one point he said he no longer thought the film should be released. And yet it is being released, and Exarchopoulos and Seydoux are cheerfully hawking it all over the world. Was the controversy manufactured to promote a movie whose run time, subject matter, and subtitles make it a hard sell to American audiences? Exarchopoulos says no. "We didn't want to denounce things. But when people ask you the same questions all the time, sometimes you just answer the truth and that's all. It's a big adventure, and I think this experience learn us that it's more cool to say things in private."
They're already moving on, anyway. Exarchopoulos has signed with CAA, and Seydoux will appear next in a French-­language version of Beauty and the Beast and in an Yves Saint Laurent biopic as the designer's muse. While they appreciate all the attention for Blue, they're still a little baffled. "It's just a common subject, a love story," says Exarchopoulos. "Two people meet each other and love each other and how it can change your life and change you inside. Pretty common and simple. Not a big deal."
*This article originally appeared in the October 28, 2013 issue of New York Magazine.