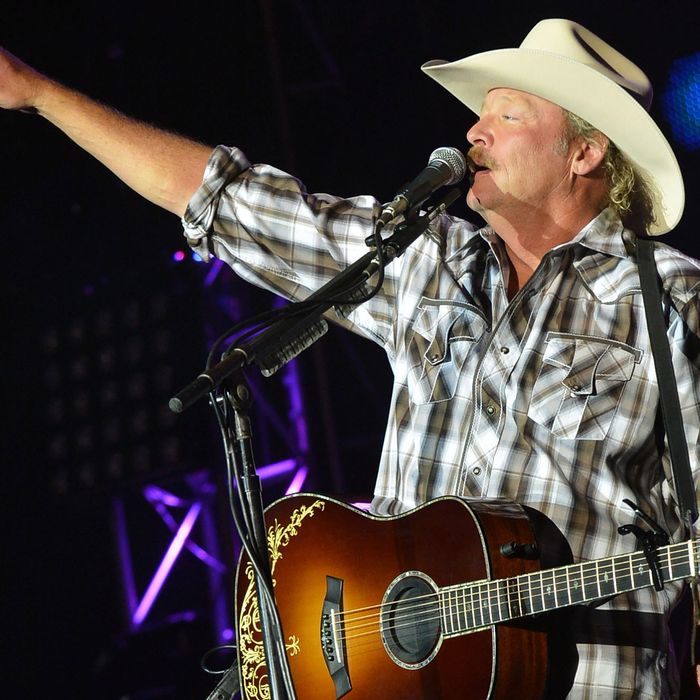 Photo: Rick Diamond/Getty Images
If Alan Jackson has ever broken a sweat, he's never done it in a recording studio. Jackson, 55, is one of the biggest country stars of the past quarter century. He's definitely the most relaxed. He delivers his songs in an easygoing baritone, rarely raising his voice, no matter what he's singing: party-hearty honkytonk tunes, old-fashioned weepers, duets with Jimmy Buffett, novelty songs about carpetbagging country singers, the maudlin 9/11 ballad "Where Were You (When the World Stopped Turning)." He's an imposing man: six-foot-four, broad-shouldered, with a thick blond mustache that looks like it's been edged with a combine harvester. But onstage, he's languid, planting himself in front of a microphone and letting the songs glide out. The laid-back style sets a listener at ease: An Alan Jackson song is an invitation to put your feet up. Some musicians have name-brand fragrances or headphones. Jackson has a rocking chair, the Cracker Barrel Alan Jackson Signature Rocker.
Jackson's nonchalance is a technique, and a technique-masker. His notes twirl and float with classic country swing — swing so subtle, you sometimes barely notice that Jackson is singing at all. The goal is to make singing sound as natural as speech, a crucial deception in a genre that prizes naturalism and storytelling. That vocal style doubles as a character portrait: the voice of the archetypal country music male, the strong (or secretly weak) silent type, a stoical man's-man who hides his deep feelings beneath a gruff exterior and a twelve-gallon Stetson. The master of the form was George Jones, and though mainstream country long ago abandoned Jonesism, Jackson still carries the torch. At Jones's funeral in May, Jackson was tasked with singing the great man's most famous song, "He Stopped Loving Her Today." The result was a triumph of restraint, proof that an understated performance can level you like a middle-linebacker's open-field tackle.
Last night, Jackson played Carnegie Hall. I'd been looking forward to the show for weeks, but life intervened and, at the last minute, I had to skip it. (That high lonesome wail you heard at 8 p.m. yesterday was not the baying of a coonhound.) I've seen Jackson before, but I was eager to check out the current tour, in support of his lively new collection of bluegrass songs. For two decades, Jackson was one of the biggest hit-makers in any genre. (The Recording Industry Association of America ranks Jackson 33rd on the list of all-time top-selling artists, with 43.5 million albums sold.) But it's been four years and four albums since Jackson placed a single in the country top ten; he's unfashionable now, and it suits him. This year he's released two excellent, defiantly uncommercial long-players: The Bluegrass Album, and Precious Memories Volume II, a gospel record.
The Bluegrass Album in particular is great fun. Unlike many roots music albums, it's not self-important or fusty. In fact, it's anti-nostalgic: Eight of its new songs are Jackson originals, and one of those, "Blacktop," takes aim at pastoral sentimentality. "This ain't no song about the good ol' days / Simpler times or easy ways," Jackson sings. "I was glad to see the blacktop / When they laid it down in '65 / I was glad to see the blacktop / No more dust in my eyes." It sounds like bluegrass, all right — a keening Appalachian tone has crept into Jackson's voice — but he sings the way he always has: easefully, elegantly, with the artlessness that only an artist can muster.