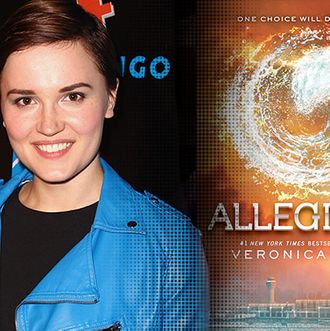 Calling all factions! Veronica Roth, author of the Divergent trilogy and mini-marshmallow enthusiast, will join us for a rescheduled Google+ Hangout on Tuesday, November 5, at 4 p.m. ET. Up for discussion: Allegiant (proper warning: Spoilers will abound, so steer clear if you haven't yet read the book), the forthcoming Divergent movie, and, of course, your own burning questions.
Post what you'd like to ask Veronica in the comments below. Leave us your name (first and last), and where you're from (all three pieces of information are needed), and we'll choose the best ones to read on-air. Just don't ask her if she'd date Four — that's already been covered.
We'll simulcast the hangout right here on Vulture and on our Google+ page. Add Vulture on Google+ to join us there and ask questions via the Q&A app, and if you haven't yet nabbed your copy of Allegiant, pick it up right from Veronica's page on Google Play.
Fire away!