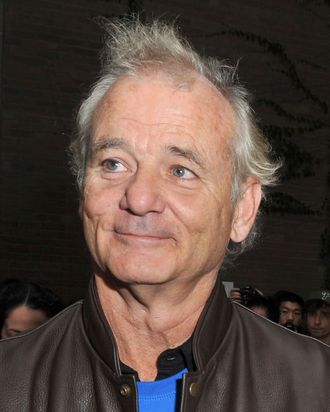 Actor Bill Murray arrives at the "Passion Play" Premiere held at Ryerson Theatre during the 35th Toronto International Film Festival on September 10, 2010 in Toronto, Canada.
Photo: George Pimentel/WireImage
Exciting news from the secretive set of Cameron Crowe's latest project: Veteran actor and human Where's Waldo Bill Murray has joined the cast. According to TheWrap, Murray will join producer Scott Rudin — with whom he's already worked on numerous Wes Anderson movies — on set in Hawaii for the revamped version of Crowe's old script Deep Tiki. The romantic comedy already boasts Bradley Cooper as "a defense contractor who's assigned to oversee the launch of a weapons satellite" when "he falls for an Air Force pilot (Emma Stone)." The cast also includes Rachel McAdams, Danny McBride, Alec Baldwin, Edi Gathegi, and Jay Baruchel as part of the team that must "scuttle the launch" with the help of "mystical island forces and a talking computer." Should be fun.