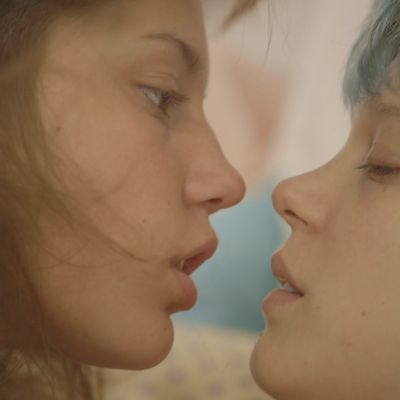 Ever since Blue Is the Warmest Color was first screened at this summer's Cannes Film Festival, tongues have wagged about the three-hour French movie's explicit lesbian sex, including a centerpiece scene that runs a full seven minutes. Last weekend, New York Times critic Manohla Dargis took the film to task, airing concerns about the way Tunisian-French director Abdellatif Kechiche filmed the bodies of actresses Léa Seydoux and Adèle Exarchopoulos. The piece was an expansion upon her initial review from Cannes, in which she wrote, "[As Adèle] sleeps with her derrière prettily framed, the movie feels far more about Mr. Kechiche's desires than anything else."
But Dargis's critiques weren't the first and they certainly weren't the harshest. In May, the day after Blue Is the Warmest Color won the Palme d'Or, graphic novelist Julie Maroh, who wrote the book from which the movie is adapted, called the movie "a brutal and surgical display, exuberant and cold, of so-called lesbian sex, which turns into porn." Well, after seeing the film, this lesbian viewer will admit: In terms of what's shown on-camera, it is unprecedented. But is it authentic to the lesbian experience? It's easy to wonder if the real question that Dargis and Maroh are posing is whether a male filmmaker can tell lesbian stories faithfully, without fetishizing the sex. I would like to believe they can. The sex is hot — but it's also cold. Which is to say, Kechiche, I fear, is not the man for the job. He is so focused on the mechanics of sex that he's forgotten about the emotional aspects: banter, laughter, crying, anguish, fear, remorse.  As Judith Dry reports in her essay for Indiewire, when asked at a press conference which lesbian-directed films served as Blue's forebears, Kechiche cited Ben-Hur. Why would he turn to a homoerotic Charlton Heston vehicle, when there are several decades' worth of Sapphic romance on celluloid available, directed by men and women, straight and gay, for reference?
I saw my first lesbian movie about 25 years ago, shortly after coming out to my best friend. (I was 16.) I sat down to watch Personal Best, which starred Mariel Hemingway as an Olympic-bound athlete who falls for her lesbian teammate, to see what a lesbian existence might look like. I braced myself as I witnessed my first Sapphic movie sex scene: The initial seduction begins with a strenuous arm-wrestling match, then an exchange of meaningful eye contact, followed by heavy breathing, a confession of fear, and a dry peck on the lips. The actual sex depicts two naked women talking and caressing in bed and then one woman climbs on top of the other and  … scene! As for the relationship, jealousy ultimately frays the bond, and no sooner do they break up, then Hemingway runs into the arms of a male swimmer. And that was the architecture of a lesbian relationship, as drawn by the movies. Still, that 1982 movie, directed by a man (Robert Towne, who appeared to have a Kechiche-like appetite for naked women — in the locker room, in the steamroom …) was a true Hollywood trailblazer, the first positive portrayal of a female same-sex relationship, and the most intimate depiction of lesbian sex, in a major motion picture.
Prior to that, with the exception maybe of the 1968 French art-house film Therese and Isabelle, in which a woman visits her old boarding school and has flashbacks to the girl she fell in love with as a teen, lesbian relationships were almost always doomed — mental hospitals (see 1964's Lilith) were one favorite setting — and lesbians were cast as either predators or victims, some of whom died by film's end. One of the earliest films to show a lesbian kiss dates back to 1930, in which a tuxedoed Marlene Dietrich gives a quick, but full-on-mouth smooch to another woman in Morocco. The following year came the first true lesbian movie, the German, female-directed Mädchen in Uniform, about a schoolgirl's infatuation with her headmistress. But once it got through the U.S. censors, thanks to the Hays Code (a.k.a. the Motion Picture Production Code), most of the lesbian content was reduced to subtext and longing stares.
The Code was abandoned in 1968, yet it took over a decade for the studios to get into bed with lesbian sex, with Personal Best and then The Hunger, which came out in 1983. In that movie, Catherine Deneuve plays a vampire living in Manhattan who decides to share her gift of eternal life with a gerontologist played by Susan Sarandon in a seduction scene that has since become iconic (if a little cheesy, in an eighties soft-porn kind of a way). Sarandon sheds her see-through shirt, strips down to her black silk panties, and slides onto a canopy bed, diaphanous scarves blowing in the breeze. There she awaits Deneuve, who lets her hair down but keeps her negligee on. The two kiss (restrained and closed-mouthed, as was the case then), and, spoiler alert, Deneuve slashes Sarandon's throat with an ankh. Lesbian pleasure comes at a price.
Another groundbreaker, for a different reason, arrived in 1985: Desert Hearts, directed by a lesbian and based on a novel written by a lesbian. Set in Reno in 1959, the film introduces a timid Columbia English professor who comes to stay at a ranch for women seeking quickie divorces. There she meets — and, much to her surprise, falls in love with — the proprietor's surrogate daughter, a bohemian sculptor. While we're wired to anticipate fallout during each of their love scenes and their relationship is fraught with the tension of the professor cleaving to the closet, we're pleasantly rewarded with a denouement: Nobody gets punished. They stay together. A first.
Not surprisingly, subsequent movies made by lesbian filmmakers got to break away from the doomed-relationship trope. Go Fish (1994), made by Rose Troche and Guinevere Turner (who also starred), recounts a tepid flirtation between a student and a shy, nerdy hippie chick who ditches her long-distance girlfriend and recasts herself as a butch. Foreplay begins when Max clips Ely's nails. Maria Maggenti's sweet debut, The Incredibly True Adventures of Two Girls in Love (1995) tells the story of two teenagers, an upper-middle-class black girl and a working-class white girl, who consummate their love in Evie's mother's deluxe bedroom after a debauched, romantic night of pot-smoking, wine, and fine dining. They get caught, but leave the consequences for their families to worry about.
Bound, the Wachowskis' directorial debut, hit the theaters the next year, and that movie raised the lesbian-sex-scenes stakes higher than they had ever been, thanks in part to queer sexpert Susie Bright, who served as consultant. The noir crime thriller was at once campy and steamy, and starred Gina Gershon as Corky, a snarly, swaggering, inked-up, labyris-clad ex-con and Jennifer Tilly as her lover and co-conspirator in a plan to steal money from the mob. The sex was moody and hot, as it played up the butch-femme dynamic.
Most of these films succeed in projecting sex to a broad audience. But there is another key to representing lesbian love stories, and that is evoking the uniquely fraught emotions that can strangle and unravel relationships. Movies like the Sichel sisters' All Over Me (1997), Jennifer Westfeldt's Kissing Jessica Stein (2001), Lisa Cholodenko's High Art (1998) and The Kids Are All Right (2010), and Dee Rees's Pariah (2011) are brilliant in showing the messiness and awkwardness of what happens in the bedroom, and the angst and turmoil that may come before, during, and after. The Kids Are All Right in particular depicted something never seen before in mainstream cinema: lesbian marital-ennui sex. The kind women might have when they've been together a long time and they want to get off and then go to sleep — like any other couple, except that there haven't been many films about lesbian domestic life. Nic (Annette Bening) is in bed, clicks on the gay porn, gets out her vibrator, and then her partner of twenty years, Jules (Julianne Moore), slips under the covers and goes down on her. There's no foreplay, and it is determinedly unsexy. In this instance, no one gets off, and everyone is frustrated. Cholodenko was revealing something more intimate than any lesbian filmmaker before her, something that my lesbian friends and I jokingly called the "final frontier" — our dirtiest little secret, our love of gay male porn — and it was bold. It left a lot of viewers either confused or enraged. (Until they got to the scene where Jules hooks up with Mark Ruffalo's character. Then it was war).
All that, in three decades. So, sure, we're finally at a point where a lesbian sex scene in film is no longer a novelty, no matter how physically explicit. The real triumph, however, will come when a filmmaker like Kechiche stops mistaking baring your body for baring your soul, and instead listens to women when they're explaining with words and with actions — and even with expressive faces up in his lens — what it means to be in love, to be terrified, and to be heartbroken.