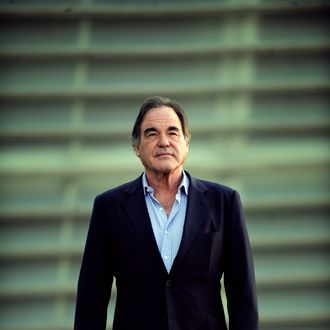 Oliver Stone did not share his thoughts on what it takes to "live fancy," but he and Britney Spears have both voiced their displeasure over the Breaking Bad finale. While promoting the Blu-ray release of his documentary series The Untold History of the United States, the director said he feels there's "too much violence in our movies," and Breaking Bad is a prime example. "I happen to not watch the series very much, but I happened to tune in and I saw the most ridiculous 15 minutes of a movie – it would be laughed off the screen." (Brace yourself for spoilers.)
He elaborated, per Forbes:
Nobody could park his car right then and there and could have a machine gun that could go off perfectly and kill all of the bad guys! It would be a joke … It's only in the movies that you find this kind of fantasy violence. And that's infected the American culture; you young people believe all of this shit! Batman and Superman, you've lost your minds, and you don 't even know it! At least respect violence. I'm not saying don't show violence, but show it with authenticity.
Brit actually called for even less realistic violence, saying Walter White shouldn't have died, and she'd like to see "another episode where the ambulance comes and revives him." Don't get your hopes up for an Oliver Stone–directed "Work Bitch" remix video.