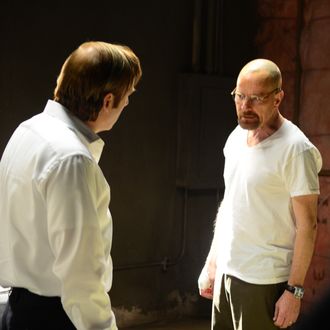 Walter White, sex fan.
Photo: Ursula Coyote/AMC
Breaking Bad is over. It's as dead as [redacted, for spoiler reasons]. This means there won't be any new stories for Walt, Jesse, and the rest of the gang. So with it over, Entertainment Weekly talked to the whole cast about the scenes they wished could've happened. Here's what Cranston said:
A lurid affair with a tart. (Laughs) I thought maybe that would happen. At some point, [Walt] would get so full of himself, he's throwing his weight around, and he sees some pretty girl and goes, "Come here. You and me. Right now. Let's go!" That kind of thing, when he and Skyler were on the outs and she was giving him the cold shoulder.
We wouldn't have minded if the show had more actual tarts. Like, as a respite from cooking meth, Walt cooked baked goods.