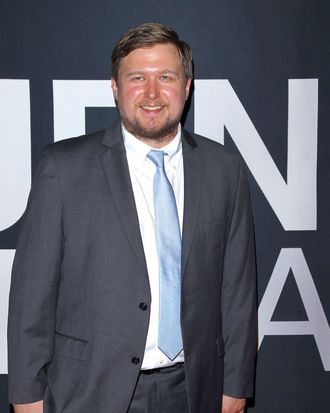 Michael Chernus.
Photo: Jimi Celeste/?Patrick McMullan
Most of Captain Phillips centers around the survival of the title character, played wonderfully by Tom Hanks, but there was of course a whole crew aboard the Maersk Alabama when Somali pirates overtook the cargo ship in 2009, including the captain's second-in-command, Shane Murphy. We spoke to Michael Chernus, who plays the chief mate, at the NYFF premiere of the movie last week. (He also plays Piper's "edging" brother on Orange Is the New Black.) Here's what he had to say about the movie-making experience. Spoiler: It was intense.
What was it like shooting your most intense scenes?
Well, we shot every day on a real Maersk container ship. Maersk donated the Alexander, which is the sister ship to the Alabama, so every day we were on that ship for twelve, fourteen, sixteen hours out on the Mediterranean, so there were none of the comforts of the usual Hollywood movie. If you're the first scene on the call sheet, you don't wrap at lunch, you're just sitting on that ship for the rest of the day. And vice versa, if you're the last scene of the day, they may not get to you, and you're spending fourteen hours on that ship.

So what do you do on that ship?
Right! So there's no Internet, obviously. There's no cell phones. And we were all confined basically to the mess hall, so it was twenty guys around two long dinner tables. Tom and Paul had their own cabins, but all the other cabins were occupied by the actual Maersk seamen, who were driving the ship. For every one of us, there was an actual real second. All of us had a Maersk merchant marine who was actually operating the ship.

So maybe you shadowed your second a little bit?
Yeah. Which was awesome, because Paul is very improv-heavy, and he wanted us to know everything you could know about your character's job, before a dangerous situation happened, and then everything you could know about the actual events of the real situation. So not only did I have to research the real Shane Murphy, and the events of those days, I also had to know everything that a real chief mate would do on a merchant marine ship. So it was very helpful to be able to ask the actual merchant seaman what he would do in any situation. It was tricky, because it was an all-Danish crew. Paul would be like, "Find out what you would be doing an hour before you depart from port," and I'd go to Christian, who was the real chief mate, "So, the crew's getting ready, we're about to pull out of the harbor, it's going to be a long trip, what would you do?" And he'd be like [in a Danish accent], "Ah, they would know what to do. I would do nothing." "Okay, but it's a movie. Speak your thoughts to me. Tell someone, 'You got to go do this.'"
What was it like to shoot the scene where you had to fix the fire hose that's gone awry? So that you guys can try to use the force of the water to keep the pirates from boarding?
And I get shot at, which is really intense. It took us a number of days to shoot it, because all those hoses are shooting real water. And I'm running. There was a day where I fixed the hose and I turned around and just slammed into this metal pillar, and hit my head …
Because it was slippery …
Super slippery. But you know, you just shake it off and you keep going, because at the end of it, you remember these actual guys did it for real. And so you can't feel like the wimpy actor who's like, "Ow, I hit my head." There's something to live up to.

What about the scene in the engine room? That must have been super claustrophobic, because it was a real engine room, not a set.
It was all so claustrophobic because there was nowhere to hide. You feel like you're going crazy after just weeks of being on that ship. And Paul was a stickler for creating real circumstances, so it was really hot down there. We would shut off the engines on the actual ship, so we would be sitting, no AC, no lights, and the camera's operating on battery …

It looked like the sweat was real.
The sweat was real! A lot of that stuff was real.
Do you get a lot of people coming up to you to ask you about edging, because of your character on Orange Is the New Black?
So many! So many. I'm like the go-to guy for masturbation now in New York City. Like, family members talk to me about edging. It's funny, of all the things I've done in my career, I get recognized every day for Orange Is the New Black. People just want to come up and talk about Cal, and his crazy life in the woods, but the edging thing is what they all come back to. More often than not, they say, "Is that real?" and then they say, "Have you done it?" To which I say, "Yes" and "No." And there are, like, GIFs about it on the Internet. But poor Larry will believe anything Cal tells him.