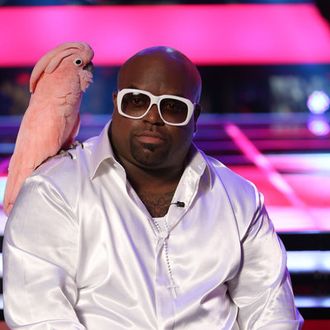 CeeLo Green won't be charged with sexual assault over allegations that he "slipped ecstasy to a 33-year-old female while the two were dining at a downtown Los Angeles restaurant sometime between July 13 and July 14, 2012," and then had sex in her hotel room, according to a statement from the Los Angeles district attorney's office. Prosecutors say there wasn't enough conclusive evidence to prove the sex between Green and the 33-year-old woman wasn't consensual. However, he still faces up to four years in a state prison if convicted of giving her drugs before the encounter.
Green was charged on Monday afternoon with furnishing a controlled substance, which is a felony, and pleaded not guilty. It was reported last year that after filing the report, the woman recorded a phone call with Green in which she tried to get him to admit to the crime. Supposedly, he apologized and mentioned MDNA.
Green's lawyer Blair Berk said Monday, "We are pleased that the Los Angeles County District Attorney has completed its investigation and concluded that the evidence did not support the false and unfounded claims made over a year ago." She also noted that her client "encouraged a full and complete investigation of those claims and he was confident once conducted he would be cleared of having any wrongful intent and it would be established that any relations were consensual." The singer, whose real name is Thomas DeCarlo Callaway, is expected back in court next month.