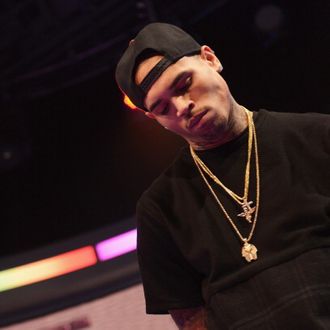 Chris Brown is no stranger to physical altercations and legal trouble, so there was little surprise over the news that Brown was arrested and charged with felony assault at 4:30 a.m. on Sunday in relation to a fight that broke out near the W Hotel in Washington, D.C. CNN reports that the generally unlikeable singer was in town hosting a "homecoming party" at The Park at Fourteen nightclub, just blocks from where he was arrested.
"There was a physical altercation, which resulted in the victim sustaining injuries," D.C. police spokesman Paul Metcalf said. Details on the victim's injures haven't been released, but police said the felony charges were partly based on the extent of his injuries. A bodyguard named Christopher Hollosy was also arrested, and police believe he and Brown were together during the incident.
Brown is still on probation in California for beating Rihanna back in 2009, and earlier this year prosecutors filed two probation violation charges against him, adding an extra 1,000 hours of community service to his sentence. As members of the general public, we're hoping this is the last such incident for Brown, or at least that he doesn't blame this most recent skirmish on the haters.