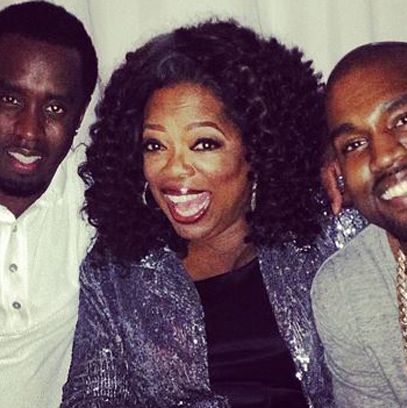 It wasn't long after TV host turned TV mogul (and all around "live your best life" champion) Oprah Winfrey posted her first Instagram photo in April 2012 that she became one of the social-media network's most charming celebrities. Was it the gratuitous shots of her garden's bounty? Or the casual photo-ops with fellow celebrities? Maybe it's the captions: "Don't you love it when a tomato is real?" reads a photo of Oprah and (surprise!) some tomatoes. No matter the reason, these are our favorites.
First off, she loves her veggies.
Harvest Day … just picked off the vine fava beans, herbs , and strawberries. #ilovemygarden
Don't you love it when a tomato is real? Just picked these. #harvestday
Baby tomatoes so sweet . Taste like candy!
And cooking with them:
Making cranberry sauce . Boil the berries in orange juice. Add cinnamon, cloves, ALLspice and chill. Happy THAaaanksgivvvving!
Carmelized onions so pretty they make me sing! Getting ready for Turkey day. Kitchen smells like HOME.
She also loves her celebrity friends:
We had a real LOL good time with this. #SophiaMeetsMadea tomorrow.
My first time meeting Mick Jagger! And yes he dances like MICK JAGGER?
Drinking "Fergalicious" with Fergie at her vineyard. See ya tonite for #IyanlaFixMyLife
Party Ovah Here! @jimmy iovine 's. Late nite with the Fellas!
Look who's driving me around Barbados!
Just saw LUCKY GUY . @TomHanks and whole cast Reeaaaaly great!. Wish I was a Tony voter.
Backstage with the Presidents Clinton and Carter. #MLK50
She loves to travel:
Safe landing . Gonna eat and run. #backtoUSyay!
Goodbye Calgary.. Thanks for your LOVE. Keep spreading' it!
Staying fit and healthy:
Doing the HOOLA thanking you ALL who've made @butlermovie #1 for 3 weekends! YAY!
Just finished my annual checkup Cleveland Clinic. When's yours?
Happiest moment of the day: finishing the workout I didn't want to start.
Possible product placement:
Just discovered BEATS wireless . Gift from @eriklogan_elo. Can talk on phone and listen to music/Bluetooth . Awesome!
And, as she would say, "Living her best life":
At my desk still , chillin with a watermelon marguarita getting ready for #HavesandHaveNots . Tweet Party is ON.