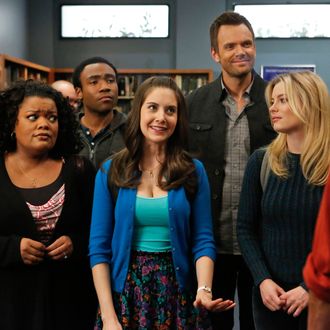 COMMUNITY – "Basic Human Anatomy" Episode 410 – Pictured: (l-r) Danny Pudi as Abed, Yvette Nicole Brown as Shirley, Donald Glover as Troy, Alison Brie as Annie, Joel McHale as Jeff Winger, Gillian Jacobs as Britta.
Photo: Vivian Zink/NBC
Season five of Community will debut Thursday, January 2, with back-to-back episodes, according to NBC. Meanwhile, the network has canceled two new shows: Ironside, the Blair Underwood cop drama, and Welcome to the Family. Look, relatively good things are happening for Community. Be thankful.