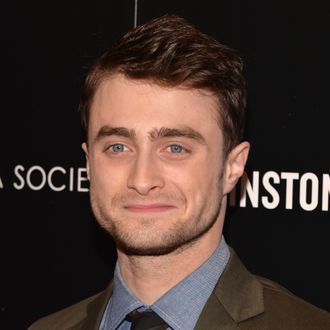 Photo: Andrew H. Walker/2013 Getty Images
There's a long profile of Daniel Radcliffe in The New York Times Magazine this weekend, much of which is dedicated to how wan and fragile and pale the one-time Harry Potter is and how much he likes smoking cigarettes. (A lot!) But there are other tidbits in there.
He's basically Homer Simpson.
The article notes that in Radcliffe's original screen test for Harry Potter, "one eye occasionally blinks more slowly than the other."
If it weren't for the eyebrows, which are caricatures of eyebrows, exceptionally dark and heavy, Radcliffe might be pretty rather than what he is, which is handsome in a vaguely gothic way. Occasionally, and more so when he is tired, he still shows the same slow, one-eyed blink he did on his screen test. "It's what Homer Simpson's eyes do when he's drunk," Radcliffe said. "I listen to too many directors' commentaries from The Simpsons, that's why I know that."
No, really, he's Homer Simpson.
Thrown into an adult world early on, Radcliffe nonetheless still clings to some adolescent habits. He subsists on a diet based largely on cheeseburgers and pizza, is the same poor sleeper he was as a child and is an inveterate slob. One friend still teases him about the time he took off a sock to mop up some soda, then put the sock back on.
Being famous is super lonely.
Radcliffe's BFF from his HP days is a wardrobe dresser now in his forties. (He apparently taught Radcliffe how to roll cigarettes.)
Radcliffe's closest friends were always among the crew, people who "were either much older than me and had kids or lived outside of London," he said. "I didn't have that normal teenage period when you build up your friends in your area and you have a social circle."
And all that alienation has caused him to worry that his interactions might be fundamentally artificial.
"You do sometimes think… ." He paused. "Maybe everyone's just … putting up with you, you know," he told me later. "I talk a lot, and I talk a lot about weird stuff that interests me, and sometimes I'm like, Maybe if you weren't an actor and someone with a recognizable face, maybe no one would be listening to you, actually, and nobody would find what you have to say interesting or funny."
Aw, Daniel Radcliffe, everything's gonna be okay.