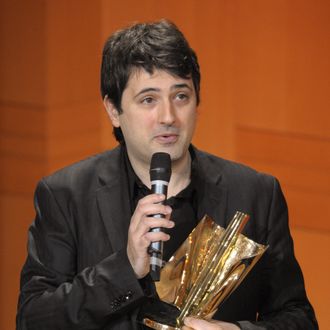 Bruno Mantovani
Photo: Jean-Christophe Verhaegen/AFP/Getty Images
The absence of female conductors from the world's most prestigious podiums is hardly news, but it becomes a little more shocking every year, as women chip away at one male bastion after another. The rush to explain the phenomenon away would be comical if it weren't so mortifying. Last week, The New Yorker music critic Alex Ross uncovered an interview in which one of Russia's leading maestros, Yuri Temirkanov, invoked the preferences of Nature herself. "The essence of the conductor's profession is strength. The essence of a woman is weakness." 
Temirkanov is a 74-year-old grandee of Putin's Russia, but fatuous commentary on this question transcends age and nationality. No sooner had the gasps died down than the 38-year-old composer Bruno Mantovani, the director of Paris's Conservatoire national supérieur de musique and therefore the most powerful music educator in France, gave a radio interview in which he ran through a litany of inherent — and inherited — obstacles to females pursuing a conducting career: childbirth, maternal responsibilities, and physical weakness. "Conducting, taking a plane, taking another plane, conducting again … is quite challenging." Someone introduce this man to Hillary Clinton. 
Mantovani pointed out that the conservatory as an institution is committed to good old French égalité, but he can't impose it. "Neither can I put a bayonet behind every female student … who might have the capacities for conducting, to force them to choose this career!" He's got a point there —but what an unfortunate image. In a written follow-up, posted on Facebook and released by the conservatory's public-relations office, Mantovani portrayed himself as an optimist on the prospects for women's equality on the podium and in the classical-music world. "The situation [has] already developed quite a lot. Who could have imagined twenty years ago that a woman (Marin Alsop) would conduct the closing concert at the Proms?" 
Plenty of people, actually. In 1993, Simone Young became the first female conductor of the notoriously old-fashioned Vienna State Opera. Alsop was just beginning her career then, but later led the Baltimore Symphony Orchestra and became hugely popular in the U.K.. In 2003, the British classical music magazine Gramophone named her artist of the year. What's surprising is that the prestigious closing-night-at-the-Proms gig in London didn't come sooner. 
Mantovani set quality against quotas. The only way for the art form to maintain its purity is to uphold rigorous standards, he was saying, and if women want to join in the effort, they are welcome to try. Fine, but conducting, of all musical activities, is the most subjective and idiosyncratic, because it depends on the subliminal, non-verbal current of communication that passes between the orchestra and the person waving the stick. Quality matters — of course it does! — but invoking it is often an easy way to paper over a vast range of sins. 
Even as opera companies and orchestras fall apart, the classical music business remains notoriously devoted to the way it has always done business, and everyone involved in it has a hand in that complacency. As Alex Ross has pointed out, on the question of women in classical music "it would be more constructive for every male participant in this discussion to examine himself, his record, his biases, spoken or unspoken … Silent neglect can do just as much damage as open contempt."
That's true, and I plead guilty. On the other hand, it is the professional institutions, presided over mostly by men and governed by ossified views, that control the process by which promising young musicians become prominent old ones. And a system ostensibly devoted to fostering talent in fact winds up casually squelching it. That's why Mantovani's and Temirkanov's comments should be embarrassing not just to them, but to all of us who listen to, perform, promote, and write about classical music. Establishments change slowly, but shame is a good place to start.