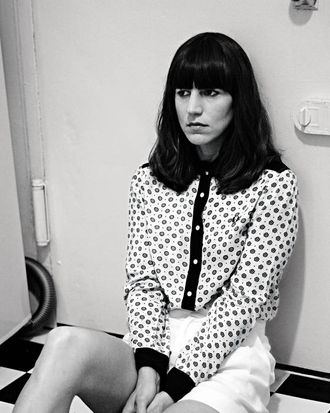 Photo: Kelsey Kosko, Hair and Makeup by Caroline Baribeau, Styling by Cristina Leiva, Production by Koko Ntuen
Have you ever interviewed a professional athlete? That's what I am," says Eleanor Friedberger on a recent Monday morning. She fires off a deep, lo-fi laugh that sounds like shots from a BB gun. As the rest of the neighborhood is shuffling to the subway to get to work, the former Fiery Furnaces front woman is crouched on a baseline of the McCarren Park tennis courts, on the edge of Greenpoint, not far from her apartment.
Friedberger, 37, has squeezed in a quick rally with her new tennis partner, Andre Razo, a creative director at Spike TV, before flying off to Barcelona later this afternoon to play a few shows on the Iberian Peninsula. (She'll be back for a sold-out CMJ show at Bowery Ballroom on October 18.)
Her brown hair is pulled into a ponytail, and her makeup-free face is fringed by dark-brown bangs. ("I don't think bangs are a trend. It's a way of life for me.") Her tennis uniform looks almost serious: little white Fila shorts, with pockets that fit two tennis balls each, and bright-white sneakers paired with a loose baby-pink T-shirt that reads SUN IS FUN. "Every once in a while, I get tempted to buy fancy tennis gear, but fortunately I stop myself," she says.
For more than a decade, Friedberger was one half of the art-rock duo the Fiery Furnaces, putting out nine albums with her brother, Matthew, including one they recorded with their grandmother Olga. "It didn't feel weird at the time," she says. "But putting it in perspective, sharing a hotel room with my older brother for however many years—it's just odd." The band operated in the space just above critical success and just below a commercial payday. Which is to say, she flies to Europe regularly but still feels like Brooklyn is too expensive.
In 2011, the band took a break, and Friedberger put out her first solo LP, Last Summer, which, with airy piano and rich bass, delves into her pre-rock-star days working as a temp in New York. Her second album, this year's Personal Record, feels like another statement of autonomy from the family business, with simpler arrangements, bouncier pop melodies, and lyrics co-written with novelist Wesley Stace, better known as the musician John Wesley Harding. On the album cover, she's reaching through a swim stroke in an indigo pool. It's both sexy and physically tough, as is her display this morning.
"My backhand has gotten better," she says, as she thwacks the ball across the net.
"Everything just comes back," says Razo, who, for his part, is wearing shiny geometric Ray-Bans and socks with a marijuana-leaf pattern. "But we're both weird at the net. When she comes close, she gets a little spazzy."
Watching her slide across the court, it's clear why her former boyfriend, Franz ­Ferdinand's Alex Kapranos, reportedly wrote her into the band's track "Eleanor Put Your Boots On." "You look so elegant," he sings, "when you run."
Friedberger extends her racket to a ball, firing it inches above the net with a smidgen of topspin. "When my parents split up, my dad wouldn't know what else to do with us, so we'd play tennis for hours," she says, working up a light sheen of sweat. Later, in high school, she played softball, basketball, and soccer. "I just think it's a different type of performance. I never did any kind of theatrical performing until I was in my twenties. But as a catcher, I had to get out in front of home plate and shout out the plays, and it gave me a sense of power."
Off court, she's been popping up regularly on comedy lineups, including tour dates with the Portlandia band and a quirky McSweeney's radio play. She's friends with comedians Eugene Mirman and Bobby ­Tisdale, who often ask her to join their acts. "I like going on after two dudes telling weird jokes," she says. "I don't know how I fit in exactly, but I like the contrast."
A month ago, she performed with Patti Smith—to whom she's often compared, both physically and musically—in artist Doug Aitken's "Station to Station" project, traveling from Minneapolis to Santa Fe by rail, playing stops along the way. On the plane back from that tour, she met a fortysomething Indian man who gave her a blanket from Taos, told her about a Sufi-temple chanting ceremony led by a seventy-something woman in Tribeca, and tipped her off to $10 Thursday lunches at the Hare Krishnas' outpost in Downtown Brooklyn. He also left her with some cardamom cookies and wisdom about allowing life to take new directions.
"The whole thing sounds like a Wes Anderson movie—going on the train and then meeting the Indian guru?" Razo says, taking a sip from his water bottle.
"A lot of things like that have been happening recently," she says. "I haven't fallen into the yoga hole yet. It's a lifestyle, and I haven't gotten there yet," she says, though she cops to attempting to go on a juice fast. "I finally broke down and got ice cream on the last day." And she did check out the chanting at the Sufi temple. "You sit down for an hour or so, and then you stand up and you spin around in circles. It's shockingly easy to let go."
*This article originally appeared in the October 14, 2013 issue of New York Magazine.