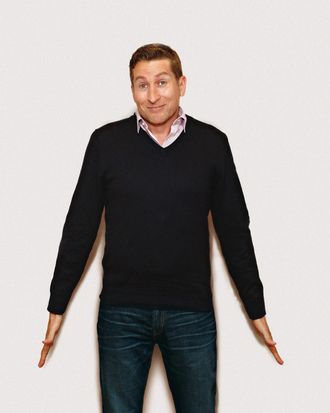 Now that nerds are cool, Comic Con is actually pretty intimidating. The New York City event, held earlier this month at the Javits Center, saw all 1.8 million square feet of the space swarming with fans of every shape and affiliation: The Walking Dead fans, Pokémon fans, Avatar fans, Sailor Moon fans, and comedy fans—the last of which are exiting Room 1A06, where Scott Aukerman has just wrapped up a panel with the announcement that his TV show, Comedy Bang! Bang!, has been renewed by IFC for a third season.
Aukerman is something of a cult figure in comedy, having co-hosted the alternative showcase Comedy Death Ray, written for and acted on Mr. Show, and collaborated with everyone from Zach Galifianakis to Jon Hamm to Tig Notaro. He is also the host of a beloved podcast that launched in 2009, predating Marc Maron's "WTF" by a few months and possibly establishing Aukerman as the Donatello of the comedy-podcast Renaissance—a thing that, amazingly, exists. His Comic Con appearance is tied to the TV show, which is a Pee-wee's Playhouse for adults: loopy, clever, and colorfully upholstered. Reggie Watts serves as bandleader and foil.
As guests of the following panel ("Fiends, Ghouls & Haunted Horror!") fill the room, Aukerman hugs co-panelist Watts good-bye ("Aw, they love each other," an audience member observes) and heads out to cruise the main pavilion of the Javits Center. The panel went well, he reports: "The audience questions ranged from super-nerdy to one woman who didn't appear to know what comedy was. She asked, 'How do you start a comedy project?' " Aukerman and his panelists told her that "most projects start out as neutral, and by the end, you know whether it's a comedy project or a drama project."
Dressed in a charcoal V-neck sweater, Aukerman cuts a conservative figure amid the surrounding cleavage and pleather. He is also, at 43, a decade or two older than the average attendee, as well as a veteran of the event. "I came to one of the first Comic Cons in 1985, when it was just people trading back issues of comic books. Now it's anything that's entertaining."
A young man dressed as Barf from Spaceballs sidles up with a camera and asks, "Would I be pressing my luck?" Not at all, Aukerman says, shaking Barf's paw.
Like a lot of individuals who are paid to make audiences laugh, Aukerman is not recreationally funny. Instead, he is polite and thoughtful, waiting serenely when his route to the exhibition hall is blocked by a scrum of people hovering outside a restroom. A building-wide issue has arisen owing to attendees' using bathroom stalls for costume-changing, causing desperate crowds to form. Aukerman eventually makes it to comic-land, where two twentysomething guys make a halting approach. "Hi! Big fan. Can I get a photo?" asks the first one. "Of course!" Aukerman says. The fan turns to his friend, mouthing He said yes, which signals the friend to come forth with a homemade comic book. "Self-­publishing is awesome," Aukerman says, thumbing through the gift. "I'm so honored to have one of the only copies."
The decoder ring to all of Aukerman's successful projects might just be this Mister Rogers–grade pleasantness, which he uses to create breathing room for guest performers on Comedy Bang! Bang! (the list of which could fill a whole page). When Nick Kroll shows up in character as a confrontational craft-­services coordinator, Aukerman plays straight man. When Paul F. Tompkins does his Andrew Lloyd Webber bit, Aukerman sings. When Watts voyages into surrealist wormholes, Aukerman goes with him. A lot of funny people are at their funniest around Aukerman.
Success has not spoiled him, although it has complicated certain pleasures. Upon spotting the Dark Horse booth, Aukerman lopes over but becomes suddenly list­­less at the comics display. "Part of the problem with having some money now is when I come to the Con, I already have most of what I want. It takes the fun out of it." He winces—"Let's talk about how rich I am"— and clarifies that comics are his "only vice."
At the next booth ahead, a break-dance circle has opened up around a guy in a red morph-suit and gripless stocking feet who is gearing up to windmill. "Let's watch this guy break his neck," Aukerman says, nodding along to "Break Dance—Electric Boogie." It is unclear what the break-dancer's morph-suit represents; as the years pass, Aukerman recognizes an increasingly lower percentage of the costumes. "Back in the day, it was just a bunch of Storm Troopers."
It is nearing day's end and fans are unlacing their corsets, bagging their wigs, and exchanging Captain America boots for comfortable walking shoes. Outside on 35th Street, the exodus flows past a street vendor hawking oil paintings of the Incredible Hulk sitting on the toilet. Aukerman is expected downtown for a live version of his show, which he psychs himself up for by thinking of all the people who have paid to see him onstage. But first, one final survey of the landscape: "You see people who are disenfranchised elsewhere coming to Comic Con and making lifetime friends," he says. "I love seeing the outcasts of society all bonding ­together."
*This article originally appeared in the October 28, 2013 issue of New York Magazine.