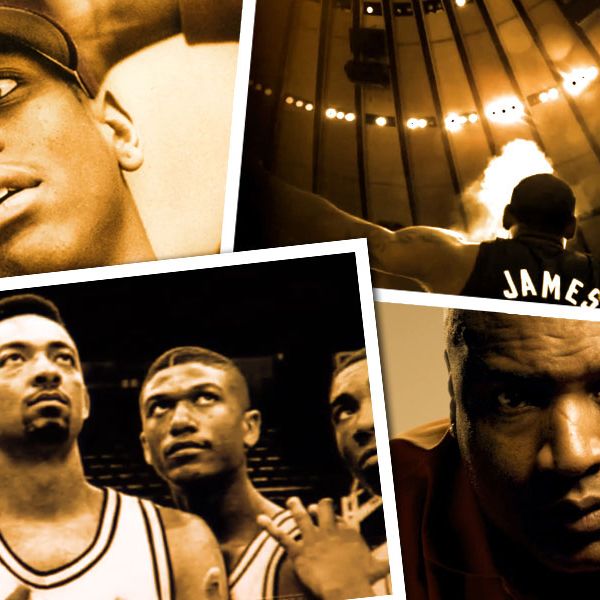 ESPN's acclaimed "30 for 30" series returns tonight with its 52nd entry, Hawaiian: The Legend of Eddie Aikau, an examination of the life of a pioneering big-wave surfer. Even though its name is essentially gibberish now ("30 for 30" refers to the batch of films rolled out to celebrate the network's 30-year anniversary in 2009), the sports-documentary project retains its critical and ratings impact. The fresh set of films rolling out over the next six weeks also includes reflections on the Tonya Harding–Nancy Kerrigan feud, the brutal boxing rivalry of Sugar Ray Leonard and Roberto Duran, and Jimmy Connors's stranger-than-fiction run at the 1991 U.S. Open. To get suitably pumped for the return of "30 for 30," Vulture did what any true sports fan would: ranked the previous 51 documentaries in the series from worst to first.
51. Little Big Men
The story of the 1982 Kirkland, Washington, Little League World Series champions — who broke Taiwan's stranglehold on the event. Directed by television veteran Al Szymanski, Little Big Men captures some of the unique charm of the LLWS, but ultimately founders in melodrama and junior-sports jingoism.
50. Broke
A jock and his or her money are soon parted, and in often absurd ways. Billy Corben (Cocaine Cowboys and the much-stronger "30 for 30" documentary The U) tackles the phenomenon of athletes going bust. Broke drags on way too long and loses steam when first-person war stories give way to grating doses of pseudo-expertise from business journos. Highlights: Herman Edwards talks about financial planning the same way he talks about football (which is to say, he yells about financial planning); Andre Rison is extensively interviewed and never removes his sunglasses.
49. House of Steinbrenner
Part of the New York Yankees' brand, at least off the field, is huffy bombast, and The House of Steinbrenner is very much on message. Braiding together the story of George Steinbrenner's ownership of the club with the demolition of the original Yankee Stadium, this early entry is best left for Yanks fans only. One of the world's great sports teams deserved something better, especially from Oscar winner Barbara Kopple, director of the phenomenal Oscar-winning 1976 doc Harlan County, USA.
48. The Dotted Line
From Super Size Me documentarian Morgan Spurlock, The Dotted Line blends together stories of agent-athlete relationships with the story of a novice NFL agent recruiting and touting his small stable of clients. Watching the unctuous but captivating Eugene Lee sell himself to fringe NFL prospects and their moms is riveting, but The Dotted Line falls flat in the second half when it goes fishing for moral outrage about the sleazefest that is college sports.
47. Ghosts of Ole Miss
Sports-doc mainstay Fritz Mitchell (of the marginally better "30 for 30" documentary The Legend of Jimmy the Greek and more) partnered with ESPN.com scribe Wright Thompson to explore the aftermath of integration at the University of Mississippi. In the days following James Meredith's enrollment, rioting upended the Oxford campus. The community rallied around the undefeated Rebels football team. Ghosts of Ole Miss asks tough questions, but ultimately doesn't quite connect football history with the much more significant action off the field.
46. A Silly Little Game
This entry from indie documentary guys Adam Kurland and Lucas Jansen offers up the origin story of rotisserie baseball — the dorky ancestor of the fantasy sports games that now generate billions annually — as told by the New York media folks who invented it in the early eighties. However, seminal moments of fantasy sports history are brought to life in cringingly goofy reenactments, and the endeavor reminds us that the problem with fantasy sports as fodder for pop culture is that no one cares about anyone else's fantasy team, not even the very first ones.
45. King's Ransom
Having directed the movie version of Friday Night Lights and created the beloved TV series of the same name, Peter Berg knows from good sports stories. But King's Ransom, the documentary that kicked off the "30 for 30" series, comes off a bit sluggish, like late-round playoff game ice. But it's not entirely without charm: Footage of Wayne Gretzky's wedding to Janet Jones looks like a fan-fic re-creation of the Princess Vespa–Prince Valium ceremony.
44. Roll Tide/War Eagle
Helmed by veteran ESPN producer Martin Khodabakhshian, Roll Tide/War Eagle is a gloss on the history and intensity of the Alabama-Auburn football rivalry. Connoisseurs of college football won't learn much, but there are a few highlights: Alabama alum Gay Talese bemoaning the Tide's 2010 Iron Bowl defeat, and an extended interview with Harvey Updyke, the infamous Alabama jailed for poisoning the beloved oak trees in Auburn's Toomer's Corner. Also, a quirk about the documentary that's very, very important to mention: The film is punctuated throughout by a bizarre piano rendition of "Sweet Home Alabama" performed by a sweating, grimacing man in a white jumpsuit.
43. Goose
Kevin Shaw, maker of The Street Stops Here about legendary high school coach Bob Hurley Sr., zooms in on the brief life of underappreciated hoops pioneer Reece "Goose" Tatum. An early star of the Harlem Globetrotters and his own barnstorming basketball road shows, Tatum was both a gifted entertainer and a superstar athlete — as well as an overdue inductee in the Basketball Hall of Fame, an honor at the center of Goose.
42. There's No Place Like Home
The story of Josh Swade, a Kansas Jayhawks superfan (and co-director of this doc), and his mildly interesting quest to purchase the original rules of basketball. The not-quite-endearing Swade networks with rich alums and friends of the program to solicit funds — the rules are going up for auction at Sotheby's. Only complete grouches won't enjoy the drama of the auction sequence, but only KU fans will really appreciate what's at stake.
41. Winning Time
Reggie Miller was an all-world troll, long before "trolling" went mainstream. In Winning Time, Dan Klores (Crazy Love, The Boys of 2nd Street Park) breaks down Miller's starring turn in the Pacers-Knicks NBA playoffs battles the nineties. As the Knicks and Pacers slugged it out for the Eastern crown vacated by Michael Jordan's retirement, Reggie Miller waged a separate war against Knicks courtside superfan Spike Lee. Highlight: Many interviewees trying to think of a euphemism for saying Miller had balls, and then deciding to say "balls" anyway.
40. One Night in Vegas
Sporting events can provide a convenient way in to a larger discussion of complicated, charismatic people, and this film uses Mike Tyson's September 7, 1996, fight against Bruce Seldon in Las Vegas to focus on the death of Tupac Shakur, who was gunned down in Las Vegas in the hours following the very one-sided match that ended with a sub-two-minute knockout of the underdog. Not counting its terrible slam-poetry entr'actes, One Night in Vegas is compelling for anyone who idolized either Tyson or Shakur, the gifted, flawed principals. Bonus points go to Reggie Rock Bythewood (Biker Boyz) for directing the only film in world history to feature interviews with Maya Angelou and Mickey Rourke, not to mention Suge Knight, Nas, and Al Sharpton.
39. The Legend of Jimmy the Greek
The story of bookie turned TV pundit Jimmy "the Greek" Snyder (nee Demetrios Synodinos) is punctuated with gruff, goofy dramatic voice-overs from the beyond, and those are by far the most memorable moments in this documentary from veteran TV-doc-maker Fritz Mitchell. Legend does involve a satisfying anecdote about the time Snyder punched Brent Musburger in the face, if that's your bag.
38. The Guru of Go
Paul Westhead has won NBA and WNBA titles in a long and amusingly uneven career, but he'll always be remembered best for his run-and-gun Loyola Marymount teams of 1985 to 1990. The Guru of Go (from Bil Couturié, director of Dear America: Letters Home from Vietnam) uses Westhead's notebooks to delve into the coach's technique and the tragic story of Hank Gathers, Westhead's star player at LMU who died on the court in 1990.
37. Elway to Marino
A production of NFL Films, Elway to Marino isn't particularly hard-hitting, but will satisfy fans looking for a nostalgia trip about the stacked 1983 NFL draft. Based on the notes of Martin Demoff, who was the agent for both Elway (No. 1 overall pick in the 1983 draft) and Marino (the sixth of six QBs taken in the first round, and one of its six Hall of Famers), this is a must-see for fans of dramatic footage involving phones shaped like football helmets.
36. Small Potatoes
The United States Football League is remembered mostly as a quixotic challenger to the NFL juggernaut — if it's remembered at all. But Mike Tollin (director of Radio and Summer Catch, and a staffer for the USFL in his youth) ably captures the league's charm, and how it was undone by its decisions to move games from spring to fall and bring an anti-trust suit against the NFL. Small Potatoes is notable for making Donald Trump — a USFL team owner and key player in the disastrous lawsuit — look even worse than usual.
35. You Don't Know Bo
Owing to the legendary nature of its subject, Michael Bonfiglio's portrait of the Bo Jackson phenomenon was one of the most watched "30 for 30" installments. But it turns out that Bo Jackson is mostly a normal guy who happened to be incredibly athletic, so the attempts by Chuck Klosterman and other talking heads to explain how Bo is a secret skeleton key to '80s and '90s American pop culture are a bit of a strain. More interesting is Bo Jackson's post-retirement hobby: making arrows (and then shooting them).
34. Run Ricky Run
A look at the private life of heroically skittish NFL running back Ricky Williams, active at the time of the documentary's airing but since retired for good, from Sean Pamphilon and Royce Toni. Williams, a top-five draft pick and all-pro for years, briefly retired in 2004, to both find himself and duck a third positive drug test. Williams battles social anxiety, seriously studies yoga and natural healing, and eventually returns to NFL glory in this upbeat oddball story.
33. Jordan Rides the Bus
Ron Shelton (Bull Durham) puts his own experience as a minor-league ballplayer to good use in this thorough examination of Michael Jordan's odyssey as a Birmingham Barons outfielder. His Airness himself isn't interviewed, but nearly everyone else is — right down to the real estate agent who rented MJ a home in Birmingham. This is mandatory viewing for Jordan obsessives, but merely optional for casual fans.
32. Four Days in October
Produced by Major League Baseball's entertainment wing, Four Days in October blends commentary, news footage, and gleefully goofy home videos shot by players into a comprehensive biography of the Red Sox's (still) jaw-dropping comeback from three games down in the 2004 ALCS. The historic sports-talk yowling hasn't aged well, but Four Days… has a rewarding depth, even for Boston haters. This is MLB corporate propaganda, of course, but it's really enjoyable propaganda.
31. Tim Richmond: To the Limit
Raise your hand if you knew there was a charismatic NASCAR up-and-comer felled by AIDS in the late-1980s. The story of Tim Richmond, stock racing's 1980s enfant terrible, confirms the first law of earnest sports documentaries: If a central figure in the doc doesn't turn up as a talking head in the first 15 minutes, it's almost guaranteed that said figure died tragically. Thus, Tim Richmond is absent from his own party. Even if you're completely immune to the charms of auto racing, director Rory Karpf (Dale) does commendable work telling a story that should be better known.
30. The Real Rocky
Jeff Feuerzeig (The Devil and Daniel Johnston) helms this look at the boxer who inspired Sylvester Stallone to write Rocky — by getting pummeled for 15 rounds by reigning heavyweight champ Muhammad Ali. Wepner's post-Ali life was full of partying, non-brilliant decisions, and an unlikely comeback as a liquor distributor — and overdue acknowledgment from Stallone that Wepner was the source material for the Italian Stallion.
29. Marion Jones: Press Pause
Sports-career flameouts don't come much more flaming than that of Marion Jones. After racking up five medals at the 2000 Sydney Olympics, Jones was the toast of track and field, but a doping scandal and a perjury conviction stripped Jones of her Olympic gongs and sent her to prison for six months. In this painfully honest profile, John Singleton (Boyz n the Hood) captures Jones' catastrophic downfall and profound contrition with a mix of compassion and clarity.
28. Catching Hell
Alex Gibney (Enron: The Smartest Guys in the Room, Client 9: The Rise and Fall of Eliot Spitzer and Oscar-winner Taxi to the Dark Side) takes on the thorny tale of Steve Bartman, the hyper-unlucky Cubs fan unfairly blamed for the team's collapse in the 2003 National League Championship Series. Gibney deftly puts viewers in the moment of Bartman's scapegoat butterfingers — and succeeds in capturing sports fans at their jerkiest.
27. Charismatic
Veteran TV producer Steven Michaels' first director credit is the story of a screwup horse and a burnout jockey — so of course they came up just a few lengths short of a Triple Crown. Charismatic had a stellar pedigree (Secretariat was his great-grandpa) but was reduced to claiming races before Chris Antley, a talented but troubled rider, took him on in the spring of 1999. No Mister Ed, the horse doesn't have much to say for himself, of course of course, but the story of Antley's brief ups and fatal downs is engrossing.
26. Right to Play
Frank Marshall (Alive, Congo, Arachnophobia) tells the story of the Right to Play NGO, which works in more than 20 countries to bring sports to children facing adversity. Founded by Norwegian speed skating legend Johann Olav Koss, Right to Play is a refreshingly earnest — and effective — effort toward a less crappy world.
25. The U
Billy Corben (Cocaine Cowboys) achieves an impressive feat in The U, deftly showing how charming, fun, and interesting the peak-swagger Miami Hurricanes football teams were. Anyone who grew up in the 1980s and '90s will remember the moral panic the Hurricanes routinely inspired — but it turns out they were actually the good guys. Any film that interviews Luther Campbell, Bernie Kosar, and the guy who wore the Sebastian the Ibis mascot outfit is hard to dislike — plus, it has a booty bass theme song.
24. The Band That Wouldn't Die
Barry Levinson, director of Diner, The Natural, and Rain Man makes hay of the affecting story of the marching band left behind when the Baltimore Colts ignomiously decamped for Indianapolis in the middle of the night in 1984. The band kept right on marching for more than a decade, until the arrival of the Ravens brought NFL football back to Baltimore. Band stands out in the series for showing how much a team means to a community. Value added: spectacular Baltimore accents are showcased throughout.
23. Straight Outta L.A.
Ice Cube should obviously narrate more movies and, based on Straight Outta L.A., he should direct more, too. A solid chronicle of the Raiders' brief, glorious stint in Los Angeles, which ran parallel to the birth of gangsta rap, and the genre's embrace of Raiders gear. Cube can't quite reconcile the two storylines, but the frankness of interviewees and sheer richness of the time and place make this necessary viewing.
22. Fernando Nation
Cruz Angeles (Don't Let Me Drown) imbues this recounting of Fernando Valezuela's legendary 1981 season (Rookie of the Year/Cy Young/World Series championship) with rich psychological texture. So many sports legends have a sense of "you had to be there" — try explaining Linsanity to someone who wasn't in New York for it. But Angeles ably recreates the atmosphere, emotion, and pride that powered Fernandomania.
21. Benji
About halfway through Benji, from music-video mavens Coodie & Chike (vids for Kanye West and others), you'll start to wonder why you've never heard of Wilson, a Chicago prep hoops legend. A few minutes later, you'll find out why: Wilson was killed in a senseless shooting before his senior season of high school. A bittersweet celebration of unfulfilled greatness. Warning: contains an R. Kelly cameo.
20. 26 Years: The Dewey Bozella Story
Dewey Bozella served 26 years in prison for a murder he did not commit. After his wrongful conviction was overturned, Bozella applied his considerable energies to realizing a dream: to fight one bout as a professional, a feat he accomplished at the age of 52. Bozella's story, as told by Jose Morales, is effectively irresistible, even if it does contain some corny moments.
19. 9.79*
Daniel Gordon has made three great docs related to North Korea — The Game of Their Lives, Crossing the Line, and A State of Mind. In 9.79*, he tells a story from the other, less doomed Korea: the controversial men's 100M sprint final in the 1988 Summer Olympics in Seoul. Storylines abound, but Ben Johnson's soulful surliness is the most memorable. A rare thing — a subtle and insightful look at doping in sports.
18. The Announcement
Veteran journo Nelson George directed this excellent piece of micro-history, zooming in on the brave announcement by Magic Johnson that he was HIV-positive. The level of detail is bracing — right down to Magic recounting his emotions as he prepared to tell his wife the news. I dare you to watch Magic Johnson comforting HIV-positive children in a TV special without getting misty, a stand-out moment in this heartbreaking but hopeful entry in the series.
17. Pony Excess
Boosters of the Southern Methodist University football program in the early 1980s were so brazen in their disregard for NCAA regs that SMU received sanctions known as "the death penalty." Texas filmmaker Thaddeus D. Matula crafts a slightly overlong but smart look at SMU's salad days and scandalous collapse, which also tells a neat pocket history of a great newspaper war in Dallas. Warning: contains Skip Bayless.
16. The 16th Man
This is the non-fiction version of the 2009 drama Invictus, as directed by Clifford Bestall (who also helmed a Frontline episode on Nelson Mandela). In a South African still choking on the legacy of apartheid, the 1995 Rugby World Cup was the stage for a brilliant, unexpected championship run by the South African national team. This one is filled with soaring moments but also bodacious Afrikaaner accents.
15. Renee
Richard Raskind was a talented amateur tennis player and ophthalmologist — until 1975, when Raskind, age 40, became Renee Richards. Richards had to win a legal fight to be allowed to play professionally, and eventually went on to win a 35-and-over U.S. Open singles title. But the fascinating and moving Renee talks as much about Richards' complicated personal life as it does about tennis, and still succeeds powerfully.
14. Muhammad and Larry
Documentary god Albert Maylses made Grey Gardens, Salesman, Gimme Shelter, and more with his late brother David, but the Maysles siblings never finished the film they were commissioned to make about Muhammad Ali's 1980 comeback attempt, largely because the resulting title bout against former sparring partner Larry Holmes was a shockingly one-sided defeat. Ali was never the same — inside or outside of the ring — after fighting Holmes, but Muhammad and Larry, crafted out of mostly unseen footage from 1980 and contemporary interviews, shows that Ali had already lost a step even before the pummeling. This is mandatory for boxing or Maysles fans, and contains a bonus highlight: Larry Holmes' command performance of his own personal theme song.
13. Into the Wind
The story of Terry Fox, if you're not already familiar with it, will absolutely break your heart. Fox lost a leg to cancer at age 19, but that didn't stop him from launching an attempt to run across Canada in 1980. Into the Wind is directed by Ezra Holland and NBA superstar Steve Nash, and is best watched without reading anything about Fox beforehand.
12. The Best That Never Was
Running back Marcus Dupree was a legend before he even graduated from high school in Mississippi. The target of a mythical recruiting battle, Dupree chose Oklahoma and starred for the Sooners as a freshman before his career quietly went off the rails. This wistful entry from Jonathan Hock (who also directed the excellent "30 for 30" entries Unguarded and Survive and Advance) chronicles Dupree's fall, his brief NFL comeback, and his intensely dignified humility as a truck driver back home in Mississippi.
11. Unguarded
A second strong contribution from director Heck (see The Best That Never Was, above), Unguarded is the story of gifted but troubled basketball star Chris Herren, and his battles against drug addiction. The younger Herren bears a marked resemblance to Breaking Bad's vulnerable, wasted Jesse Pinkman, right down to the bad tattoo. Deftly incorporating footage of Herren's powerful scared-straight talks to at-risk audiences, Unguarded is unabashedly emotional, and impossible to resist.
10. Unmatched
There's not much to Unmatched, as a film — it's mostly just tennis legends Chris Evert and Martina Navratilova talking through their legendary careers and rivalry, rounded out with archival footage. But the simplicity of this series entry from co-directors Lisa Lax and Nancy Stern is deceptive — it's rare to get such an extensive, nearly unfiltered insight into one, let alone two, all-time-best athletes. Rarer still to have them effectively interview each other.
9. The Birth of Big Air
Co-directed by Jeff Tremaine, Spike Jonze, and Johnny Knoxville, The Birth of Big Air is a curious juxtaposition — it's a (relatively) serious film about an action sports legend, a celebration of selling out your body for athletic glory, and a quietly insistent look at the dangers of daredevil worship. The impish Hoffman completely changed BMX vert-ramp riding, and flashes an easy bravado born of true desire; he also nearly kills himself on a semi-regular basis. If you get squeamish watching skating vids, this one isn't for you.
8. The Marinovich Project
Parenting tip: Don't raise your kid to be the perfect NFL quarterback. If you're still on the fence about that, watch The Marinovich Project, directed by Andrew Stephan and John Dorsey. Tabbed for greatness by the time he was a high-school freshman, Todd Marinovich frayed under high expectations and a staggering appetite for partying. Nine years removed from being a first-round pick of the Raiders, Marinovich was playing in the Arena League, crapping his uniform pants and jonesing for heroin. For the extreme lowness of Marinovich's lows, his story ends on a glorious positive note — he's now a painter and artist of some accomplishment, and more importantly, clean.
7. Once Brothers
Croat Drazen Petrovic and Serb Vlade Divac were teammates on great Yugoslav national basketball teams — and they hit the NBA together in 1989. But just as their NBA careers took off, Yugoslavia was torn apart by a vicious civil war that turned teammates into enemies. Once Brothers is a tearjerker — and brings home the cruelty of both war and Petrovic's unfair death at age 28. The film superbly frames a conflict with deep political and cultural roots in the relationship between the two basketball stars, bringing across subtleties often lost on American viewers. Ding it a few points for being a production of the NBA's entertainment wing, though.
6. Survive and Advance
Younger viewers may not remember Jim Valvano as anything but a frequent star of recycled ESPYs footage, and Survive and Advance features plenty of clips of Valvano roasting and toasting at the peak of his charisma. But more than any other "30 for 30," this third impressive contribution from Jonathan Hock also captures the power of team through a filmed reunion of the Valvano-led 1983 NCAA basketball champs North Carolina State squad. The sadness of the coach's early death from cancer, the genuine bonhomie of the Wolfpack reunion, and the sheer wonder of their unlikely title combine in a heady brew.
5. June 17, 1994
Brett Morgen (The Kid Stays in the Picture, Chicago 10, Nimrod Nation) delivers by far the most ambitious "30 for 30." June 17, 1994 has no narrator or exposition; instead, Morgen uses only news footage of one strange summer day nearly two decades ago to launch viewers on a surprisingly transporting experience. From Arnold Palmer's final U.S. Open round, to the New York Rangers' Stanley Cup celebration, to a NBA Finals Game 5 and the opening of the World Cup in Chicago, all trumped by the surreal O.J. Simpson televised police pursuit. Morgen carefully builds toward the surreal last moments of the Simpson chase, when Angelenos hit overpasses to cheer on O.J. as the White Bronco sped past. A subtly brilliant take on time, spectatorship, and media saturation.
4. Fab Five
The University of Michigan's Fab Five could never happen today; in the one-and-done era of college basketball stars, no program could land five players as talented as Jalen Rose, Chris Webber, Juwan Howard, Jimmy King and Ray Jackson in a single recruiting class. Two decades after turning college hoops upside down, the Fab Five's edge and swagger seem utterly contemporary, which is a testament to how ahead of their time they were. Jason Hehir, a veteran director and producer for Ultimate Fighting Championship, lets four of the players speak for themselves (Chris Webber declined to participate) on everything from their captivating tourney runs, their opinion of Christian Laettner, Webber's infamous time-out, and the pay-for-play scandal that led Michigan to vacate their consecutive NCAA tourney runner-up finishes. The film is an essential document of a defining moment of sports culture and adds evidence that Jalen Rose should probably be the next president.
3. Without Bias
On June 17, 1986, Len Bias became the second overall pick of the NBA draft, joining the reigning champion Boston Celtics. Less than 36 hours later, Bias was dead, his heart stopped by a cocaine overdose. Bias' story is punishingly sad and well-known, but "Without Bias" extracts commentary of devastating clarity on the part of family and friends, and Kirk Fraser's quiet direction allows Bias' brilliant potential and the shock of his death to speak for themselves.
2. No Crossover
Steve James made one of the greatest documentaries, sports or otherwise, in Hoop Dreams. So it's not suprising that his take on Allen Iverson, with whom he shares a hometown, is near the top of the list. Iverson, a prep star in Hampton, Virginia, was sentenced to 15 months in prison for his disputed role in a bowling-alley brawl. Iverson and his friends were black; the other side in the brawl were white. The brawl takes on a Rashomon vibe, and what one interviewee precisely terms "a fucked-up situation" ensues when Iverson and several friends are charged with serious offenses. James brilliantly investigates the seams of identity, race, and community strained by Iverson's trial, conviction, and subsequent pardon, with an added charge from his own ties to home.
1. The Two Escobars
The stakes in a typical sports documentary are usually winning or losing; in rare cases the question of living or dying can edge into the frame. But The Two Escobars, the best of the "30 for 30s," thoroughly captures a time and a place — Colombia, at the height of its narco-fueld violence — where soccer became a matter of life or death. As Pablo Escobar and other cartel kingpins poured cocaine millions into domestic clubs, Colombia's national club shot up the FIFA rankings thanks to stars like Carlos Valderrama, Rene Higuita, and Andres Escobar (no relation to Pablo). The rise and fall of Pablo Escobar and Colombian soccer are explored with unmatched depth — directors Jeff and Michael Zimbalist (Jeff made Favela Rising, and the bros are at work on a Pelé biopic) manage to get inside a Colombian prison to interview cartel hitmen — making this one of the best sports documentaries of the last decade.