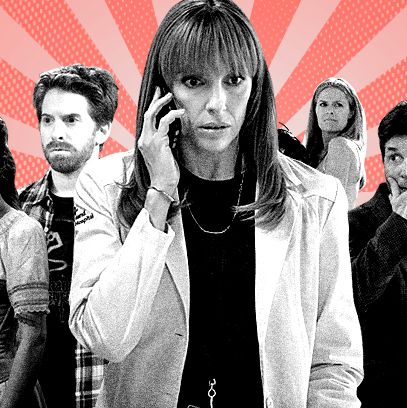 So far this fall, nearly twice as many freshman series have been given full season orders (seven) as have been canceled (four). That ratio is about to change, however, as networks start making tough decisions about shows still in limbo. ABC, in particular, is facing a slew of come-to-Jesus moments in the near future: Even though the network has debuted more new shows than any network this fall, it has made just two calls so far (renewing Agents of S.H.I.E.L.D. and dumping Lucky Seven). As judgment day approaches for other fall 2013 freshmen, Vulture takes a look at how long each of the remaining newcomers are likely to stick around.
Back in the Game (ABC)
While Back in the Game is a well-written, often-funny half-hour, its Bad News Bears vibe feels out of place on ABC's lineup (although, presumably, network execs knew that when they ordered it). More troubling, the sitcom is losing audience from its modestly rated lead-in, The Middle, while also adding far fewer viewers via DVR playback than any of the network's other new comedies. ABC might be able to exert patience if it were doing better in the overall ratings race. But as it is, it's hard to see Game getting more episodes, let alone making it to a second inning.
Betrayal (ABC)
The latest addition from the ABC soap factory was dead on arrival, debuting to a weak 5 million viewers; it then lost another million viewers with each of its next two episodes. The show stabilized last night, and might have even ticked up a bit (final ratings won't be out until tomorrow), but there's little evidence viewers have any interest in another one-word sudser from the Alphabet network. ABC won't order any more episodes of this show, and it might even opt to shut down production on what's left of its initial episode order. In other words, say buh-bye to Betrayal.
Dads (Fox)
In the same-day ratings, there's often not much difference in the numbers for this critically reviled Seth MacFarlane show and its Tuesday companion, the already-renewed Brooklyn Nine-Nine. But early DVR data suggests that Brooklyn is adding twice as many viewers via replays as Dads, indicating that the loyal following that has adopted the Andy Samberg vehicle is rejecting the Seth Green–Giovanni Ribisi team-up. In fairness, Dads isn't flatlining (see: NBC's new comedies) and for now, Fox doesn't have anything else to put in the time slot, having already cut back on its order for the midseason half-hour Us and Them. So it appears that Dads will likely stay on Tuesdays through year's end, and it's possible Fox orders a few extra episodes to get it though the early part of 2014. But there's virtually no chance the network will give Dads a second season.
The Goldbergs (ABC)
While it consistently draws a bigger overall audience than Fox's New Girl, it's losing to the Fox comedy among the younger viewers ABC targets. And it's proven to be an awful fit with the young-skewing Agents of S.H.I.E.L.D.: Last week's episode of The Goldbergs fell a full 50 percent from its lead-in among adults under 35. Still, thanks to the strong lead-in, The Goldbergs is still doing better than last fall's Dancing With the Stars results show, and it's the kind of big, broad half-hour comedy ABC is looking to program. The network will be patient, at least for now.
Hostages (CBS)
There's no need for CBS to order extra episodes of Hostages right now, since the show was always envisioned to run just fifteen hours in season one. The only decision CBS will have to make at some point is whether to order a second season, and that should be a very easy call: Hostages is the season's biggest ratings disappointment. It's not the lowest-rated new show by any means, even among adults under 50; ABC and NBC air series doing far worse. But CBS only ordered one new drama for the fall and then spent millions to hype the hell out of it over the summer. Viewers, however, never showed up, not even for the pilot. Hostages has been losing badly to both Castle and NBC's frosh phenom The Blacklist, and it's even drawing fewer viewers than the show it replaced, the so-so-rated Hawaii Five-0. To its credit, Hostages is actually doing okay once DVR replays are tallied; its second episode jumped 67 percent once seven days of replays were counted. But even with the extra viewers, Hostages just hasn't clicked.
MasterChef Junior (Fox)
The latest addition to Fox's Gordon Ramsay empire has been doing fine on Fridays, even beating ABC's sitcom among younger viewers. If it holds up in the next few weeks, Fox will almost certainly order another cycle of the show for next summer or fall.
The Michael J. Fox Show (NBC)
NBC will be patient with this Thursday comedy because, well, it's contractually obligated to do so. Unlike most newbies, Fox was given a full, 22-episode order before it even filmed its pilot; other network had been interested in bringing the Family Ties and Spin City star back to TV, which led NBC to step up with a massive early commitment. Still, even if NBC hadn't already bet big on the show, odds are the network would be extending its order. Sure, ratings have been disappointing given MJF's star power, particularly among viewers under 50. But The Michael J. Fox Show has proven to be a bit broader than NBC's other Thursday comedies, drawing a slightly bigger overall audience than its schedule-mates, plus Fox is showing much bigger DVR gains than NBC's two other new Thursday shows. If NBC had to make a decision about a second season for Fox right now, it almost certainly would say "no." But the good news is that the show still has time to turn things around.
Once Upon a Time in Wonderland (ABC)
No one expected this spinoff of Once Upon a Time to work miracles against The Big Bang Theory, but ABC executives had to figure the show would at least outperform last fall's quickly canceled Last Resort. It hasn't: After a weak premiere, last week's second episode dropped below NBC's Parks and Recreation among viewers under 50. ABC only planned to make a half-season of Wonderland, so there's no "back nine" to pick up. It's more likely the show will just fade away on Thursdays, unless ABC decides to really shake up its lineup by moving Wonderland to 9 p.m. (behind the original recipe Once) and Revenge to 10 p.m. Barring such a Hail Mary play, however, Wonderland is done.
Sean Saves the World (NBC)
NBC performed triage on its Thursday night lineup last week by getting rid of Welcome to the Family and announcing smart if uncreative plans to air a mix of programming designed to boost its 8 to 9 p.m. numbers: The Voice, a Saturday Night Live Halloween special, and bonus episodes of Parks and Recreation. But the network decided to spare Sean, even though its ratings aren't much better than the now-dead Family. That doesn't mean it's suddenly optimistic about the Sean Hayes comedy, which has totally tanked at 9 p.m. But it does mean NBC wants to see if Sean can show any signs of growth when its lead-in is slightly less dreadful than that supplied to it by Family. If that happens, perhaps NBC orders a few more episodes of Sean to get it to the spring. More likely, it opts to cut its losses and figure out (yet another) comedy strategy.
Super Fun Night (ABC)
After an okay start, viewership for Rebel Wilson's ABC comedy has fallen off sharply, particularly among viewers under 50. Last week's episode was down 30 percent from the October 2 series premiere, and more disturbing, it lost a full 50 percent of its Modern Family lead-in. It would be completely logical for ABC to admit that Super Fun has turned into a super bummer and just move on. And yet: ABC has lots and lots of holes in its lineup, and none of its other new comedies have broken out yet, either. In the short term, maybe the network will decide to do what it should've done to begin with: shift Tuesday's The Goldbergs behind Modern Family, and give Fun a shot behind the similarly young-skewing Agents of S.H.I.E.L.D. Will that turn Super Fun into a hit? Probably not. But ABC can't cancel everything, right? Right? It's 50-50 at this point whether ABC commits to more episodes.
Trophy Wife (ABC)
This is the lowest-rated of ABC's four new comedies, with last week's episode finishing just behind Fox's similarly struggling The Mindy Project in their common 9:30 p.m. Tuesday time slot. Even when DVR data is added up, the numbers for Trophy are decidedly meh. The two things working in favor of Trophy: It's holding on to a healthy 85 percent of its lead-in (The Goldbergs) and it's a show that has received generally positive reviews. As with The Goldbergs, Trophy would make more sense on ABC's Wednesday night comedy blocks. Whether the show makes that move, or survives at all, depends on whether or not Alphabet execs are as enthusiastic about the show as some critics have been. As it stands, the odds slightly favor ABC giving Trophy Wife at least a few more episodes.