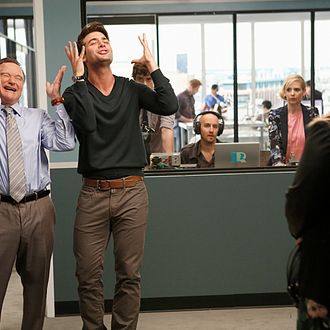 Photo: Cliff Lipson/?'?? 2013 CBS Broadcasting, Inc. All Rights Reserved.
Given that this current TV season opened with the most new prime time comedies in a decade, it makes sense that at least some of them actually fared pretty well. CBS announced that David E. Kelley's The Crazy Ones is the top-rated new comedy in the elusive 18 to 49-year-old age demographic – impressive for the network favored by grandparents across the land. Overall, the Robin Williams vehicle is rated No. 4 among all comedies, coming in behind veterans The Big Bang Theory, Modern Family, and How I Met Your Mother. Other CBS comedies The Millers and Mom round out the season's three most watched new comedies, according to Deadline.
Over at ABC, they're pretty happy with the performance of newcomers The Goldbergs — the fourth highest-rated new comedy — and Trophy Wife. The Hollywood Reporter writes that both Tuesday night shows (they air after Marvel's Agents of S.H.I.E.L.D, the only full-season order ABC's given out so far) have been asked for three additional scripts. That's on top of Rebel Wilson's Super Fun Night coming in third with 18 to 49-year-olds where new comedies are concerned.
Meanwhile, at Fox, Dads and Brooklyn Nine-Nine all got additional scripts this season.