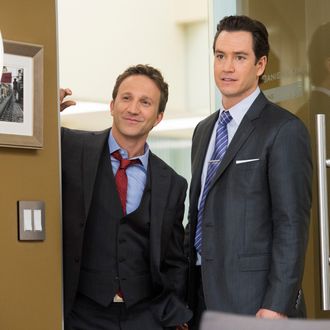 See you next summer, friends.
Photo: Darren Michaels/Turner Entertainment Networks, Inc.
Back in August, TNT announced a bunch of renewals, but there was one show mysteriously missing: Franklin & Bash. We were so very nervous that our favorite pop-culture punch line would be lost forever; however, it appears TNT was just playing a joke on us. Bash and Franklin, despite a ratings dip, will be back to lawyering and being silly next summer, as the network announced today the show will have a ten-episode fourth season. Maybe this time Bash will get a dog and name it Franklin, much to the dismay of the human Franklin. You know, just classic Bash high jinks.