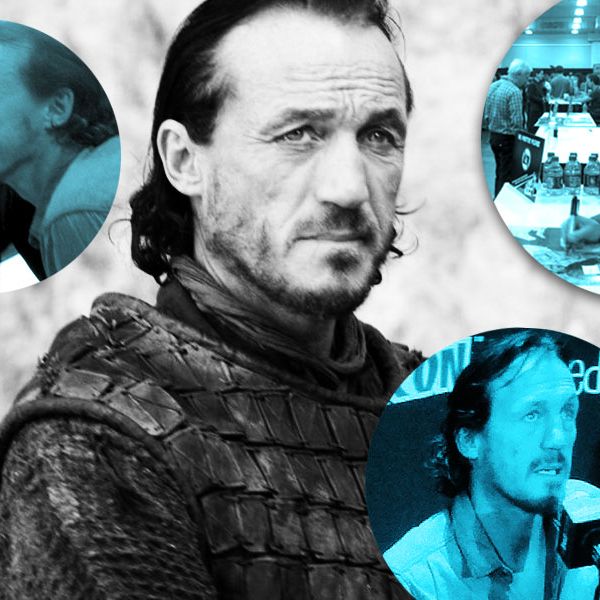 Jerome Flynn, who plays Tyrion's semi-loyal protector, Bronn, on Game of Thrones, stood on stage at New York Comic-Con on Friday and accepted a fan-made wreath made of black and orange flowers. "Do I have to wear it on my head?" Flynn asked. "Bronn's colors," the ardent female admirer who made it assured him. "But if you don't want to, if you think it's weird, it's fine." He took it from her, gave her a hug, and placed it around his temple for a moment, as the audience roared in applause. Joffrey might be king of Westeros, but Flynn was just crowned a king of Comic-Con.
Flynn, the onetime British pop star turned Game of Thrones fan favorite, faced his American public at the convention this weekend for his own panel. Despite showing up nearly half an hour late, the jet-lagged actor won over an impatient room of over 700 people by turning the panel into a one-man show, full of quips and near-revelations. (Fellow cast member James Cosmo — that's Jeor Mormont on the show — was originally supposed to join, but canceled due to illness.)
The charming Flynn told the crowd that he'd not read George R.R. Martin's A Song of Ice and Fire before joining the show (deadpanning, "I heard there were some books"), but he proclaimed himself a fellow "Throny," much to the crowd's delight. Despite not having read the series, he at least knew that one of his fight scenes with an undisclosed combatant in the forthcoming season four will be a surprise even for the readers, "because that's not in the books!" As a spoiler, it was a thin one — no details, other that during the shooting, the other actor "nearly got a sword on his skull" — but at Comic-Con, any spoiler is well met. "Oh God, what have I said?" Flynn joked afterwards, pretending he'd revealed too much. "So, um, next question?"
At a previous Comic-Con in Wales, Flynn had learned his lesson about speaking too freely when he gleefully quoted Bronn's infamous assessment of Joffrey: "There's no cure for being a cunt." "I was reminded afterwards that there were children in the room," Flynn told the New York crowd. "I've been feeling guilty ever since!" This time, when referring to his infamous line, Flynn said, "He's so obviously the thing that I called him." And he tried his hand at diplomacy, which extended from refusing to name favorites among directors and crew members to a generous assessment of Joffrey: "He's had a messed-up youth, his mum's not in a good way, and his uncle's his dad!"
Picking fictional favorites was another matter, and there Flynn gladly obliged. Fans wanted to know which factions Flynn supported and opposed in Westeros. ("Political!" he mused.) A fan of Maisie Williams, he's on Team Arya and wishes he had scenes with her. "I don't know what happens, but I'm rooting for Arya," Flynn said. "Could Arya get [the throne]?" But he's no fan of Margaery. "I don't trust her," he said. "She makes my skin crawl a bit."
The crowd was eager to hear about Flynn's action scenes, especially since the show uses real steel, not rubber weapons. Flynn credited his inner "Celtic Viking" for getting into character in those moments, and joked that he got his combat training at an early age, "with my older brother when I was young, until I got bigger than him, and then combat training stopped." He also learned to fence in drama school. "I've always enjoyed the physical side of acting," he said, save for a stunt where someone named Buster "jumped on his back" during the ambush fight scene in season one. "I've been having physiotherapy ever since!" And during the trial-by-combat scene in the Vale, Flynn got nicked a few times and even fell because of the wet wax on the floor. "I was sliding all over it," he said. "And I did fall down that hole. That big one that just goes on forever? I actually did fall down it, so that was kind of the scariest."
Despite this, Flynn would welcome more fight scenes. "I want to be kicking ass," he said, because as the audience repeatedly reminded him, the character is a "badass." Flynn shared that he'd originally auditioned for Bronn with a black eye, because he'd just knocked himself with a cupboard in his brother's kitchen the day before. "I swear it got me the part!" (He also auditioned Bronn with a Scottish accent, but the showrunners decided that he should either speak "a more jaunty Northern or Southern English, just to keep it simple.") Beyond that, he hadn't thought of any further backstory for Bronn, other than "he killed his first person when he was twelve," and resorted to violence because "he's had a rough time and he's got some wounds. His dad wasn't around. That's about it."
Fans also wanted to know if he would sing again on the show, especially with his main acting counterpart, Peter Dinklage. "I didn't know Peter sings," Flynn said. "Well, if it was in character, and if Peter said he would, I might!" Just to encourage him, some fans brought their Robson & Jerome CDs for him to sign, along with copies of George R.R. Martin's books, the DVDs, posters, and fan art. And he shared the love, expressing appreciation for elaborate costumes ("Nice get-up!" he told a Targaryen bannerman) and props ("What have you got there?" he wondered about a plastic scythe. "Very cool").
Flynn's seeming ease with the crowd - flipping back questions like "What is Emilia Clarke like" with a naughty "What do you think?" — wasn't as easy as he made it look, though. Following the panel, the actor told Vulture that he'd actually been nervous, as this was only his second Comic-Con (the one in Wales a year ago being his first) and he didn't have ready-made anecdotes for the questions about on-set pranks and the like. "This was an experiment, me coming here, to see what it's like," he said. And he's kind of surprised at the fan response.
"I don't really see myself as a scene-stealing character," Flynn told Vulture. "But the lovely thing about the show is that you don't need to have a lead part in it. It's like a lovely dream cameo role. And it was totally unexpected. When I did the singing [career] in the past, I think I left people's public image of me getting up on stage, slightly out of place, singing songs that weren't very cool, at least in the music industry. So suddenly to be in the coolest show on earth and to have such a cool character? It kind of makes up for it. I try not to be affected by what people think, but it is kind of nice. This is really cool."