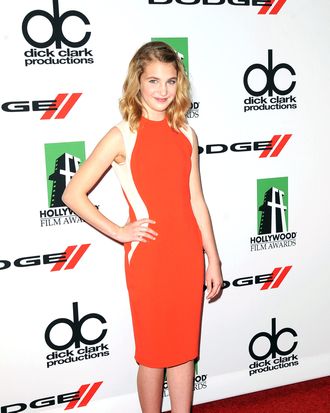 Sophie Nélisse.
Photo: Andreas Branch/?Patrick McMullan
In The Book Thief, Sophie Nélisse plays a girl who steals books as a way to emotionally survive WWII Germany. At a luncheon hosted by the Peggy Siegal Company yesterday, the 13-year-old actress adorably admitted to stealing books in real life to get into character. "There was this store right in front of my hotel called Karstadt, and I was like, What if I steal books? That would make me sort of like my character," she told Vulture. "If they had arrested me, I could say, "Hey, I'm just trying to get into character here! You can't arrest me! I'm making a movie!" It turns out she didn't quite steal the books, though. Her co-star Geoffrey Rush, who plays her foster father, plotted with Sophie's mom, Pauline, to make the kid think she was stealing.
You see, Sophie had been talking with Rush about wanting to go Method, her mom told us. "She and Geoffrey had planned this whole thing out, and Geoffrey took me aside and told me what I thought I had overheard, and he said, 'You should go see the people at the store.' So everything was arranged. Everybody knew." Eventually, Pauline told her daughter the truth. "After a week, my mom told me that she had actually paid for them," Sophie says. "I was happy to hear that, because I'm not a thief." Adds Mom: "Obviously [stealing]'s not a value you want to instill in your daughter. But she thought she was doing it for the movie. And when she found out, she said, 'Oh, so I didn't really … ?' And I said, 'Well, the experience was real, even if the crime wasn't.' So that's kind of how it happened." That's how Geoffrey Rush helped his kid co-star steal.