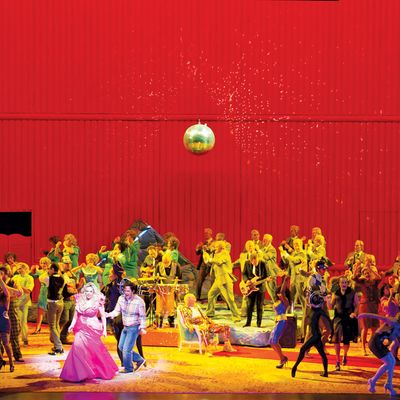 From Anna Nicole, New York City Opera's final production, at BAM.
Photo: Bill Cooper/New York Magazine
When George Steel took over New York City Opera in 2009, he hoped to be the man who could rescue the tottering company. Instead, this week, he wound up being the one to shut down a beloved operatic institution that had been a fixture of the city's cultural life for 70 years. Justin Davidson talked to him the day after the closure was announced.
First of all, my condolences on the death of City Opera. I know you worked very hard to prevent this from happening. What are these days like for you? How do you actually wind down a 70-year-old opera company?
There are really just a handful of people at our offices, and we're packing stuff up and preserving business records, and communicating with artists and ticket buyers. I will only work through the end of this week, though. I'm not essential to the wrap-up.
What's next in your life?
I miss making music as a conductor, and I expect I'll do that very soon. Aside from that, we'll see. 
What's the lesson of this whole story? That New York can only support one full-time opera company?
I don't know about that. Maybe City Opera had too much baggage to turn around. The company had a long, long history of financial difficulty and very public troubles that brought a sea change in the public's reaction to the company. We had to fight the perception that the company was on a downward trajectory. Would a new company have a better shot now? I can't answer that, but a company on the rise would do better than a company in decline.  
You shrank the season dramatically before you finally went out of business. Is the audience for opera just not there any more?
The audience is not a problem. We just sold out seven performances of Anna Nicole, and the reception was rapturous. But any opera performance, even if you sell out, always loses money, so it's a matter of how much you can afford to lose. The company used to do tons of performances of Carmen. That's an expensive opera, and it lost rivers of cash. After a while, the core audience isn't going to come back to see it again, so you find yourself spending more and more to market to people further and further out of the core audience. 
Aren't there enough rich people to support the opera that others want to buy tickets for?
There's no question that there are New Yorkers with the money to pay for it. The first year after I arrived, we raised $15 million. That was after ten years of raising $14 million, followed by a dark season, when they raised $9 million. My second season, we raised $18 million. We were doing well. But we had no tolerance for error, and this year we couldn't raise enough in the time we had. That doesn't mean the money's not out there. 
So if the audience exists, and the money's theoretically there too, what went wrong? Was there a moment when the company just went off a cliff, after which there was nothing you could do to prevent the ultimate impact?
It's been incredibly difficult since I walked in the door in 2009. It took me a year to put together the financial picture of the last ten years so I had some sense of what was going on, and I discovered that the company was in much worse shape than I had understood. When I arrived in 2009, the board had produced a turnaround plan that was never going to work. Their $30 million budget included $16 million of income that just wasn't there. There really wasn't enough money to do five operas at Lincoln Center. So we had two options: Close, or do something radical to save the company. 
So you moved out.
And it almost worked! It gave us two more full seasons and two balanced budgets. Our first season away from Lincoln Center we sold every ticket to every show. We also made more money per night than ever, so we were a much better machine at selling the seats we had. 
But?
But ultimately it proved unsustainable. 
Why, because longtime donors had allegiances to Lincoln Center and weren't willing to follow you out the door?
For a lot of reasons. There's always the general difficulty of raising money for opera. Then there was the slowly shrinking board, and the very public troubles of being at Lincoln Center, which shakes donor confidence. The cure for all this was to balance the budget, which meant streamlining the staff and renegotiating the union contracts. But that brought us negative publicity too. 
In hindsight, was there anything you could have done to turn the tide?
I wish we could have added another production, because that would have signaled to everyone that we were growing, that the story was changing. Donors can say, Four operas a season is not big enough, so here's more money. Or they can say, Four operas a season isn't big enough, so here's less money. Unfortunately, two of the promised gifts that were reduced suddenly were from board members. That was particularly disheartening. 
You were in charge, which means that you took the lion's share of the criticism. Do you think the attacks were at least partially justified? How much responsibility do you bear?
I came in to do everything I could to save the company, and I feel good that I did everything I could do. I feel terrible that the company cannot go forward. My real sense of responsibility is to the city, to the employees, and to the artists. 
Do you think that the company's failure was partially a comment on your artistic judgment? Is there a connection between what you programmed and how much money you could raise?
I think in general we had a very successful time artistically. We did the New York premieres of Bernstein's A Quiet Place, Rufus Wainwright's Prima Donna, and Anna Nicole. There was some gleeful criticism about the underperformance of Stephen Schwartz's opera Séance on a Wet Afternoon, and I acknowledge that I programmed too many performances of that, so we spread the audience over too many nights. But we didn't take a crushing hit on that. Fundraising matters a lot more than not selling out. 
If you knew then what you know now, would you still have taken the job?
I would. It's a fight worth fighting, and I have no regrets about throwing myself into it with everything I've got.