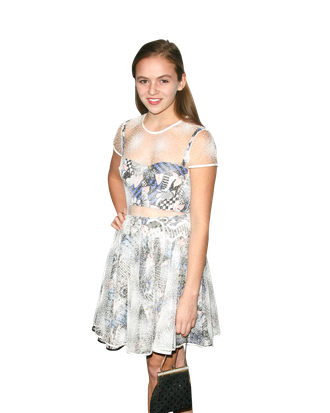 Photo: Tommaso Boddi/Getty
[Spoilers ahead if you haven't seen last night's episode.] In last night's Homeland, Carrie was further betrayed by Saul and recommitted to a mental institution, which is pretty bad. Dana still has it worse. Think about it: Her ex exploded in the CIA bombing, and her dad was named as the man who plotted it. She attempted suicide. She's having sex in laundry rooms with a kid she met in rehab. Vulture got ahold of Morgan Saylor, 18, while she was on a break from shooting the season's tenth episode, to talk about "Uh… Oh… Ah…" (the title of last night's episode, presumably referring to Dana's big night), her furrowed eyebrows, and life without Damian Lewis. But first, there's the issue of Dana's new obsession with selfies.
What's your stance on selfies?
They're weird! I feel like people look ugly in them. I don't know; it's not something I'm really a fan of. I do use FaceTime because I'm frequently isolated from friends and my boyfriend, so I get that. Dana does it because Leo's in rehab and they can't communicate, but it's a weird way to bridge the gap. Yeah, it's just weird.
Did the writers say or do anything to prepare you for the love scene?
Not for that in particular. It's funny. I happened to turn 18 at the end of last year, and I was a little worried that that might be heading my way. Sure enough, lo and behold: second episode. They didn't waste any time, did they? But as you can tell, they were a little lenient. They didn't make me go all out, which I greatly appreciated. The good part about it was we were working with the only female director we've ever had on the show, Lesli Linka Glatter. I'd worked with her before and it was really nice to have her on my side. I was much more comfortable talking about the scene and figuring out the details than I would have been with, say, a new male director. I feel very fortunate that … I mean, Showtime is obviously known to have more risqué TV, and I'm grateful it didn't have to be too far.
What were you able to work out to make it better for you?
There was talk of a body double. I didn't want to show everything and they might've wanted it. But that also made me feel weird because then everyone would think it was me anyway. I feel okay with how it turned out, but it still feels weird to watch. All those sheets, those were helpful.
Should Dana be in a relationship so soon after Finn's death and her dad leaving?
I think, as she says, it's great to be with someone who understands her instead of feeling so alone. It's also a nice distraction. But we'll see. Maybe it's better if she is alone. One less thing to worry about.
Dana tells her mom she isn't suicidal, but she's far from okay. Again, nude selfies. What's your read on how she's handling Brody being gone?
She's a little unstable obviously, but she's really trying to move on. She can't keep living that life anymore, letting everything revolve around her father. She has to move on, whether it's with Leo or just growing up. She does that throughout the season. We see her make more mature decisions … uh, there are some mistakes, though, as well.
Nothing can be as disastrous as a hit and run, I assume.
I know. Just wait till you see the next episode though! Joking, joking. Homeland does have that ability to tear the rug out from under you.
Looking back, what did you think of that story, the car accident and its aftermath?
I'm a little biased because I'm such good friends with Timothée Chalamet, who played Finn, but I enjoyed it. It was cool. That was Dana's first independent plot. Obviously it was a lot of emotional scenes and headaches and furrowed eyebrows, but it was a nice challenge.
Dana is the angstiest. Is it a drag to play that over a long period?
Yes and no. It's easy to fall back into because I've played her for so long. But I think this season is a little different. She feels different to me. I have some happier, romantic scenes with Leo, and a little more versatility overall this year.
At the end of last season, Brody goes on the run. Were you nervous that the Brody family might be done?
We had no clue if we were coming back. We really had no idea. Actually, in January at the Golden Globe Awards, the whole Homeland group, we all met back up. The writers actually told me and Morena [Baccarin] — because we, of course, were being nosy and trying to get the scoop — they actually said, "Plan on not working this year. Plan on not being here." That was about a week before they started writing, so I guess something changed. It came as a surprise to not only be on the show but to have a lot to do. I graduated high school in May, being a normal kid, not thinking about Homeland. It's all been a nice surprise.
The family stories are pretty detached from the main action at the CIA.
I can say there will be some intermingling of the separate worlds.
Dana's brother Chris seems to be pretty well-adjusted so far. Anything dramatic coming up for him?
Yeah, he's doing better than Dana. There are some nice things between him and I. Small moments, but really real ones that I feel are important because we're siblings.
What do you make of Dana finding and kneeling on Brody's prayer rug?
I really do like the scene because she's obviously so against her father and so angry, but he was an important person in her life. It's hard to hold a grudge — not that she's forgiven him by doing that, but it's a nice reminder that she's human and isn't completely one-minded about it.
There's been a ton of talk about Brody's lease on life. Series boss Alex Gansa told me he could go at any moment. Do you think about how one day Damian Lewis might not be filming with you anymore?
Yeah. I don't think it's a spoiler to say Damian hasn't been around a lot this season, which has been really weird. It feels like something's missing, both on and off set. I love, love doing scenes with Damian. We work nicely together. We get along well. It will make me sad [if he's written out]. That said, I think the first episode back felt full, and when we do see him again, it's really awesome. I think it will be really exciting for the audience to see him and know what he's been up to.