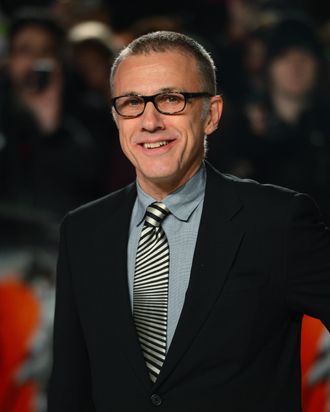 German-Austrian actor Christoph Waltz arrives on the red carpet for the UK premiere of the film Django Unchained in central London on January 10, 2013.
Photo: LEON NEAL/AFP/Getty Images
While it was originally thought that Horrible Bosses 2 (the sequel to the unexpected success about three white men who hate their jobs) could sign Chris Pine but not Christoph Waltz, the project continues surprising with news that they did in fact snag the Oscar winner. The Hollywood Reporter writes that Waltz "is close to finalizing his deal to play [Pine's] father." Bonus for those of you waiting on the edge of your seats for this one: Return stars Jennifer Aniston and Kevin Spacey are also reported to close their deals on Monday. Expect this one in theaters November 2014.