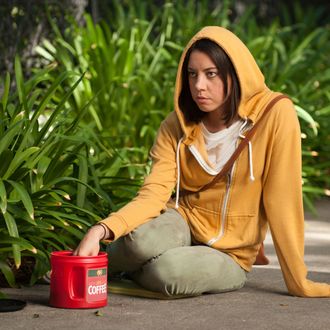 Photo: NBC/2013 NBCUniversal Media, LLC
In last night's episode of Parks and Recreation, Miami Heat star Chris Bosh turned up as a ringer for fancy Eagleton's high school basketball team, dominating on and off the court. ("And I'm better at French horn, too, Eric.") This was a fantasy come true for Aubrey Plaza, who has been aggressively tweeting at and about the basketball player for over a year. "I just think he's like this magical creature that has superpowers," she told me during a recent visit to the set. "Like super-strength, and super-sensitivity, and super-sexiness." Unfortunately, Plaza's character April was not written into any scenes with Bosh. "I was like, 'Doesn't anyone follow my Twitter? What is happening? April doesn't get a scene with Bosh?'" Determined to meet him, she came to the set anyway and pulled a spur-of-the-moment prank, one that did not get her the reaction she was hoping for.
Parks and Recreation boss Mike Schur didn't think a Bosh-April scene was necessary, as he assumed Plaza already knew him "based on how often she tweets and yells his name on Twitter." When Schur realized she had only adored the Heat center from afar, he encouraged Plaza to come to set and hang out with him even though she wasn't working. "'He'll be here, go talk to him like a regular human being,'" Schur said. "She did the opposite of that."
Here's Plaza, explaining what went wrong:
"I waited and I waited on set for him. And I was really nervous, like, 'Well, how am I going to meet him? What am I going to say? Does he know who I am? Does he know that I care about him? Because I've never heard from him ever. I knew that he was going to have to go into the hair and makeup trailer before he shot his scene, so I decided that I would wait in there for him, and while I was there I was talking to the hair and makeup ladies. I decided, 'What if I did a funny bit where I pretended like I was the hair person?' I took Helena's sweater and her glasses — she's our hair person — and just made up a character. He finally showed up, but in my head, I thought, Well, he's going to know it's me, right away.
"Big mistake. He comes in the hair and makeup trailer and I say, 'Hey, I'm Helena. I'm going to do your hair.' I'm thinking that he's going to go, 'Oh, it's you!' and instead, he went, 'Hi, nice to meet you.' He sat down, and I was like, 'Well … you look really good, Chris. I guess we don't have to buzz anything or edge you up. Or, maybe, do you want me to edge you up?' He was like, 'No, no, I'm good.' He said it was really nice to be there and he was being really polite, and he literally didn't know who I was. So I kept the bit going, and I kept doing more outrageous things so that he would get a clue that it was me joking around. I picked up this Afro wig and I was like, 'What about this? How about this fake mustache?' and he just kept staring straight down at the floor, probably thinking to himself, 'Wow, the hair department on this show is really crazy. All I want to do is get out of this trailer.' The whole time I'm thinking, Well, I've done it so long now that I actually think it would be more awkward if I took my glasses off and went, 'It's me!' That would've been weird.
"Eventually I said, 'Well, you look great. You're all set to go,' and he went, 'Thank you very much. Nice to meet you.' I got a picture with him, as Helena*, and then he left. My boyfriend was a witness to it. He was in the trailer and he secretly videotaped the whole thing. I texted Amy, 'Please, tell him that it was me,' but she forgot. That night I went home and I tweeted a bunch of tweets. 'Hey, @chrisbosh, that was me that did your hair today.' He never responded to me and now all I have is a picture of us, me in character doing an Oscar-award-winning performance, as Helena the sassy hairstylist. That's really the moral of the story. I'm an idiot and I deserved what I got, which is nothing. I did get up in his personal space, so that was cool."
*Vulture tried to get the photo. Alas, no luck.