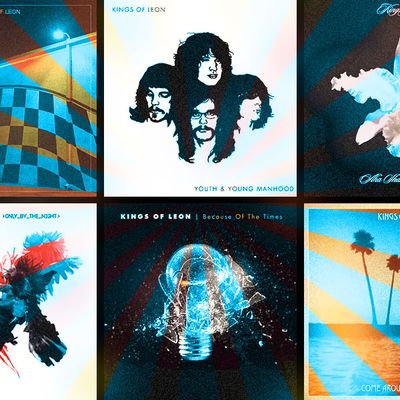 When they released their first album in 2003, Kings of Leon were commonly referred to as the Southern Strokes by anyone who knew who both bands were. Sure, they didn't sound very much like the Strokes, but to be fair, they sounded a lot more like the Strokes than the bands topping the charts that year (e.g., Linkin Park, Coldplay, Evanescence). Despite this derivativeness — or possibly because of it — the so-called Southern Strokes grew and grew in popularity until the band surpassed the success of the actual Strokes, and then kept on growing. And here's where the bands stand in 2013: The latest Kings of Leon album, Mechanical Bull, has sold roughly 110,000 copies, nearly three times the 41,000 units that the Strokes' most recent Comedown Machine has moved. That all happened in fourteen simple steps:
1. They were born good-looking and in the South.
Being good-looking really does make it easier for people to get famous. The pulchritude of the Kings of Leon members helped fuel comparisons to the studly Strokes. But the Kings' origin in the South allowed for the Southern tag, essential to fending off cries that they were too same-y. 
2. They started a guitar band.
The story goes that the three Followill brothers spent their childhood touring the South with their preacher father. When their father was eventually defrocked, the two eldest brothers, Nathan and Caleb, moved to Nashville and started making secular music. Not wanting to be seen as some cheesy brother duo, they gave their little brother, Jared, a bass guitar and brought in their cousin Matt to play lead guitar. Without the guitars, no one is going to compare you to the Strokes, which was, for better or for worse, a crucial ingredient in their rise.

3. They were branded the "Southern Strokes."
Luckily for the Kings of Leon, they were compared to the Strokes. Often. Boy, did they get compared to the Strokes. Pitchfork, Paste Magazine, Pop Matters, Prefix Mag, Blender, and A.V. Club were just a few of the publications that mentioned the Strokes when reviewing KOL's 2003 debut, Youth and Young Manhood. Paste wrote, "The band's brand as the Southern Strokes is surprisingly accurate citing the cutesy lead guitar riffs, simple punchy drums and dirty vocals that beg for a punch-drunk sing-along." It's not clear who started the comparison, but we're going to wager that it was a publicist. It's just easier to pitch the "Southern Strokes" than "a bunch of bearded, super-young nobodies with guitars, tight jeans, and Southern accents." Whoever came up with the nickname, it stuck — and it worked.
4. They became huge in England.
The branding worked especially well in the U.K. and abroad. NME called Manhood, "one of the best debut albums of the last 10 years." The Guardian said the band was the "kind of authentic, hairy rebels the Rolling Stones longed to be." As a result of the nice press, the album sold over 500,000 copies in the U.K. alone, almost five times more than it sold Stateside. KOL would go on to headline festivals abroad for years while still appearing as an opening act at home. The overseas success sustained them and helped prepare them for their American stardom. 
5. They were endorsed by the Strokes.
There is maybe no quicker way to be seen as hacks than to have the band you're being compared to hate you. Luckily, the Strokes were onboard from the get-go. Four months after Manhood came out, Strokes guitarist Albert Hammond Jr. was seen wearing a wristband from a Kings of Leon concert. Around the same time, the Strokes started having KOL open for them on tour. 
6. They denied being the Southern Strokes (which seems like something the Strokes would have done).
Talking with Incendiary Magazine in 2004: "The Strokes are good and everything, but you just don't want to be compared to anybody. I don't think we sound anything like the Strokes." While you're still a smallish band, it's important not to seem like posers. 
7. They let the Strokes release a little-liked third album and go on hiatus.
You know what helped KOL maybe more than anything? The Strokes' third album, First Impressions of Earth. Released in early 2006, the record found the Strokes messing with their signature vibe and was a bit all over the place, with some songs sounding weirder, darker, or more insular than what their fans had grown to expect. The album was their least popular both commercially and critically up until that point, and they followed it up by not releasing a follow-up for more than five years, which created a Kings of Leon–size void. 
8. They went bigger. Like, U2 bigger.
Like the Strokes, on their third album, Kings of Leon made major changes to their sound. However, unlike their New York counterparts, they moved to make things bigger. After spending months touring with U2, it seemed they learned how to make music that can fill an arena. And just like U2, the first step seemed to be throwing a ton of reverb on everything. A song like "On Call" is not one they could've written when they started, but it definitely had much more crossover appeal than anything they'd done up to that point.
9. They realized that sex sells, so they sold sex. And while they were at it, they enflamed said sex.
By September 2008, it wasn't new for Kings of Leon to make songs about sex (read pretty much any lyric from the first two albums and you'll feel like you need to wash your eyeballs out with soap). But nothing is as on the nose (or some other body part!) as "Sex on Fire." The song couldn't be less coy if it were shouted through a megaphone directly at a boob. And then to really drive that home, there's the video. See step one, above.

10. They broadened their fan base by releasing "Use Somebody."
"Sex on Fire" broke the band through to the mainstream; "Use Somebody" made them superstars. As they told Spin, once they first finished the song, Caleb didn't want to release it: "I was embarrassed by it. I thought it was sappy." Which was a problem, as he felt the song could be huge. Luckily, they listened to the label and included it. It was part of an album, Only by the Night, which was undeniably more commercial and straightforward than anything they (or the Stokes) had ever done. In the same interview, they told the story of Eddie Vedder's response when they first played it for him: "You're about to ride a big wave." He was right. 
11. They got legitimately famous.
On the back of these two hits, Kings of Leon got to be very well-known. Only by the Night sold over 6 million copies (nearly double Is This It) and garnered six Grammy nominations (including three wins for "Use Somebody"). It catapulted the band to the rarified territory of festival headliners. They even played the freaking Today show. According to the band, it went well beyond what they ever imagined or wanted, telling Spin, "You feel like you've done something wrong. That woman in mom jeans who'd never let me date her daughter? She likes my music. That's fucking not cool." The Strokes don't have mom-jean fans (at least not unironic wearers-of-mom-jeans).
12. They took a break so they wouldn't kill each other.
Fame put a strain on the band. Things were always pretty tense for KOL, which is an inevitable by-product of siblings spending this much time together. The relationship between Caleb and Nathan had been famously contentious, often resulting in physical violence (Nathan once dislocated Caleb's shoulder and stabbed his bed with a knife). It all peaked at a 2011 show in Dallas, where Caleb left mid-show, enraging his bandmates. The band canceled the rest of that tour and later decided to go on hiatus. You can't be a famous band if you totally break up and/or die. 
13. They chilled out when the Strokes finally returned not sounding anything like the Strokes.
The Strokes released two records between KOL's release of 2010's Come Around Sundown and last week's Mechanical Bull. First was the generally panned Angles, which was a tepid mid-point between their earlier work and what was about to come. What was to come was Comedown Machine, a better-received effort critically but not commercially (it was their first record since Is This It not to debut in the top five). Although very good in parts, the record didn't sound much like the Strokes that early adopters had fallen for in the early aughts; it felt more similar to lead singer Julian Casablancas's solo material. The album turned off those who'd gotten into the Strokes for guitars, not synths. I imagine that if KOL also released a record that sounded like A-ha, they'd lose fans too. But so far, they haven't. 
14. They came back exactly the same as when they left.
Where the Strokes sound like a different band on Comedown Machine, Kings of Leon somehow are even more Kings of Leon–y on Mechanical Bull. It sounds like a record made by Kings of Leon clones that were only allowed to listen to the band's most middle-of-the-road songs (a.k.a. Come Around Sundown). It might not earn them any new fans, but it didn't seem to alienate their old ones: Bull, like its predecessor, debuted at No. 2 on this week's Billboard album charts, and the band is headlining this weekend's Austin City Limits festival. Kings of Leon has gotten so obviously big that, when the band released a single that actually sounds like the Strokes ("Supersoaker"), the song was met not with derision, but a feeling of "isn't that quaint?"