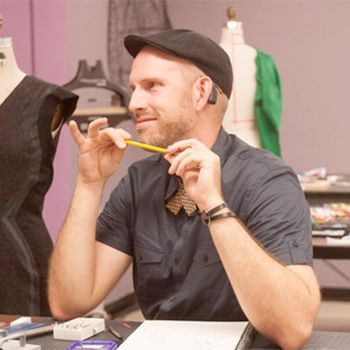 Watching Deaf people on television is often a dangerous proposition. That's especially true of reality television, which has never been known for its ability to transcend stereotypes. Most disabled people on these shows tend to be marginalized or placed in what TVTropes.org would call the "magical cripple" or "inspirationally disadvantaged" box, there to provide inspiring life wisdom but not to have their own story lines or relationships.
So when I heard that this season of Project Runway was going to feature a Deaf designer, I knew it was must-see TV for me. I am a CODA (Child of Deaf Adults), occasional American Sign Language teacher, and deaf-rights activist, so the chance to watch a Deaf contestant (one from my hometown of Raleigh, North Carolina, no less) on one of my favorite reality shows seemed like a no-brainer. [Note: The word deaf spelled with a lower-case d refers simply to people who cannot hear, while the term Deaf represents the larger, active, politically aware community of hearing-impaired people who identify as a cultural community.]
And I'm pleased to report that Project Runway hasn't disappointed. In the first episode of the season, Justin LeBlanc introduced himself as a Deaf man who had a Cochlear implant but was still limited in his hearing. Like any "othered" contestant on a reality show, he was there to represent all of his people and hopefully acquit himself well on their behalf. When I think of other Deaf people on reality shows, what stands out is the way in which their deafness is made or shown to be a weakness. Think of Christy, the Deaf woman who got booted from Survivor in part because her inability to understand whispers or read lips at night made it impossible to join an alliance, or the mother of CODA Bachelorette finalist Jerry Ferris, who was viewed by Bachelorette Jenn as being weird and hard to relate to. What's different about Justin, though, is that Project Runway has been depicting him as a fashion designer first and a Deaf person second, in a few respectful ways.
Despite Justin's implant, he still relies heavily on American Sign Language (ASL) to communicate, and Project Runway provided him with an interpreter. The interpreter, a young African-American woman, has been shown on-camera many times. However, these moments have been captured by happenstance (she's standing next to Heidi Klum, who is explaining the week's challenge) or accident (she is often captured in side view or shown for just a few seconds before the camera pans away).
Although the treatment of the interpreter — I don't believe we've ever been told her name — could be seen as marginalization, it's actually a perfect example of the primary rule of sign-language translation: They are there for Justin, not for you. Unsurprisingly, co-host and mentor Tim Gunn is perfect when he communicates with Justin. Rather than addressing the interpreter and talking to her, he looks directly at Justin and speaks to him, even though Justin is watching his interpreter and not Tim.
For many people, especially ones who are not accustomed to seeing ASL often, watching signs is such an interesting experience that they will find themselves instinctively looking at the interpreter, thus removing the Deaf person from the conversation. Tim and the rest of the Project Runway cast and crew clearly got a quick lesson in Deaf etiquette, and it's heartening to watch.
In the episode where Justin was most prominently featured, episode six or "Let's Go Glamping," the designers all went camping for a night to get inspiration for nature-inspired clothes. Justin was able to bond with some of the designers and teach them some signs, which fellow contestants like Dom and Bradon were able to do on-camera. Although the signs were basic, they worked as an entry point to Justin talking more broadly about the Deaf experience and some of his challenges on the show. At the end of the episode, Justin was voted off ("aufed," in PR-ese) by the judges, only to be "saved" by Tim Gunn in a rare move. And now he's one of the five contestants who have made it through to the two-part season finale that begins next week.
Although Project Runway has veered slightly into magical cripple territory — the other designers used the word inspiring quite a bit when Justin was booted — they've done the best job in recent memory in accommodating a Deaf reality participant. Justin isn't a favorite to win this season. Still, instead of being simply the Deaf contestant, he has been allowed by the show's producers and editors to be a whole person, complete with good moments and bad. Last week, when he created an original print inspired by the sign for "I love you," it felt organic and not forced.
Justin's good treatment may stem from Project Runway's format as a place where contestants must have a demonstrable skill. Though the show isn't immune from the temper tantrums and breakdowns that have become staples of the reality genre, ultimately Justin is judged — positively and negatively — more for his work than for his strategic alliances. He has been able to educate a wide audience about Deaf life and sign language without being reduced to a stereotype. (It also helps that he's a good designer.)
After word got out in the Deaf community about Justin's Project Runway casting, many of my Deaf and CODA friends began e-mailing about their plans to watch the show. One friend was worried that she wouldn't be able to watch the show because she didn't have a TV, but here's another detail that Lifetime nailed: Its online videos of the show have a closed-captioning option. Although it is required by the FCC, captioning online video is still a huge problem, with many networks not wanting to pay for the additional expense or fully commit to the technology, but Lifetime showed their commitment to Justin both on the screen and on the Internet in a very simple way.
If he launches his own line, I'll be first in line to buy a piece. And to say — in ASL, of course — "you made it work."
Lilit Marcus' writing has appeared in The Atlantic, The Wall Street Journal, Glamour, and elsewhere. Follow her on Twitter at @lilitmarcus.