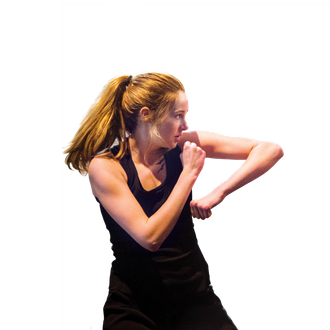 Photo: Jaap Buitendijk/?2013 Summit Entertainment, LLC. All rights reserved.
The Divergent series has sold 5 million books and is regularly called "the next Hunger Games" or "the next next Twilight." Interested in writing the next next next teen franchise? Here's a step-by-step guide.

1. Start a blog.
Early online readers got to watch Roth write Divergent, find an agent, and sell it to HarperCollins—all in real time on her website. By the time the book was published, "she was already a social-media phenomenon," says editor Katherine Tegen.
Pro tip: Blog about lots of things!
A list of non-writing topics mentioned on Veronica Roth's blog: dead raccoons, traffic lanes, sweet-potato soup, spiders, a OneRepublic CD.
2. Don't be afraid to be trendy.
"The Hunger Games was big at that point, but there were a couple other books that were on the cusp of the dystopian-sci-fi trend—Matched and The Maze Runner. But the timing just worked so that Divergent ended up at the top of the pack." —Casey ­McIntyre, publicist for the series
Pro tip: Don't make it mushy.
Divergent's love story is hidden between action scenes, which attracted adult sci-fi readers immediately. A fan e-mail from an older gentleman: "I don't usually read Young Adult, but this reminded me of Brave New World."
3. Tell everyone you know.
Early copies of Divergent were sent to trades, YA bloggers, and kids—many of whom started telling their friends. Becky Anderson, an ­independent-bookstore owner in Chicago, recalls her first Divergent event: "We were expecting maybe 80 people to come, but kids had given books to their friends because they were so excited about it. We ended up having 120. Kids were sitting on the floor."
4. Sell the movie rights early.
Summit Entertainment bought the movie rights before Divergent even hit shelves. Says McIntyre, "Once there's something that goes up on Deadline or Variety, suddenly it's a property that people are really happy to get the advance reader copy for."
5. Play to your base.
"For Insurgent, we really limited the number of advance reader copies. We selected 50 bloggers to participate in a preorder campaign, we separated them into factions, and we had them compete against each other and post different content." —McIntyre
6. Continue blogging.
Even after Insurgent hit No. 1 on the Times' children's best-seller list, Roth kept sharing—about her anxiety, and revisions, and whether she likes sausage pizza. (She does.) Relatable!
7. Keep fans addicted between books.
In April 2012, Roth published Free Four—a retelling of one scene from the perspective of Divergent's hunky love interest (not unlike Stephenie Meyers's leaked pages of Twilight told from Edward's POV). It gave readers something to pore over as they wait for Allegiant.
8. Hit the major PR milestones.
"When we started making all the casting announcements, it became real for the fans in a way it hadn't been," says McIntyre. And then the movie-PR machine— an Entertainment Weekly cover, a trailer debut at the MTV VMAs—started working for the book.
Pro tip: Get Shailene Woodley too.
Between indie hit The Spectacular Now, the upcoming The Fault in Our Stars adaptation, and Divergent, Woodley is the now the must-have star for all the important teen movies.
9. Avoid leaks.
The first readers of Allegiant will be the fans who line up at midnight. Says Tegen, "This is the highest number of preorders HarperCollins, including the adult division, has ever received for one book. I don't think you need to put out advance copies."
*This article originally appeared in the October 14, 2013 issue of New York Magazine.