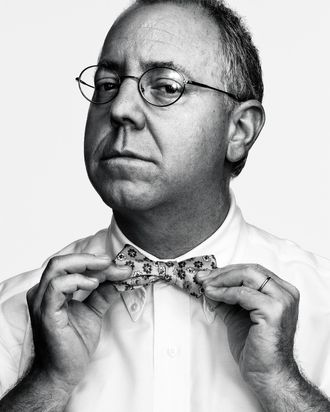 James Schamus, photographed by Payam
Photo: Payam
If Harvey Weinstein is the Incredible Hulk of New York's art-house scene, James Schamus is its affable, brainy Bruce Banner. With his Poindexter-style glasses and predilection for bow ties, Plato, and Parisian restaurants, the CEO and co-founder of Universal's Focus Features is the "Professor of Micropopularity," as The New York Times Magazine dubbed him in 2010, a reference to both his academic background—he's earned three degrees from the University of California at Berkeley, including a Ph.D. in English, and teaches film ­studies at Columbia University—and his devotion to daring filmmaking that isn't obviously commercial.
The films he backed stick with you long after the credits roll and the Oscars (84 nominations and sixteen wins in twelve years) are tallied. The Pianist, Lost in Trans­lation, Eternal Sunshine of the ­Spotless Mind, The Kids Are All Right, Atonement, and Milk are all Focus releases. That track record is likely why the announcement earlier this month that Universal Pictures had fired Schamus led the trade presses to trot out such descriptors as "Shocker!" and "dramatic." The company's Bleecker Street headquarters will be shuttered, and what's left of Focus will now be steered from Los Angeles by Peter Schlessel, the founder of the more commercially oriented FilmDistrict.
Schamus's career as an architect of the smart, accessible movie began in 1991, when he co-founded, with Ted Hope, Good Machine, a production and, with the arrival in 1997 of partner David Linde, international-sales company that was behind Todd Solondz's black comedy Happiness and director Nicole Holofcener's first feature, Walking and Talking. Schamus is known for his devotion. When his commercial flight was grounded on its way to the 1996 Sundance Film Festival, where Good Machine would be selling ­Holofcener's film, he persuaded Hope to put the cost of a $17,000 private flight on his credit card. That, Hope says, "was when I knew that James could run a film studio."
Schamus became one of the film world's most powerful outsiders, finding success cultivating others like himself. Raised in Southern California, "I grew up basically covered with psoriasis," Schamus told the Times, "and I skipped grades, so I do tend to gravitate to the kid in the corner, who, incidentally, is most likely to grow up to be one of our directors."
Good Machine's biggest discovery was Taiwanese director Ang Lee. The company produced his directorial debut, Pushing Hands, and Schamus co-wrote the screenplay, beginning a long-running collaboration that has spanned a dozen films, including The Ice Storm; Crouching Tiger, Hidden Dragon; and their current project, a 3-D boxing movie.
When Universal Pictures bought Good Machine in 2002 and merged it with other indie labels, Schamus and Linde were named the co-presidents of the result: Focus Features. A friendlier Miramax, Focus was devoted to ­director­-driven films with smart writing and distinguished act­ing. According to producer John Lyons, who served as president of production for eight years, Focus was a place where "you'll never see a director's cut DVD of a movie released later."
In 2006, Lee won the Oscar for Best Director for Brokeback Mountain, arguably the company's crowning achievement. ­Success did not make Schamus part of the ­Establishment, however. At the London Film Festival in 2009, he gave an "anti-­keynote" presentation in which he deconstructed part of the heavily redacted Homeland Security file on his wife, Nancy Kricor­ian, a novelist and member of the antiwar activist group CodePink: Women for Peace.
Schamus's iconoclasm earned him the respect of the actors and directors he worked with, some of whom took the news of his departure particularly hard. "Schamus's only liability may have been good taste," Sean Penn told The Hollywood Reporter. But his firing also had a familiar ring. The last five years had seen at least as many art-house-film companies folded up or folded into their major-studio parents. In 2008, Time Warner shuttered its Picturehouse and Warner Independent Pictures labels and closed down New Line Cinema's New York offices. That same year, Paramount consolidated its Vantage division, and in December 2010, five years after Disney parted ways with Harvey and Bob Weinstein, the entertainment giant sold the much-downsized company that the brothers had founded, Miramax, to an investment group called Filmyard Holdings, which has done disappointingly little with the company.
The calculus that supported Schamus's choices no longer made sense to executives. As Sleepless in Seattle producer Lynda Obst wrote in her recent book, Sleepless in Hollywood: Tales From the New Abnormal in the Movie Business, the collapse of the DVD market as well as the rise of video games, cable, and Netflix have cut into studio profit margins. That contraction also led to a movie market that, Obst observes, increasingly consists of "tentpoles" and "tadpoles": The former are movies with nine-figure budgets, special effects, and numbers in their titles, like Fast & Furious 6. The latter are films like Beasts of the Southern Wild, which cost less than $2 million to make and gathered heat and distributors through the festival circuit.
Schamus's Focus had built its enviable track record by making smart movies in the space between the tentpoles and the tadpoles, but that position has become unstable territory. "There's no business model for a truly autonomous art-house-film company within a studio operation," Hope says. "It's no longer good enough for a specialized division just to make its money back, as Focus did. It now has to make its money back and be a profit center." In 2012, Focus Features had its first year in the red.
With Peter Schlessel at the helm, the new Focus will likely rely less on auteur-driven, Oscar-friendly movies and focus more on the financial sweet spot where independent film intersects with populist tastes. Schlessel's FilmDistrict is known for its genre productions, smart, stylish—and violent—films, including Looper, Drive, and, in November, Spike Lee's anticipated adaptation of Chan-wook Park's Oldboy. But the company's biggest success has been its Insidious franchise, the first of which, according to Box Office Mojo, was made for $1.5 million and grossed more than $97 million worldwide.
As for the future of those art-middlebrow pictures that were Focus's specialty, filmmakers say opportunities are still out there, albeit with smaller budgets and less of a shot at theatrical distribution. "There's more financing money in the marketplace for smart films than I've ever seen," says the indie-film lawyer John Sloss. Specialty distributors are emerging to fill the void and taking the kind of risks for which Schamus was celebrated. "There will be more Beasts of the Southern Wild and Fruitvale Station than ever before," says Hope, but without the backing of major studios, it will be harder to find them. "We'll have to do more sifting, more panning for gold."

*This article appears in the October 28, 2013 issue of New York Magazine.