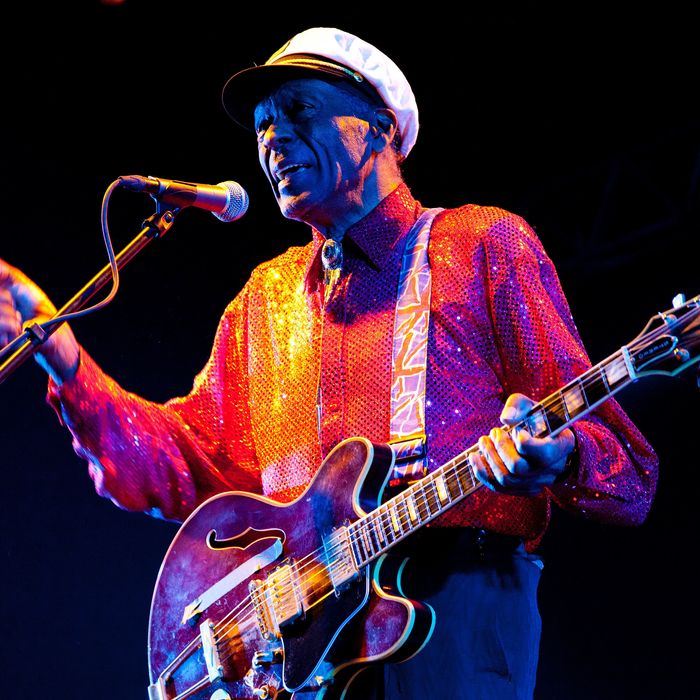 Singer Chuck Berry performs at the Arena Moscow Club on February 24, 2013 in Moscow, Russia.
Photo: Vladimir Artev/Epsilon/Getty Images
Today is Chuck Berry's 87th birthday. It's an occasion worth noting, at least as a check on cultural amnesia. Pop music in particular is an art form that has remained vital by forgetting — by appealing to young people who properly and inevitably don't care much about what happened in 1956. Of course, our musical amnesia is selective, capricious. In the 21st century, we remain enthralled by rock's sixties and seventies heyday; we've grown used to watching, with a mix of wonder and horror, the crepuscular moves of boomer rock demigods in sold-out-stadium reunion concerts. It's astonishing, though, to think how little mind we pay to the prior generation, the one that invented rock and roll. It's still more astonishing to realize that so many of those early rock-and-roll greats are still alive — that Fats Domino has a website and, undoubtedly, an iPhone. Buddy Holly and Elvis Presley are dead, obviously; Bo Diddley died five years ago. But Domino is still with us, as is Wanda Jackson, as is Little Richard (who announced his retirement just last month), as is Jerry Lee Lewis, who, if the past is any guide, is at this very moment banging on a piano, or on the head of some guy in a bar.
And then of course, there's Berry, the greatest of rock-and-roll's founders — the greatest rocker, period, if one must make a choice. Berry isn't just alive, he's a going concern. If you surf over to his website, you'll find a list of six upcoming concerts in Europe. (The mini-tour begins this Sunday, in Moscow.) I'm pretty certain that Berry's MO is the same that it's been for decades. He tours without a backing band: He turns up in a city, gets onstage with whatever local musicians his manager has rustled up, and he plays Chuck Berry's greatest hits. Berry doesn't need to rehearse the band because, if you can't play the twelve-bar blues that Berry's songbook is built on — if, for that matter, you don't know Chuck Berry's songbook — you've got no business being a rock-and-roll musician.
On the day that Chuck Berry dies — kenahora — we will hear chapter and verse about his greatness. We'll hear about his music's blend of blues and country and backbeat; about his signature guitar riffs and trademark duck walk; and, hopefully, about his songwriting, which, while putting on no airs, is as artful, as witty, as deep as anyone's — as Dylan's or Lennon-McCartney's or Rodgers's and Hart's. Look at the track listing for the compilation Chuck Berry's Golden Decade Vol. 1: Who would dare put his songs up against Berry's 24? If you've never focused on Berry's lyrics, do yourself a favor. Look, for instance, at "Tulane" (1970), about a drug bust at a novelty shop — an entire Quentin Tarantino screenplay boiled down to a pithy two-and-half-minute song. Better yet, try "Promised Land" (1965), a "poor boy's" picaresque journey West aboard Greyhound bus and southbound train and jet airliner, where he eats "a T-Bone steak à la carte/Flying over to the Golden State." It's the best American road song ever written — or is it just the best song about America? In any case, it's great art and pure Americana, one of a few dozen songs that place Berry in the company of Mark Twain and Buster Keaton and Louis Armstrong and Irving Berlin. Those others are long gone, of course. Berry's still here: 87 going on 88, and appearing soon, no doubt, at a club in your town.