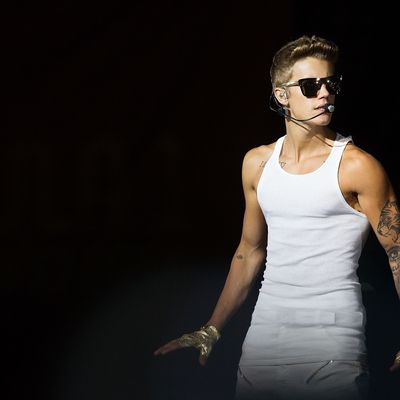 Photo: Nicky Loh/2013 Getty Images
Justin Bieber, "All That Matters"
Justin Bieber is a stealth classicist. Things get awkward when he acts his age — fondue, anyone? — but he thrives in songs that merge up-to-date production and traditional classic soul song form. "All That Matters" is Bieber's latest neo-retro triumph. The arrangement is great: it's a slinky ballad that unfolds over a few ringing electric guitar chords, with lots of silence filling the space between. (Sounds like the Bieb & Co. may have had Al Green's "Simply Beautiful" on repeat in the studio.) Bieber sings nimbly, though I wish his vocal tone were a little less rheumy and head-cold-ish. Noteworthy lyric: "What's a king bed without a queen?" — the first time, if I'm not mistaken, we've actually glimpsed the Bieber boudoir.
Motörhead, "Heartbreaker"
Aftershock, the new Motörhead record, is a concept album about the deforestation of the Amazon, which experiments with electronica, dabbles in chamber pop, and explores Brazilian samba rhythms. Just kidding. Motörhead has been recording the same album — the same song — since 1977, and the band's 21st studio album is, like the previous twenty, an exercise in brutish efficiency and efficient brutishness: loud, mean hard rock music, full of buzz-sawing guitars and the gravelly barking of front man Lemmy Kilmister. Lemmy is a senior citizen now, and he's been dogged in recent years by a heart condition. But on "Heartbreaker," he sounds the same as always — sounds like a wreck, that is, an asset in the context of a Motörhead song. The band throttles and heaves; the lyrics make a shout-along anthem out of the grimmest tidings: "Horror from the break of day / Make a strong man turn away / All we know is black despair / Heartbreaker / Hey, hey, hey, hey!"
Ninjaman, "Ninja Mi Ninja"
You wouldn't be too far off if you called Ninja Man the Lemmy Kilmister of Jamaican dancehall. Like Kilmiseter, he's a veteran and a purist, who established a formula as a young man and has stuck to it. In the late eighties and early nineties, Ninjaman's violent, menacing songs pushed dancehall into gangsta territory. But it was his inventive musical style that stood out: He rapped and sang in a voice both gruff and melodic, in a stuttering style widely imitated in Jamaica and points north. Dancehall is a young man's genre, which glorifies the new and the next — yet at age 47, Ninjaman is staging a comeback. He had a hit recently with "Dweet," a song that waxed nostalgic and scoffed at young upstarts. His current hit, "Ninja Mi Ninja" is a more anthemic version of the same, boasting about "di experience weh mi got under mi banner." It's a grumpy old-timer's boast, but Ninjaman sounds vigorous, even raucous, and he's got a rap sheet to back up the bluster: He's currently out of prison on bail, awaiting a trial on murder charges.