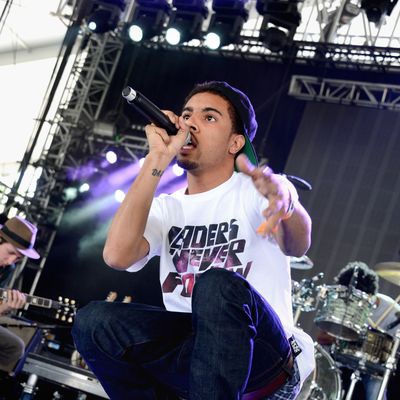 Photo: Jason Kempin/Getty Images
Vic Mensa featuring Chance the Rapper, "Tweakin'"
Vic Mensa isn't as smart as his name suggests; he's definitely not as smart as he thinks he is. But the Chicago rapper is a pretty clever fellow, and he raises his game when he's in good company, which is the case enough of the time on his new mixtape, Inanetape. The record has its longeurs, some of the windy self-indulgence you associate with the Internet-rap cool-kid set of which Mensa is a member. But then there's "Tweakin'," which snaps with energy and, yep, intelligence. Mensa's verses pile up a bunch of funny punch lines. ("I got Martha Stewart cooking yola / Molly in the cherry cola, rub it on your areolas.") But the real star is the guest star, Chance the Rapper, who breezes in, drawls a bunch of virtuoso off-rhymes and half-rhymes — "reggo" rhymes with "legs go," "medical," "egg roll," and "Petco" — and vanishes, poof, in a cloud of weed smoke.
Perfect Pussy, "I"
Perfect Pussy, a ferocious little punk band from Syracuse, were one of the breakout stars of the recent CMJ festival, and when you get a gander at them on YouTube, you get a sense of how compelling their musical hissy fits can be. "I," the lead track from their forthcoming EP, has a sound nearly as sludgy as those YouTube videos, but there's no mistaking the band's full-tilt force. If you check the lyrics, you discover a real song beneath the racket, an admirably plainspoken story about love, betrayal, and forgiveness. "My best friend is back in town / There's a bad taste in my mouth," sings Meredith Graves — not that you'll hear her enunciate those words, exactly.
James Vincent McMorrow, "Cavalier"
I cannot justify my enjoyment of this song, from beardy Irish balladeer James Vincent McMorrow's second album, Post-Tropical. McMorrow's audible hero is one of my bêtes noires, Justin Vernon. He sings just like Vernon — i.e., in a very pretty falsetto that shudders with self-importance. His lyrics, like Vernon's, are pretentious gibberish: "Instead of cold milk
 / Was offered unripe / Instead of silence
 / Considered craven." The sound is trendy, that goulash of electronics, multi-tracked vocal chorales, and churchy keyboard chords that the blogosphere has deemed "indie soul." On paper: ew. But right this minute, I love the song: a perfect soundtrack for a bright, blustery autumn day. Tomorrow? We'll see.
Taylor Swift, "Sweeter Than Fiction"
Winner: Best OMD Cover of 2013.