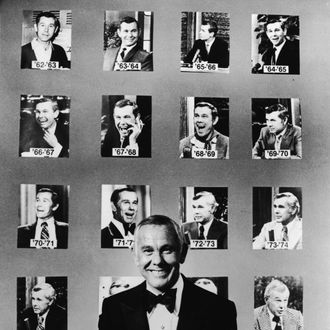 Photo: NBC Television/Getty Images
Over 40 years ago, a notorious womanizer was cuckolded. For some reason, this is big news today! Johnny Carson's one-time lawyer and friend Henry Bushkin has a new book out called Johnny Carson, an account of his time with the late late-night legend. Bushkin was Carson's lawyer for many years but was "banished from the kingdom" in the late eighties, according to a People article from 1991. Still, Bushkin moved forward with this book, an excerpt of which is in this week's EW.
The selected section describes a night when Carson, Bushkin, and three seemingly unsavory associates broke into an apartment rented by Carson's then-wife Joanne. (She was Carson's second of four wives.) Bushkin writes,
Johnny had substantial evidence that Joanne had secretly leased an apartment within blocks of their UN Plaza home, which she used for clandestine rendezvous with her lover. "Well, I'll be happy to file for divorce, if you want…" "No, I don't want you to file for divorce," he interrupted. "I want you to go with Arthur and me and some other guys when we break into the apartment to find evidence to prove the bitch is cheating on me."
[Golf swing.]
They get into the apartment no problem and then discover artifacts that suggest Joanne has been having an affair with former New York Giant Frank Gifford.
Crushed by the overwhelming amount of evidence, Carson leaned against the living room wall and began to weep. It was a painfully uncomfortable moment. Arthur busied himself taking photos of the premises, while the rest of us tried to look away and give Johnny his privacy. It was, however, a small space, and I couldn't always keep my eyes away. During one of those glances, I could see that Carson's raincoat had fallen open. I was shocked to see that Johnny was carrying a .38 revolver in a holster on his hip.
Later, Carson told Bushkin, "I can't quit smoking and I get drunk every night and I chase all the pussy I can get. I'm shitty in the marriage department. Make sure you understand this." Carson also insisted that Bushkin never tell anyone what they discussed, and Bushkin vowed that he wouldn't — an exchange that is recounted in his memoir.
The Gifford story first surfaced in Bushkin's book proposal way in 2010. At that time, Joanne Carson disputed Bushkin's account, saying "Frank Gifford and I had a very special friendship when I was about 21 and single … but it wasn't while I was married to Johnny." But that's not as trashy a story, so that can't be on the cover of the New York Post.