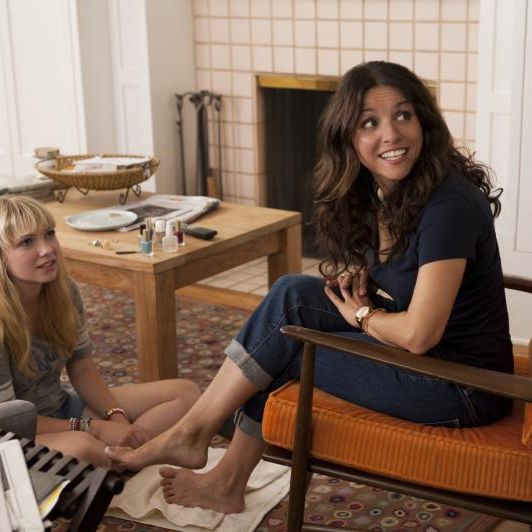 I have been thinking about Julia Louis-Dreyfus ever since I recently saw Nicole Holofcener's Enough Said. I probably should have been thinking about her before that; she has been a successful actress and a fashion icon since the mid-nineties, and has been working steadily ever since. She just won two Emmys in a row and has been nominated for many more — she's killing it, basically. But for some reason, probably having to do with Veep's relatively small viewership and the focus on more commonly accepted Internet sweethearts, I was not paying enough attention. I would like to remedy that. Julia Louis-Dreyfus is a treasure.
Take her performance in Enough Said. The movie relies on the audience's willingness to root for this incredibly selfish woman while she does insane, obviously going-to-backfire things. Louis-Dreyfus carries this off, somehow; she is warm and restrained, and there is no trace of the aggressive character she plays on Veep. Speaking of Veep, Louis-Dreyfus is very funny on that show, as even the Academy of Television Arts and Sciences has recognized. And unlike the rest of her Seinfeld quartet, she has never had trouble finding new shows she can shine in: The short-lived Watching Ellie didn't quite work, but she was fantastic, and The New Adventures of Old Christine was particularly wonderful — now her character from that show feels a bit like a workshop for Enough Said. What about when she just shows up part-time, like in Arrested Development and Curb Your Enthusiasm episodes? Always great!
Her recent bits at the Emmys — trading speeches with Amy Poehler, recruiting her Veep co-star Tony Hale to whisper lines — were as charming as anything Tina and Amy have cooked up in recent years. Sometimes this is forgotten, because Louis-Dreyfus missed the Internet fan boat; her initial fame predated GIF walls and Fuck Yeah Tumblrs, and so we have been a little slow to put her in the conversation with the modern greats. But she should be! She could dominate the Celebrity Brunch League (otherwise known as the list of celebrities you would like to have brunch with). She could certainly host an awards show. (Look, she can even sing live.)

At Grantland, Oscar prognosticator Mark Harris has quietly been beating the drum for Louis-Dreyfus as a Best Actress nominee, and that would be a wonderful, if surprising, outcome. In the meantime, let us all be a little more grateful for Julia Louis-Dreyfus, who has been working very hard at being very good for almost twenty years. We are lucky to have her.