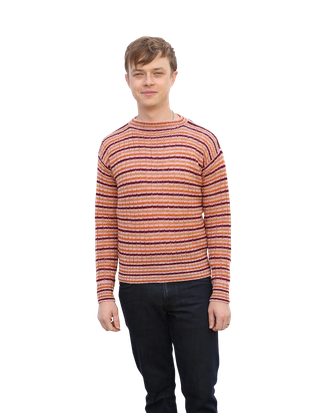 Dane DeHaan.
Photo: Monica Schipper/Getty
In Kill Your Darlings, Dane DeHaan plays the dangerously alluring Lucien Carr, a young man with a tendency to use and discard people. His most famous victim was Allen Ginsberg (Daniel Radcliffe), who met Carr his freshman year at Columbia; his most tragic was David Kammerer (Michael C. Hall), who died at Carr's hand. The movie, in theaters today, also stars Ben Foster as William Burroughs and Jack Huston as Jack Kerouac. Vulture spoke with DeHaan about researching his role, maybe doing a buddy comedy with his best buddy, Daniel, and growing up a Ben Folds fan.
Daniel told us you pummeled him this weekend in fantasy football.
Let's talk about that.

Does he get nerdy?
He knows a lot about American football.

Will you get a glory lap?
It's just, like, bragging rights. Now I get to talk about it all day long, and he has to talk about how he lost.

Lucien Carr is a totally fascinating character. It doesn't seem like much has been written about him, but did you get to read up?
Not a lot was written about him. The Columbia library has some of Ginsberg's diaries and correspondence between Ginsberg and Kerouac where they actually talk about Lucian, and you start to get clues into who he was as a person and the things he would do and kind of his history.
What did you learn?
Just stuff like he and David [Kammerer] would go onto the deck of a boat and sink the boat just so they could feel what it was like to stand on the deck of a ship that was sinking. Or he would be at a bar, drinking wine, and he would just look at the person next to him and bite off the wine glass and then chew the glass in his mouth.

And that didn't make it into the film.
That didn't make it into the film. But it gives hints of who he was as a person and his need to act out and his need to, like, kind of evoke reactions from other people.

You moved in with Daniel for a staycation. Did you ever consider moving in with Lars Ulrich after making Metallica: Through the Never?
[Laughs.] No, never really crossed my mind.

What was that script treatment like?
The Metallica script was, like, twelve pages but all kind of what happens in the movie, which is kind of confusing anyway. It was hard to make sense of reading it, but actually pretty much everything that was in the script is exactly what's in the movie.

Were you a Metallica fan going into the film?
I mean, I was, but I wasn't allowed to listen to Metallica when I was a kid.
Why not?
My parents were just really weird and protective about the music I listened to. Whenever I wanted to buy an album, they would have to buy it first and listen to it and let me know if I could have it. But Metallica was sort of a huge presence in pop culture as I was growing up in the early nineties, and so in that way, their music was unavoidable. And then when I started making Place Beyond the Pines, I started listening to Metallica more for that movie, which was about a year before I got the phone call asking me to do it, then I became pretty familiar with their stuff.

What did you listen to growing up?
Well, it was weird, my parents would let me have some Green Day albums but not all Green Day albums.
What about Dookie?
I think I had Dookie, but I feel like Dookie was taken away from me. Like, I had Dookie and I was playing it and then they were like, "What is that?" But then in my teens and stuff I started listening to a bunch of Ben Folds. I was a huge Ben Folds fan.
A lot has been made of your kiss with Daniel in Kill Your Darlings.
Well, I mean, it's a scene about two people that are really in love with each other, that don't feel like they can truly express that to each other, and even to themselves, so this is a moment where they finally kind of get to express that love for each other.

Do you have any ideas for more films you and Daniel could do together? I feel like there is a buddy comedy here.
I haven't done a buddy comedy. That'd be fun!