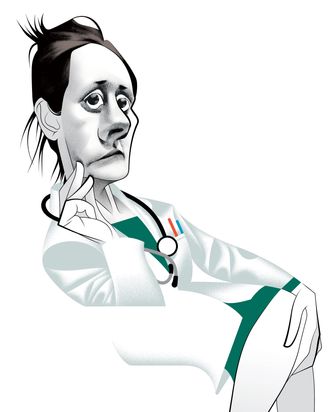 Illustration by André Carrilho
Photo: Illustration by Andre Carrilho/New York Magazine
In 1984, Laurie Metcalf made her New York stage debut with a twenty-minute monologue that still haunts Will Scheffer. The actress, one of the founding members of Chicago's ­Steppenwolf Theatre Company, was playing Darlene in a storied ­production of Lanford Wilson's Balm in Gilead, directed by John Malkovich and starring, among others, Gary Sinise and Glenne Headly. "I'm sorry to overhype it," says Scheffer, co-creator of HBO's new comedy Getting On (premiering November 24), which stars Metcalf, "but you knew you were in the presence of some sort of genius. What you didn't know was whether that young actress was going to fulfill the promise you were seeing."
A few years after that production, Metcalf went to L.A. to see if she could round up some film work between theater jobs. On her second week in the city, she landed a part on Roseanne and ended up playing Jackie Harris, Roseanne's sister, for nearly a decade, winning three Emmy Awards along the way. "It doesn't get any luckier than that," says Metcalf, who is digging into a plate of antipasto at a restaurant across the street from Lincoln Center, where she's starring opposite Jeff Goldblum in Domesticated, the new play by Pulitzer Prize and Tony winner Bruce Norris, the author of Clybourne Park. The 58-year-old actress has a habit of what she calls "falling into" rather conspicuous groups. While at Illinois State University, where Metcalf majored in German, she became friends with actors Malkovich, Terry Kinney, and her first husband, Scandal's Jeff Perry, who, along with Sinise, founded Steppenwolf in the basement of a church in Highland Park, Illinois, in 1976.
"The fact that I fell in with them early on has given me a career," says the actress, who had been in a few plays in high school but never thought she could make a living onstage.
I suggest that while, yes, she does seem to have a knack for being in the right place at the right time, her career might have something to do with a certain fierceness that hums through all her characters, even a lovable screwup like Jackie. In response, Metcalf picks up a large black olive and examines it for a rather long time. "I don't know how not to be fierce," she says. ­"Especially onstage, which causes me ­problems. I'm so tense here." She runs her ­fingers down both sides of her neck and along her shoulders. "It doesn't really matter whether I'm doing Long Day's Journey Into Night or a stupid, broad comedy, I just need to tear it up." She laughs. "I do gravitate toward roles that have that opportunity to flash. But it hurts! I've gotta learn how to be onstage without forgetting to breathe, and holding myself so tight even in scenes that don't require it."
Recent tear-ups have included her ­Tony-nominated performance in Sharr White's 2010 play The Other Place, in which Metcalf starred as a neurologist promoting a drug for dementia even as she succumbs to the condition—a searing demonstration of her gift for calibrating fireworks and dishing up contempt. Metcalf has a fondness for tragedy leavened with wit, like Domesticated, which explores marriage via a now familiar ­scenario: A politician (Goldblum) is ousted from office by scandal, ­devastating the lives of his wife and two daughters. As the spouse, Judy, Metcalf deploys an acidic eloquence that's delicious if hard-won. "Bruce's show has a glibness that requires a lot of ­preparation. You have to be technically up to speed before the lights come up," says Metcalf, who runs all her lines out loud before every performance. She's feeling slightly less stressed now that the show is in previews. "Rehearsal for me is sort of traumatic. I get pretty hard on myself. Once I get to a point where people are paying money to see it and I don't feel bad about it, then I can relax a little, at least during the day."
HBO's Getting On—a very black comedy based on the British series of the same name—takes place in a geriatric ward in Long Beach, California, with Metcalf playing Dr. Jenna James, a frazzled physician with a deplorable bedside manner and an unfortunate research project involving feces. Unlike Scheffer, Getting On's co-­creator Mark V. Olsen (the two also created Big Love) wasn't really aware of Metcalf before she came in to read for Jenna. "Truthfully, I was really getting tired of all the candles that Will was lighting at the altar of Laurie Metcalf. She had a really high bar to clear with me. And she just nailed it."
The show is, as Metcalf prefers, an ensemble, but with a cast (including Niecy Nash of Reno 911!) fluent in improv, a technique that's foreign to her. "Laurie's not crazy about dialogue improv," says Olsen. "But boy, is she great at—let's call it facial improv. She'll riff and go in directions in a way another actor might riff with dialogue. There are scenes we've conceived as filler—where you simply need to get from A to B—and it will become a comedic highlight because of her take on it."
The stark and claustrophobic feeling of a hospital is achieved a few ways: The show rarely leaves the ward; the actors come au naturel—no hair or makeup; and the lighting is harsh and unflattering. Somehow, for Metcalf, this is a dream ­scenario. "My least-favorite time on a movie or TV set is spent in the makeup chair," she says. "My second-least-favorite time is sitting between setups of lighting—especially if it's an emotional scene and you have to wait for 45 minutes and keep all that emotion in your body and head."
Even better: The show's stealth camerawork. The operators remain as unobtrusive as possible, to the point where she doesn't know where they are half the time. "Not to have a camera in your face—it's the most freeing way I've ever worked on TV," says the actress, who favors theater because she loves the instant gratification of an audience, and the ability to, as she puts it, "be the one driving, knowing where I want the audience to look, or what I want them to hear or see. As an actor, you don't have that kind of control anywhere else." Scheffer and Olsen told me that Metcalf had refused to see any of the completed six episodes of the first season. "I have a deadline," she says. "I can only watch myself five years after I do something. So now I can watch Roseanne."
*This article originally appeared in the November 11, 2013 issue of New York Magazine.