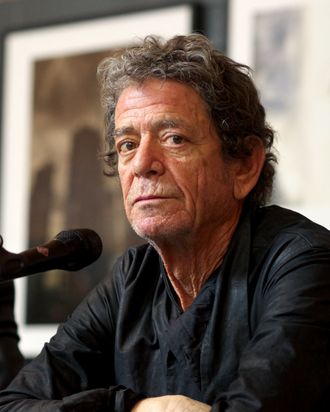 Photo: Carlos Alvarez/2012 Getty Images
Lou Reed has died at 71, according to a report from Rolling Stone. No cause of death has been released, but Reed underwent a liver transplant in May. The tremendously influential guitarist, singer, and songwriter was born in Brooklyn and grew up on Long Island. He founded the Velvet Underground, which served as the house band at Andy Warhol's studio The Factory. Their debut album The Velvet Underground & Nico was not a commercial success when it was released in 1967, but it was later celebrated as one of the most significant albums of all time. Reed sang and wrote many of the band's biggest songs, including "Heroin," "Sister Ray," "Sweet Jane," "Rock and Roll," "Venus in Furs," "All Tomorrow's Parties," "What Goes On" and "Lisa Says." The group was inducted into the Rock and Roll Hall of Fame in 1996.
Reed left the band in 1970 and went on to have a successful solo career. He had several hits, including "Perfect Day," "Satellite of Love," and "Dirty Blvd." "Walk on the Wild Side," his tribute to the hustlers, transvestites, and other outcasts who inhabited New York in the seventies, remains his most famous song.
In 2008, Reed married performance artist and musician Laurie Anderson. He continued to produce music throughout his life, and his most recent album was 2011's Lulu, a collaboration with Metallica.
At SXSW in 2008, music producer Hal Wilner introduced his friend Reed by saying, "Lou is to rock and roll what Miles Davis is to jazz." He added, "This guy has changed the way we look at rock and roll like half a dozen times and people have followed him. You have a lot of people who changed the way they looked, performed and approached music because of him. It's unbelievable. He's a true leader, a true king of rock and roll in every way."