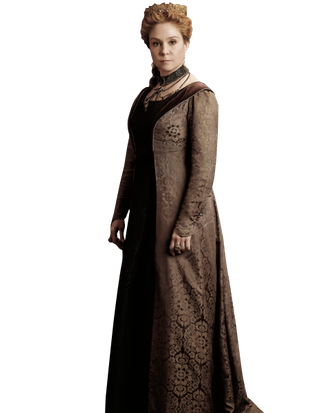 Megan Follows in 'Reign.'
For girls who grew up in the eighties, Anne of Green Gables was seminal TV viewing. Megan Follows played Anne, the irascible, melodrama-loving orphan heroine of Lucy Maud Montgomery's coming-of-age stories. Twenty-eight years later, the Canadian actress is back in another series aimed at young girls, this one far racier than her last. In the CW's period romp Reign (premiering tonight at nine), she's the murderous Catherine de' Medici. We spoke to Follows about her crazy role and why she's all for the female masturbation on display in episode one (until the network cut it). But first, there were Anne's puff sleeves, big hair, and Morgan to discuss.
When you Google "Megan Follows," the first thing that comes up is still your audition tape for Anne of Green Gables.
Which is astounding to me. But that role, that character, that story, it made a huge, huge impact on my life. It never gets old hearing about it. The passion of people who talk to me about it is so genuine.
What is your fondest memory about making the show?
Colleen Dewhurst is coming to mind. She was such a great old broad of the theatre. She was a true thespian, the real deal, and she'd be there smoking her Carltons right up until we were ready to film.
One of my favorite moments is when Matthew gets Anne that dress with the enormous puff sleeves.
I remember us making and puffing those sleeves. We did it ourselves. We stuck a lot of twill into those puffs. It was like, "Let's make those puffs the puffiest!" And they really were.
Everything was bigger then, right? Anne's hair became especially huge in Anne of Avonlea.
The Gibson do. Now, don't forget this was also an eighties expression of a Gibson do. You had two dangerously large hairdo periods colliding. I think perhaps some of those hairdos were a little too big for the size of my head. I'm surprised I didn't topple over. My head was so tiny in a sea of hair. It was my Annefro.
I never got Anne's infatuation with Morgan. Did you? Wasn't he too old for her?
I know. I remember thinking, What is this all about? That was a bit weird.
Do you keep in touch with Jonathan Crombie, who played Gilbert?
We cross paths. I actually just saw him because I just did a play up in Toronto, so I saw him in February when he came to see it. It was so nice to sit down and just check in with him. He's been doing a lot of theatre. He's actually in the States right now in something, and you probably know he was in The Drowsy Chaperone. We don't get to see each other very often, but when we do, we have great conversations.
Anne and Gilbert forever. What do you think about the existence of these Anne-Diana shippers?
It doesn't surprise me. I did a short film at Outfest, Where Are the Dolls, based on an Elizabeth Bishop poem done, where I play this woman who is sort of walking the streets and ends up alone dancing in a club. I have this hot and heavy scene with a very beautiful actress. It became very popular. But with Anne and Diana, I like to think it's a true reflection of the time, that girls particularly when they are young and close, really do love each other. They are in love. It's a pretty sexual expression, and it may be whatever it becomes but that's really the basis of Anne's story. Diana is a soul mate for Anne, who had never had a friend or a family. All of a sudden, she's found a kindred spirit.
I want to get to Reign, which I really enjoyed. Catherine's got hunky Nostradamus helping her scheme. He tells her that her future daughter-in-law, Mary, will be the end of her son. After that, Catherine becomes quite murderous.
Oh, I love her. She's fiercely loyal to her son, so it's not like she's just malicious. She beheads kids for a reason. And who wouldn't want hunky Nostradamus as a sidekick? When you look Catherine up, there are references to the dark arts and witchcraft, so we have the right to explore that stuff.
Francis really did die months after his marriage to Mary.
Well, I like to say Reign is the 24 of the pre-Renaissance. I think we're going to take a lot of liberties with history, as well as extend it over a longer period of time.
What did you think of the masturbation scene in the premiere?
I thought, "You go, girl." I hope they aren't cutting it. [Editor's note: The network trimmed it.] That's a big thing.
What did you like about it?
It's masturbating — what's there not to like? I thought it was great that it was a woman, a young woman, and that it was also sexy. It wasn't just that she ran upstairs and got excited and all of a sudden a man appears. No, she needed to masturbate and express something after that experience of watching the married couple go to bed.
I loved that Mary and her ladies-in-waiting all spy on the "bedding ceremony." They're a naughty bunch.
Me too. I loved that they all had slightly different reactions to it. It was slightly disturbing for one of them. But for Kenna, who obviously is just raring to go, she had a physical reaction, and that's something normally so much more allowed for young men. I'm just really proud that it's in there.